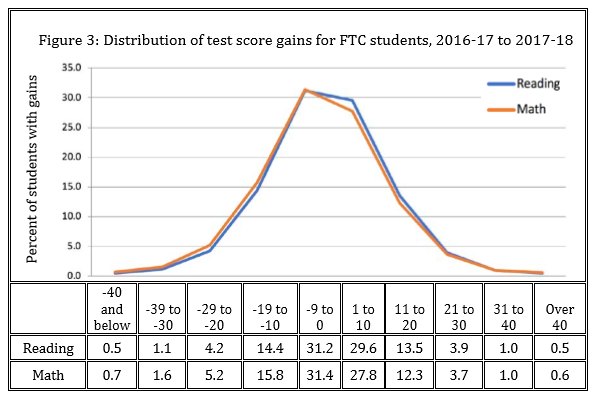 The Florida Department of Education released the latest evaluation of the Florida Tax Credit Scholarship Program this week, and the results remain remarkably consistent over the last decade. For 11 consecutive years, low-income students on the Florida Tax Credit Scholarship are experiencing the same annual learning gains as all students nationwide.
"The typical FTC student tended to maintain his or her relative position in comparison with others nationwide," wrote the researchers from the Learning Systems Institute at Florida State University. "It is important to note that these national comparisons pertain to all students nationally, and not just students from low-income families."
Researchers reviewed testing data of nearly 60,000 students in grades 3 through 10 in 2017-18.
The average student on the program scored the 47.4th percentile in reading and 45.2nd percentile in math, and on average maintained their percentile rank from one year to the next when compared to a wealthier and whiter national average.
Of the students on the Tax Credit Scholarship, 67 percent are black or Hispanic and another 4 percent are mixed-race. The average household income is just $25,755 per year (about 9.2 percent above the poverty level), while 55 percent of students live in single-parent households.
As with past years, students on the scholarship are more likely to be black, come from lower-income families, and been enrolled in a lower-performing public school than eligible students that do not participate. Scholarship students also tend to have lower scores on the Florida Standards Assessments than eligible non-participating students prior to enrolling in the scholarship program.
Overall, nearly 44 percent of scholarship students come from public schools rated "A" or "B;" just 11.8 percent of students came from schools rated "D" or "F."
Students returning to public schools from the program saw lower academic performance than students who remained. Once back in public schools, these students performed worse than eligible students who never entered the program.
"Findings indicated that poorly performing public school students are more likely to participate in the program in the first place," wrote the researchers. "Moreover, FTC students who return to public schools tend to be those who are performing worse than the average FTC student. Based on these observations, we cannot associate poor performance of FTC returnees with possible negative effects of the FTC Program on participating students."
The report also reviews gain scores for 418 schools with 30 or more scholarship students in grades 3-10 who have test scores in consecutive years. Researchers examine a three-year period instead of one because "the average gain score for a school in a single year can be an extremely noisy measure of a school's contribution to student test scores."
Results are listed in the report's index. Schools that have "statistically significant" (meaning the researchers are 95 percent confident the observed results did not occur at random) gains or losses over a three-year period are highlighted.
School scores reflect the gain or decline in the average student's percentile rank in math or reading within the school. Results that are not highlighted should be treated as having students maintain their position relative to the national average. Again, this comparison is between low-income, mostly minority students with a wealthier and whiter national average.