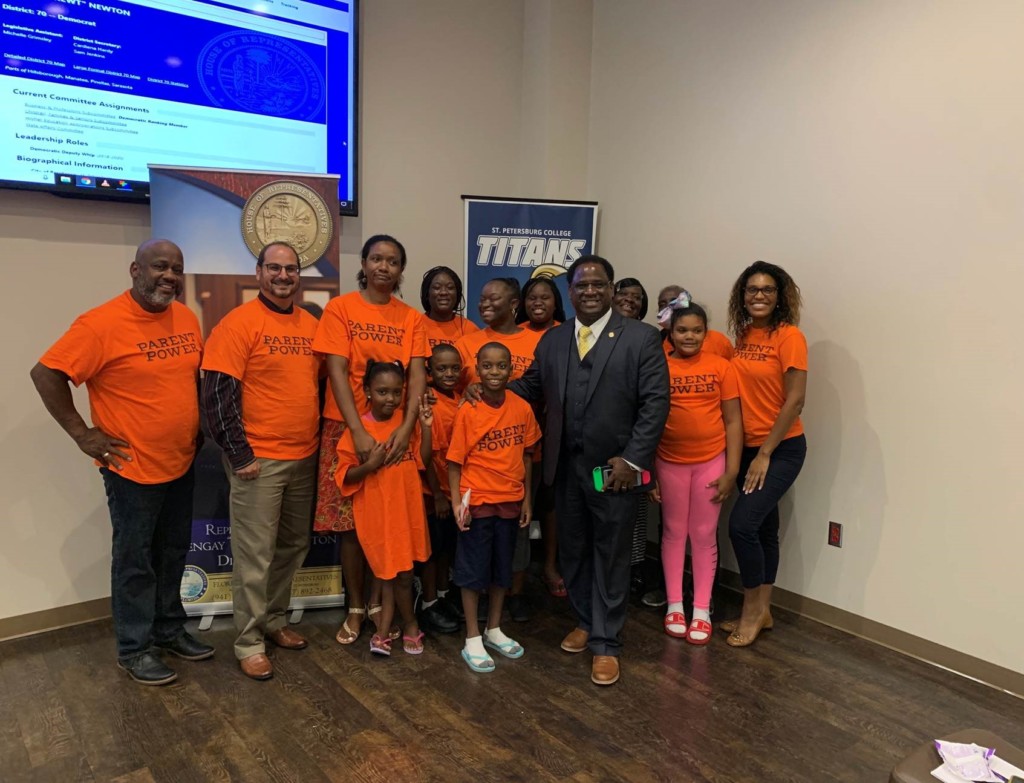 At a Town Hall in St. Petersburg on Wednesday, State Rep. Wengay Newton kept it real.
More than a dozen advocates and constituents who live in or attend schools in his St. Petersburg district spent their evening hearing from one of the six Democrats who voted this spring in support of SB 7070, a bill creating the Family Empowerment Scholarship (FES).
The bill is now law and provides state-funded scholarships to low-income and working-class families who want their children to attend a K-12 private school. Many families who are being awarded the new scholarship are from his district. Statewide, the new program is set to serve up to 18,000 students and to help reduce the waiting list for a similar program, the 18-year-old Tax Credit Scholarship, that is serving 100,000 students through tax-credited corporate contributions.
While speaking to the audience that gathered at the St. Petersburg College Midtown Center, Newton shared why he is so passionate about equal opportunity.
He began with his life story. Newton grew up in a single-parent household in the very district he now represents. He became a teen father and worked hard to provide for his family while completing school.  
The countless hours he worked and studied paid off, and he soon found himself working in the real world – hungry for more of what life could offer.
His one-way ticket toward that destination was a quality education. It is now what drives his passion as a state representative.
Newton stressed the importance of preschoolers receiving fundamental preparation at home. Earlier this year, his bill, HB 2161, Home Instruction for Parents of Preschool Youngsters (HIPPY), led to a $3.9 million appropriation for the program to help strengthen the parent's role as the child's first teacher.
Newton also talked passionately about his fear of the school-to-prison pipeline. To him, it is a real concern.
He provided for the audience some alarming statistics from a report shared by the State Department of Juvenile Justice 2017-18 report data. It cites an alarming number of school-related arrests for children of color in the Tampa Bay region – 603 in Hillsborough, 458 in Pinellas, 206 in Manatee and 91 in Sarasota counties.
Another report also highlighted what it sees as race-related disparities in schools. According to the ACLU, the industry recommends 250 students per school counselor, but the actual ratio in Pinellas is 441. For social workers, the industry recommends 250, but the actual ratio is 849. For psychologists, the recommendation is 500 to 700, but the actual ratio is 1,262. It claims there are dozens of schools that are not providing any of these services.
From that report, Newton asked the crowd to imagine a child with disciplinary problems in a school that is understaffed. He or she might end up with counterproductive discipline like expulsion, suspension and increase the risk of becoming arrested or dropping out of school.
That, he said, creates another child lost to the pipeline.
These are the life experiences, Newton told the audience, that cause him to support any education option that expands opportunity for economically disadvantaged children. He is a strong supporter of traditional neighborhood schools, but says he knows they can't be everything to every child. The new scholarship he voted to support, he said, creates more options for students to be successful.
Katherine McNickle was one of his constituents in the audience that evening. Her granddaughter attends Mt. Zion Christian Academy in St. Petersburg, and she was grateful for Newton's vote on the scholarship program.
"It means a lot to me to have Rep. Newton to do this for us," she said. "My granddaughter has a scholarship and she wouldn't be able to attend Mt. Zion without it. We are so happy."
Advocacy groups like Florida Voices For Choices work closely with parents in support of school choice. The group hosts workshops and webinars on topics ranging from the scholarship application process to avoiding the "summer slide." The group also connects parents from Newton's district and beyond with resources and other non-profit groups that can better serve parents.