Readers of Sean Reardon's study on student learning gains between third and eighth grade should heed the advice from Douglas Adams' classic sci-fi comedy novel "Hitchhiker's Guide to the Galaxy": DON'T PANIC.
Matt Ladner recently provided an excellent reason not to flip out: Florida's long-term gains (such as high school and college graduation) are at or above the national average.
So like those thumbing a ride through the cosmos, find your towel, feel the warm, comforting embrace of its fibers, and remain calm, because here are three more reasons why you shouldn't overreact because of one set of statistics.
Reardon's study compares the learning gains across diverse state tests for students in grades 3 through 8 during the 2009 through 2016 school years. The Nation's Report Card allows us to do something similar with the fourth- through eighth-grade learning gains. To create a cohort, we look at students in fourth grade in 2011 and measure the difference with the eighth-grade scores four years later in 2015, and so on.
Just like Reardon's data, we see Florida's students learn less per year between fourth and eighth grades than the national average across the board, with the exception of the earliest years.
Difference in NAEP Reading test scores between eight-graders and fourth-graders from four years prior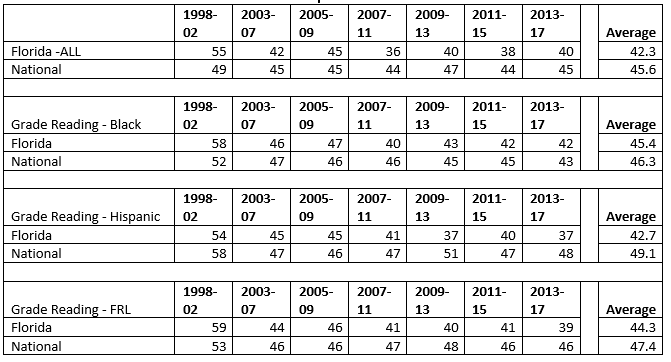 Difference in NAEP Math test scores between eighth-graders and fourth-graders from four years prior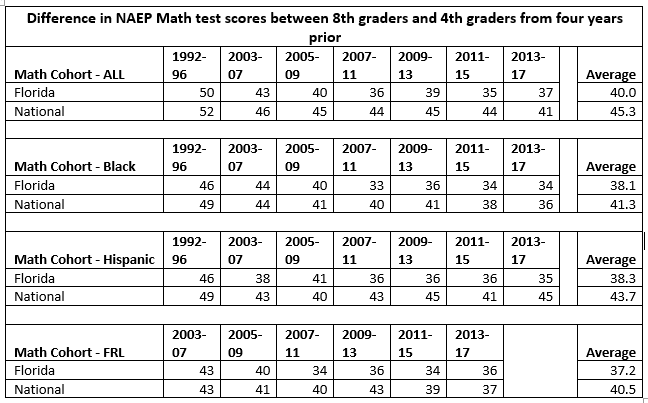 Remember where you put your towel? Good. Here are the reasons why this measurement isn't a singular statistic to judge all of Florida's K-12 education system.
First, Florida's overall results are still above average, and that's saying something given the state's majority-minority and below-average income demographics. Here's a graph from the actual Stanford dataset showing average test scores by school district: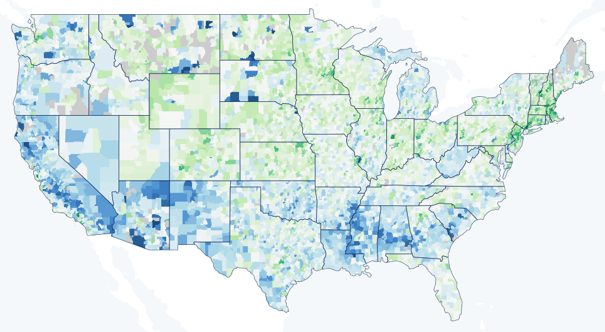 It shows Florida to be performing about average to above average. Adjusting for demographics, Florida's results appear even better. This is why the Urban Institute ranks Florida first through eighth depending on the NAEP test, and Education Week's "Quality Counts" report ranks Florida fourth.
Today, Florida's fourth- and eighth-grade NAEP scores, especially for low-income and minority students, remain at or above the national average.
Florida's fourth-grade results are far ahead of the national average. Florida's push at early intervention — which include pre-K vouchers, scholarships for low-income students, third-grade retention and increased funding for K-12 education, especially in earlier grades — may have helped drive Florida's fourth-grade achievement boom.
The reason Florida's eighth-graders are near, or above, the national average despite slower growth since fourth-grade is precisely because they were so far ahead in fourth-grade already. 
Second, despite Florida's repeated lower-than-average annual learning gains in those specific grades, Florida's students have seen more growth on NAEP reading and math than the national average. The following tables look at Florida's data from the first time NAEP was given until now.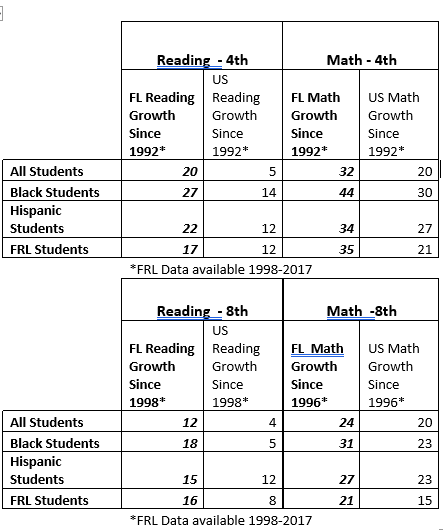 So how can Florida's overall achievement and achievement growth be better across the board than the national average if the Stanford study shows third- through eighth-graders learning less per year?
It's likely because the Stanford data covers only 2009-2016, a period of time AFTER Florida's largest burst of achievement gains and DURING a time which included achievement stagnation. It's hardly fair to condemn an entire system for seven years of data when 29 years of data show results are way up.
Finally, Florida's largest fourth- through eighth-grade cohort gains occurred in the 1990s when achievement was at its lowest point.
Florida students averaged 55 points of growth in the 1998-2002 NAEP Reading Cohort, higher than the national average. Florida's 2009-17 cohorts averaged just 39 points of growth, but remain more than a grade level ahead of where they were in 2002.
In math, the 1992-96 cohort gained 50 points of growth, but Florida averaged just 37 points between 2009-2017.
Nostalgic for the '90s and want to roll back time? Well, Florida's eighth-grade math students today score a grade and a half higher today than they did in 1996.
Florida does an excellent job getting to students to learn the basics. The fact that students then coast from fourth to eighth grade, but still achieve better long-term outcomes, is nothing to panic about.