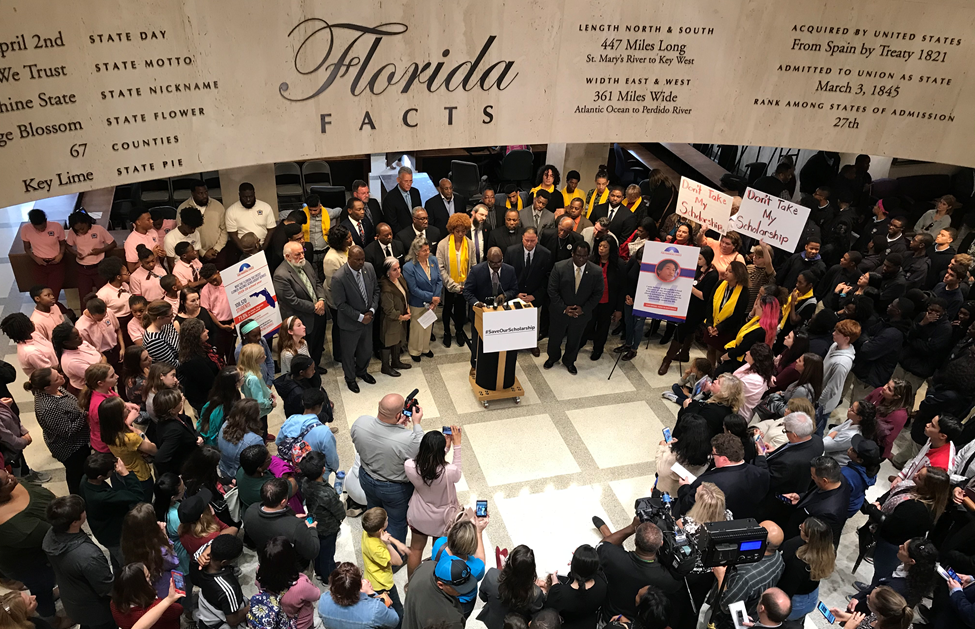 TALLAHASSEE – More than 100 black and Hispanic pastors from across the state gathered this afternoon at the State Capitol for a news conference to denounce what they called attacks on the Florida Tax Credit Scholarship program and the low-income minority families it serves.
Members of the Florida African American Ministers Alliance for Parental Choice said the attacks threaten to evict tens of thousands of low-income, mostly black and Hispanic students from the schools their parents chose for them. At issue, they said, are efforts by two state representatives, Anna Eskamani, D-Orlando, and Carlos Guillermo Smith, D-Orlando, to persuade corporate donors to end their contributions to the scholarship program that serves more than 100,000 lower-income students, three-quarters of whom are students of color.
Among the speakers was the Rev. Robert Ward, pastor of Mount Moriah Missionary Baptist Church in St. Petersburg.
"These politicians are recklessly harming our innocent and vulnerable," Ward said. "Instead of attacking our children, they should be reaching across the aisle searching for win-win solutions.  We will not sit idly by while politicians try to snuff out the dreams of tens of thousands of low-income black and Hispanic students."
Civil rights icon H.K. Matthews, who was arrested nearly 40 times for his attempts to fight racial injustice, also spoke. He characterized the lawmakers' attempts as "madness" and urged them to stop using minority children to pursue their agendas.
"I spent my entire life fighting for social justice," Matthews said. "It's not social justice to put thousands of low income black and Hispanic students under the bus."
The pastors were joined in the Capitol Rotunda by scholarship students and parents from around the state, many holding signs with the message, "Don't take my scholarship," as well as several members of the Florida Democratic Caucus, including State Rep. James Bush III, D-Miami. 
"The efforts to pressure donors to stop contributing to the Florida Tax Credit Scholarship program could have a devastating effect on education opportunities for our most vulnerable students," Bush said. "I should know. In my district, more than 2,300 low-income students use the scholarships to attend schools of their choice."
Bush added that 54 percent of those students are Hispanic and 45 percent are black. The average household income of those families, Bush said, is just over $21,000.
"Every donor that leaves the program results in fewer scholarships for students," he said. "I stand with my constituents and urge my colleagues not to treat these children as pawns."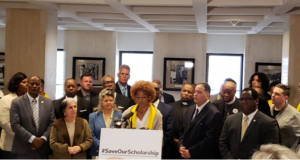 Elijah Robinson, a senior who attends The Foundation Academy in Jacksonville on a Tax Credit Scholarship, appeared with his principal, Nadia Hionides, to thank the donors who funded the scholarship that he said "saved my life." Elijah, who is gay, was bullied because of his sexual identity at the public school he attended prior to transferring to his present school. 
Hionides echoed his sentiments.
"How can it be social justice to encourage lawmakers and corporations or anybody else to cast aside the students who benefit?" she said.
Today's event was not the first time the ministers have rallied in support of education choice. The alliance played a key role in the successful fight against a lawsuit brought by the Florida Education Association and other groups in 2014 that challenged the Florida Tax Credit Scholarship program, arguing it steered money to private religious schools.