When Madelyn Carlisle was a toddler, a simple sip of apple juice could send her into shock.
Born with a rare condition called food protein induced enterocolitis syndrome, she survived on a liquid formula that had to be given at specific times. Until she was 4, her body could tolerate only 18 ingredients.
Madelyn's diet has expanded. But her condition, along with learning difficulties that surfaced when she started school, led her mother, Christin, to choose homeschooling as the best education option for her daughter.
Madelyn, now 9, and her 4-year-old sister, Layla, who is severely allergic to tree nuts, are among 13,000 Florida students who benefit from a Gardiner Scholarship. Created in 2014, the program allows parents the opportunity to individualize the educational plans for their children with certain special needs, including autism, Down syndrome and spina bifida, as well as conditions classified as rare diseases like Madelyn's.
The benefit of a Gardiner Scholarship for families like the Carlisles is that parents can direct the funding – currently an average of $10,400 a year – toward a combination of programs and approved providers. In addition to paying for private school tuition, this education savings account, provided by the state and administered by an approved scholarship funding organization, covers tutoring and specialized services such as speech and occupational therapy as well as instructional materials including digital devices like laptops and iPads.
Christin was thrilled to learn the scholarship would reimburse for education-related purchases, but like many families dealing with crushing medical expenses, the Carlisles aren't always able to pay up front for the materials their homeschooled daughters need. Step Up For Students, which administers the Gardiner Scholarship (and hosts this blog), foresaw that dilemma and created MyScholarShop, an online catalog that allows parents to make purchases from vendors who are program partners.
Gardiner families simply log into their Step Up For Students portal and click on the MyScholarShop link, which takes them to an online marketplace populated with educational tools sold by dozens of vendors including BestBuy and Lakeshore Learning. They shop as they would on any online website, send purchases to their cart, and MyScholarShop does the rest, including checking to make sure available funds are in the family's scholarship account. The order is processed and shipped to the family's home.
"We love the addition of MyScholarShop, if for no other reason than we do not have to wait for reimbursement," Christin said. "Aside from that, I also save time by not having to submit a reimbursement request."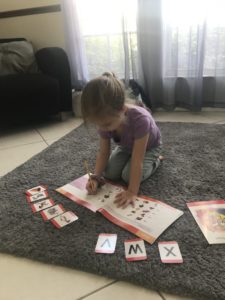 Her daughters have benefited from an array of educational products, including a calendar from Lakeshore Learning that helps with counting skills. They've also used the popular curriculum Hooked On Phonics and one called Math U See, which begins at the primer level and advances as the girls progress. The package includes three-dimensional blocks, a math workbook, a parent manual and an instructional DVD.
"We like it because it's a solid program that also uses hands-on learning," said Christin, who estimates about 70 percent of her children's educational products came from MyScholarShop this year.
Since going online in 2018, MyScholarShop has processed approximately 50,000 orders. And because of the relationships Step Up has built with vendors who offer discounts through the online platform, more than $1.3 million in Gardiner funds have been saved.
The popularity of MyScholarShop is expected to grow as more students are approved for Gardiner Scholarships and with the development of another partnership that will allow families who participate in the Reading Scholarship, a program for Florida public school students in grades 3-5 who struggle with reading, to participate.
Step Up For Students president Doug Tuthill predicts that programs like MyScholarShop will become increasingly important as a way for families to make spending decisions and contain costs as more scholarship programs evolve into education savings accounts.
"Customization is the holy grail of education," Tuthill said, adding that while education savings accounts offer that personalization, they're more challenging to administer because of the diversity of products and services families can purchase.
"Consequently," he said, "building out the infrastructure necessary to support several hundred thousand families using ESAs will be a key focus over the next few years."