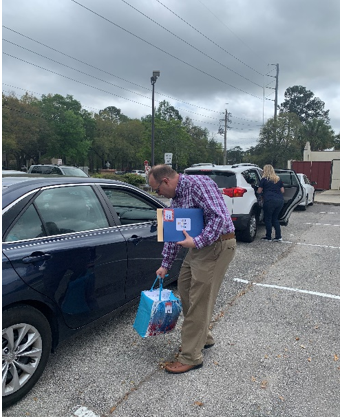 Like all Florida public and private schools, Catholic schools, which educate about 1.8 million students nationwide and about 65,000 throughout the state, had mere days to move from in-person teaching to digital platforms once schools closed due to coronavirus.
As word of the closure came, National Catholic Education Association president Thomas Burnford offered encouraging words to Catholic school educators via a video on the NCEA website, acknowledging this would be a difficult time for them. But he also noted it would be an opportunity for Catholic schools to shine by connecting with students in creative ways.
Palmer Catholic Academy in Ponte Vedra Beach, about 22 miles southeast of Jacksonville, quickly rallied to the call. The school serves 449 children from PK4 through eighth grade, 22 of whom participate in the Florida Tax Credit Scholarship program administered by Step Up For Students, which hosts this blog. Five students participate in the Gardiner Scholarship program for children with unique abilities, also administered by Step Up For Students.
Notified by their superintendent on March 13 that they would be teaching remotely by March 19, administrators worked through the weekend to make sure they would be able to launch training for their teachers. They were ready March 17, two days ahead of schedule.
Each morning since then, teachers have been taking attendance and smoothly rolling into their online lessons. At the end of the day, they collect work online and grade it, entering the data in their gradebooks.
Kindergarteners through fifth-graders are using a platform called Class Dojo, an educational technology communication app and website that connects teachers, students and families and uses features such as a feed for photos and videos from the school day. Sixth- through eighth-graders are using Microsoft Teams, a communication and collaboration platform that combines chat and video meetings and file storage. Students who didn't have access to an iPad at home were able to borrow one from the school.
"I've been brought to tears several times watching the teachers recite prayers while our children follow along, and watching as they virtually walk them through their math sheets," said parent Kelly Nelson. "The passion these teachers have and their love for their students is just radiating through the computer screen."
Monica Begeman, marketing, admissions and advancement director, said teachers are doing a great job adjusting to an online learning world.
"The implementation has been a huge team effort. All of our teachers are on board and excited to ensure their students can continue learning," Begeman said. "Going distance is a huge on-taking for our teachers, it is exhausting. We are so thankful to them."
While Palmer Catholic Academy was gearing up for online learning, St. Joseph Catholic School in Jacksonville was undergoing a similar process. St. Joseph serves 497 students, 109 of whom participate in the Tax Credit Scholarship program.
St. Joseph's adventures with online learning began March 16 when parents came to the school in small groups to pick up their children's books and supplies. Over three hours, school staff assisted 330 families and made arrangements for 15 that were unable to come by. Principal Robin Feccit reports that in a very short time, every family had the supplies it needed to facilitate learning from home.
Students in grades K-2 are completing worksheet packets, while teachers utilize Facebook and YouTube and email parents daily. Students in the higher grades are using Google Classroom, a free web service that allows for paperless lesson creation, distribution and grading. To make sure everyone stays connected, Feccit conducts a morning meeting on Facebook Live.
"Our faculty, staff, students, and families have handled this transition very well," Feccit said. "The first day was a little challenging as we figured things out, but Day 2 started strong, and we have been doing great since. The teachers are working so hard to keep contact with their students and help support student learning as much as possible."
Families have been pleased and impressed, writing to the school and posting comments on social media. Parent Joanne Berrios, who has been homeschooling several children over the past few weeks, raved about the one-page worksheet prepared by teacher kindergarten teacher Deanna Kersten.
"It was extremely easy to transition to the new environment," Berrios said. "I have been so impressed with how much Michael has learned in the past 133 days of school.  Now I understand."