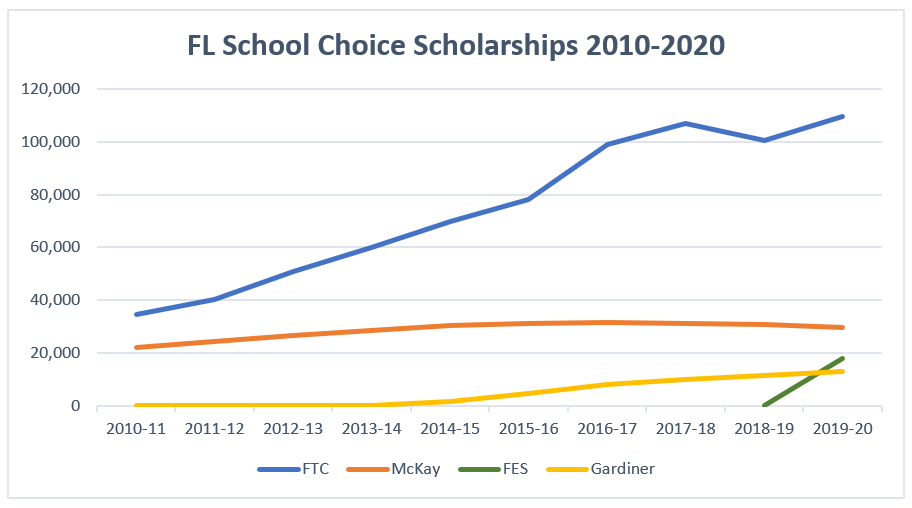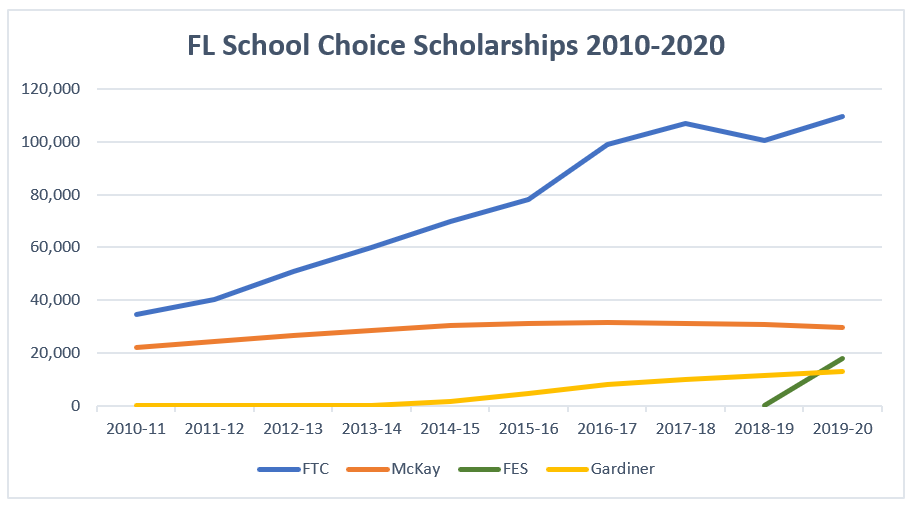 While Covid-19 likely will be responsible for the single largest increase in virtual education in Florida's history, enrollment growth over time in another program that offers education choice, the Florida Tax Credit Scholarship program, is nevertheless impressive. From academic year 2015-16 to 2016-17, the program grew by 20,000 students.
Meanwhile, the Family Empowerment Scholarship, in its first year, ramped up to 18,000 students in a matter of months. The previous first-year enrollment record holder, the Florida Tax Credit Scholarship program, launched in 2002 with 15,585 students.
By comparison, the McKay Scholarship program for students with disabilities began in 2000 with 970 students. The Opportunity Scholarship program, created in 1999 and offered to students attending low-performing public schools, served just 57 students in its first year. (The Florida Supreme Court in 2006 declared that program unconstitutional after an epic legal battle.)
Enrollment in the Gardiner Scholarship program, created in 2014 for students with unique abilities, has shown steady, if less rapid growth, although that's likely to change. The Florida Legislature appropriated an additional $23 million in funding for the program in 2019, pushing Gardiner funding to $147.9 million and allowing it to serve at least 2,000 more students. This year, the Legislature approved an additional $42 million increase for the program, which will make it available to still more families.
(Step Up For Students, which hosts this blog, administers the Florida Tax Credit Scholarship, Family Empowerment Scholarship and Gardiner Scholarship programs.)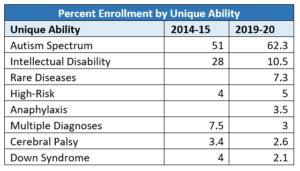 Data indicate that while the percentage of students diagnosed with autism participating in the program has grown, the number of students with other diagnoses has declined as a percentage of the total population amid an expansion in the list of eligibilities.
The percentage of minority students participating in the Florida Tax Credit program has remained remarkably stable. In 2010, non-white students made up 75 percent of the program and today comprise 73 percent. While the percentage of black students dropped from 36 percent to 30 percent, the number of Hispanic students increased from 27 percent to 38 percent. The percentage of white students participating increased from 25 percent to 27 percent.
The Florida Tax Credit program's income eligibility requirements also have changed over time. Today, students can remain in the program if their household income does not exceed 260 percent of poverty. That threshold has increased from 185 percent, the eligibility requirement for the federal free and reduced-price lunch program.
The average student lives in a household earning $27,298 a year, just 13 percent above the poverty level.