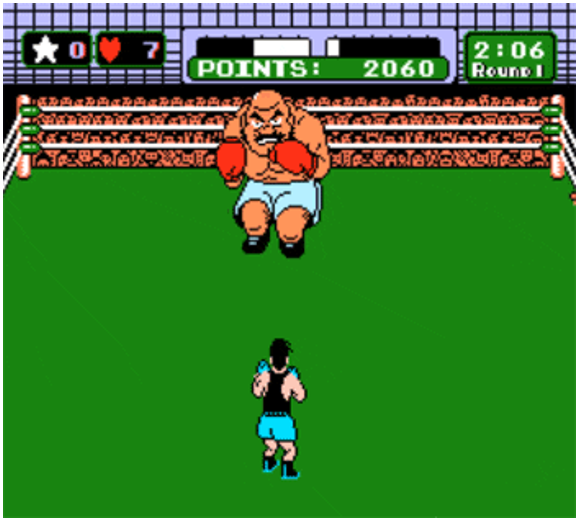 The classic arcade game Punch-Out!! asked players to assume the role of a green-haired boxer named "Little Mac" to box with much larger opponents, like the terrifying Bald Bull. Despite his tiny size, Little Mac could sometimes do things like this to much larger opponents:
https://thumbs.gfycat.com/DelightfulNastyAcornbarnacle-small.gif
The story I would like to tell today features my home state of Arizona playing the role of Little Mac in the recent U.S. News & World Report high school rankings to much larger states, including Florida. (Florida, however, has a secret punch in its arsenal – more on that below.)
So: Here is the Little Mac story.
Two Arizona high schools made the top 10 in the recent U.S. News national rankings and 11 made the top 100. While Arizona comprises only 2 percent of the students in the United States, it boasts 11 percent of the top 100 high schools. California, the nation's most populous state with a public-school system enrolling 6.2 million students (compared to our 1.2 million), tied Arizona with 11 schools in the top 100. Mega-states Texas and New York also landed 11 schools in the top 100 and Florida had 10. No other state scored in the double digits.
"Punching above our weight" would not be an overstatement to describe Arizona's results in both state and national achievement measures. But … not so fast, my friend!
College credit by exam features very prominently in the rankings, which is fine to include, but it's not a terribly broad measure. The U.S. News & World Report methodology judges individual schools, but the number of schools making a national top 100 list is a very narrow measure. Our friends at ExcelinEd utilize charts like the one below that show broad statewide improvement in students earning credit by exam in Florida: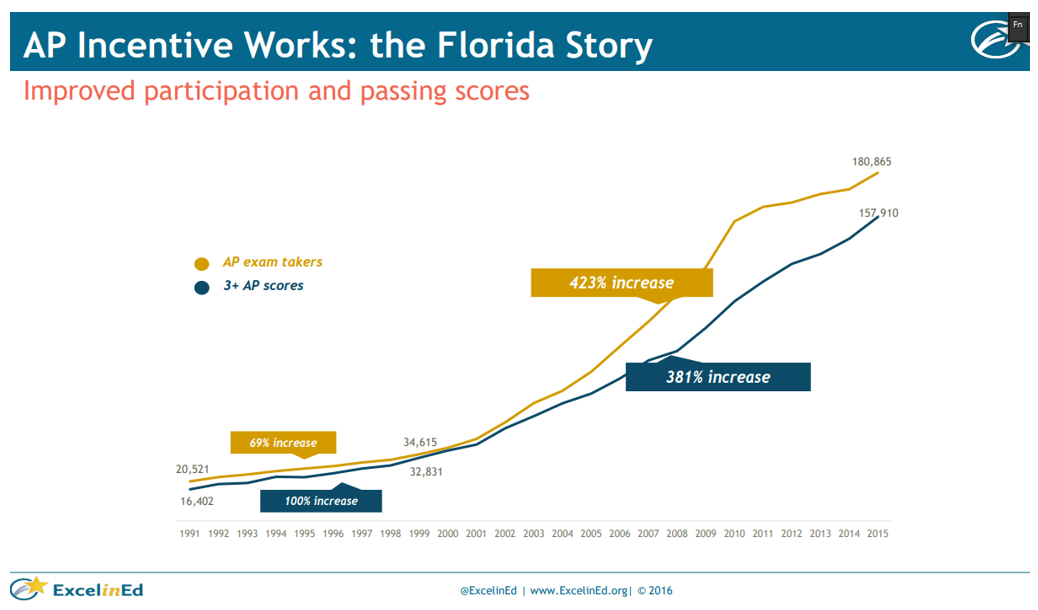 Moreover, there is no reason for high school rankings to credit schools for earning college credit by exam and not for earning high-demand professional certifications. High schools should prepare students for success in college or a career (or both), but how to reach that decision should be made by students and their families. Schools that equip students with high-demand certifications deserve credit as well, in my opinion.
This is not an either-or proposition. Students earning industry certifications often graduate from college. Students earning college credit by exam don't always finish college and could have benefited from a back-up plan. Ideally, schools would both prepare students to master college-level work and give them the opportunity to earn certifications with value in the labor market.
Florida pioneered a set of policies to encourage schools to earn college credits and later launched a similar effort to encourage high schools to allow students to earn high-demand certifications. If I were ranking high schools, unlike U.S. News & World Report, I'd rank such things equally.
Here is ExcelinEd's chart showing trends in certifications among Florida high school students.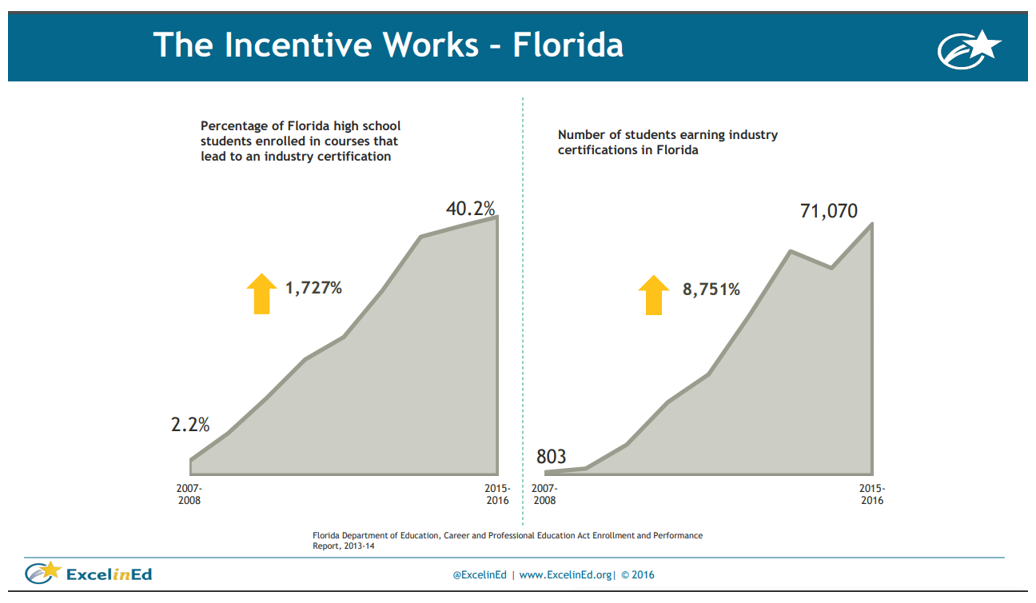 It appears that in addition to 158,000 passing scores on college credit exams in 2015, Florida high school students earned more than 71,000 certifications. By the way, 166,540 students graduated from Florida public schools at the conclusion of the 2015-16 academic year. We can therefore safely assume that a majority of Florida students either earned college credit by exam or earned a certification in a high demand field – or accomplished both.
So, how would U.S. News and World Report rankings for other states look if certifications were included in the rankings? We can't be sure, but here's a guess.