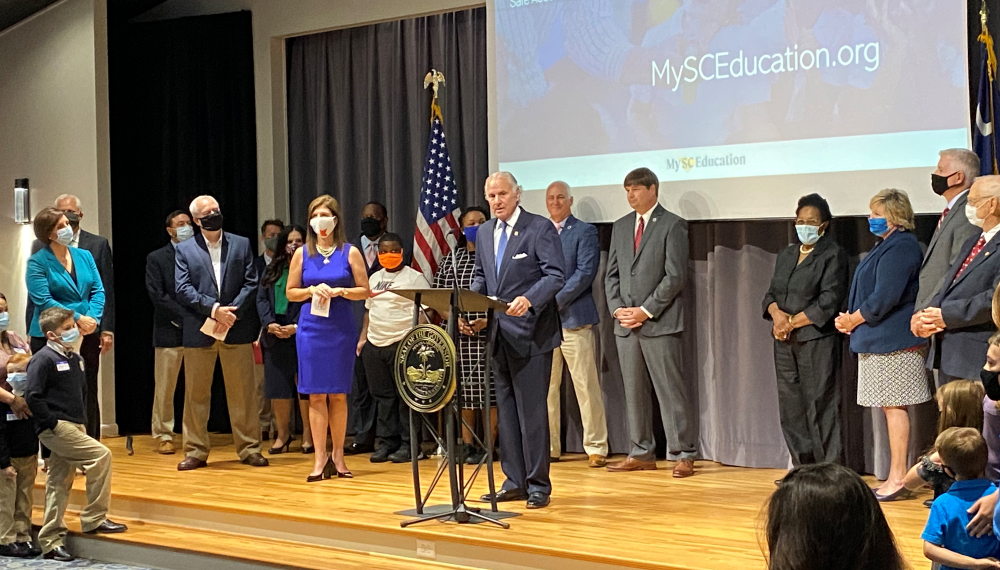 The COVID-19 pandemic has ushered in months of uncertainty for families with children in K-12 schools, but South Carolina officials on Monday made one thing clear: The state's families will have more options this academic year.
Gov. Henry McMaster, a Republican, announced creation of a private school scholarship program for students from low- and middle-income families. Children from families at or below 300% of the federal poverty line will be eligible for scholarships worth up to $6,500.
The scholarships come at an auspicious time because large districts in neighboring states are refusing to offer in-person learning—Atlanta to the south, Nashville to the west—while some school districts in-state have not announced their plans.
Parents wondering what another semester of on-again, off-again virtual delivery of lessons will mean for their students should brighten at the prospect of new choices.
There has been no shortage of questions before parents during the spring: Can I work with my children at home? Should I homeschool in the fall? Did my child learn anything this spring?
The answers vary by family, but surveys have demonstrated the responses to be "kind of," "maybe," and "ask again later," in that order.
Surveys find more families are considering homeschooling in the wake of the coronavirus, but this option is a challenge for dual-income households or single working parents. Meanwhile, research estimates that students may have lost approximately 30% to 50% of any gains they made due to the interruption of the last school year.
McMaster is using part of federal K-12 spending from the CARES Act, legislation passed earlier this year that provided funds to states for health care, education, and other social and policy areas affected by the pandemic. The portion McMaster chose was a fund specifically under the directive of the governor's office. Oklahoma Gov. Kevin Stitt made a similar move last week.
Bureaucracy and the potential for increased state dependency follows federal spending, so stimulus money should make any taxpayer or state policymaker blanch. But if the funds already are appropriated for education, as it is with CARES spending, then there is no more effective purpose than to give every child a chance at the American dream with more learning options.
"Education is the most important thing we do in South Carolina, or anywhere else," McMaster said. "We must find a way to give [children] the best education, understanding, the best preparation for the future that we possibly can."
Should interest groups such as unions or school board and superintendent associations argue for more spending on traditional schools, policymakers can remind them that the federal government provided a much larger portion–$13.2 billion—to K-12 schools through state departments of education; just $3 billion was set aside for governors such as McMaster to use.
Meanwhile, the myths about federal spending on K-12 schools are resilient. Last week, "The View" co-host Joy Behar actually said that Washington has cut spending on schools in recent years.
This claim is so demonstrably false that it is nearly embarrassing to correct, but why not: After adjusting for inflation, total per-student spending stands at more than $15,400 today, the highest figure in American history and approximately double the amount spent per child in the 1970s. Yet teacher unions and other special interests are calling for "at least" another $250 billion in federal spending for schools.
Shortly after unions issued this demand, the Government Accountability Office released a report demonstrating that schools had spent a small fraction of the federal money already issued to them in March to deal with the pandemic.
News coverage of the report indicated that some school officials were waiting to see how much else they would receive from Congress before spending the already-approved money. These delays hardly make the need for new spending feel urgent.
Thus, it is all the more significant that McMaster decided to allow spending already appropriated and under his supervision to follow students. The governor said South Carolina needs to "give parents confidence" about education this fall.
The scholarships are "your tax money, coming back," he said.
South Carolina's scholarships will allow families to decide now where their child will learn in the fall, restoring confidence for parents over their student's learning experience. Considering the ongoing speculation about schools, confidence is a good sentiment for state policymakers to spread around.