When it comes to education choice, you can't get more family-friendly than this: Three Florida private schools operating under one umbrella have found a way to offer exactly what each of their diverse communities has requested.
Rather than dictating one of several options – in-person instruction, distance learning or a hybrid of in-person and distance learning – administrators at Academy Prep Center, a trio of rigorous non-profit middle schools that prepare economically disadvantaged minority students for college, surveyed all its families, and based on the results, launched the new school year Aug. 10 with a different look for each campus.
Academy Prep Center of St. Petersburg opened entirely online. At Academy Prep Center of Tampa, some students are learning online at home while others are reporting to the historic schoolhouse that once was Ybor City's first grammar school for virtual instruction.  Meanwhile, the oak-shaded building that houses  Academy Prep Center of Lakeland is large enough to safety provide in-person classes while offering online instruction for families who want it.
"We have to all just be more agile and not be afraid to ask for what we need," observed L'Tanya Evans, head of school in Tampa. "There is no playbook in a pandemic."
Like all schools, both public and private, Academy Prep closely monitored school reopening directives from the Florida Department of Education. On the heels of an order that schools must open with brick-and-mortar instruction five days a week, Florida Education Commissioner Richard Corcoran allowed for flexibility in the state law requiring all private school scholarship students to "maintain direct contact with teachers" to keep their state scholarships.
All students at each of the three Academy Prep schools attend on state scholarships, including the Florida Tax Credit Scholarship managed by this blog host, Step Up For Students.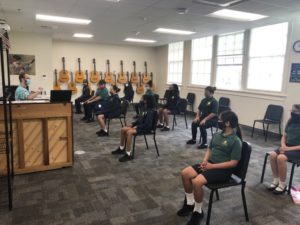 Lincoln Tamayo, head of school for Academy Prep Center of Lakeland and chief operating officer of the foundation that oversees all three schools, said the campus, which boasts 35,000 square feet, has plenty of room to easily follow all safety guidelines issued by the Centers for Disease Control and Prevention. The school can provide social distancing of at least 6 feet indoors and outdoors for its 79 students, including during  daily morning convocation and lunch.
"The kids have shown a real verve to get back at it, to see other human beings again on a regular basis," Tamayo said. "I think they are extremely thankful of getting out of the isolation they have experienced over the last four months."
Classroom doors and windows stay open to provide extra ventilation and to prevent a concentration of airborne virus particles. Everyone in the school must wear a mask except while eating or drinking and must wash his or her hands for at least 20 seconds every 90 minutes.
Tamayo cited the school's spaciousness and ability to follow safety guidelines as the main reason that 84% of families chose in-person instruction for their children.
"If there is a school like Lakeland that can take advantage of the space it has, the choice must be for the kids to come back to school," he said.
But the situation was different in St. Petersburg and Tampa, where classrooms are much smaller. In St. Petersburg, 100% of the parents chose online instruction for their children. Tampa parents responded similarly; only 12 students are on campus, while the rest receive online instruction from their teachers under adult supervision.
Reponses from parents in both of those communities aligned with results of a recent survey conducted by the nonprofit organization EdChoice, which found that  Black parents were more likely than white and Hispanic parents to say they were "extremely likely" to choose remote learning for their children. Meanwhile, a survey from Education Next found that Black and Hispanic parents reported more interaction with teachers than white parents during their children's distance-learning experiences in the spring, an indication that distance learning was a good alternative for them.
Gina Burkett, head of school for the St. Petersburg campus, said her student population draws from two of the hardest hit ZIP codes for coronavirus in Pinellas County. One of her students who was initially hospitalized this summer for appendicitis tested positive for COVID-19. Had that happened while school was in session, classes would have had to go online for two weeks of quarantine, she said.
"Our parents can't pivot like some families can," Burkett said. "When they started to see the intermittent inconsistency of learning, they said 'I can't do that.'"
Burkett and her team will re-evaluate the situation next month with an eye toward reopening the campus when safety can be ensured. For now, all 139 students are learning on brand-new Chromebooks provided by two philanthropists along with their own personal white boards. The school made sure that every student had Internet access last spring, an arrangement that is continuing into the new school year.
Along with the Tampa campus, Academy Prep Center of St. Petersburg provided students who needed dedicated workspaces with privacy walls and desks. Both campuses also are providing breakfast, lunch and snacks each week. Academy Prep Center of Lakeland is providing meals on site and sends snacks home with students each afternoon. Students who learn online also get meals and snacks.
Leaders at both online campuses are reporting strong starts.
"Our kids were engaged," said Burkett, who called her teachers "rock stars." She said she had a hard time leaving an art class because it was so entertaining.
Chikara Parks, a full-time college student and substitute teacher for the Pinellas County School District, was among St. Petersburg families with a compelling reason for wanting her fifth grader and eighth grader to learn from home. Her 60-year-old mother lives with the family and has underlying health conditions.
Parks said classes started smoothly and have gone well.
"It's just easier for them to be at home," she said, adding that the extensive safety protocols schools must maintain for in-person learning could detract from her children's learning. "They don't have to do hand sanitizer."
She said the structure and quality are still there even though they're learning from home. And she likes that students are required to keep their cameras on and raise their hands for permission to use the restroom.
"They have a certain day and a certain time for kids who need extra help," she said. "They meet when there's no class, so that's a plus, and they have one-on-one time for at least an hour."
Overall, educators at all three campuses credit their preparedness for the new school year to their extended year, part of their educational model that keeps students in school through June. This year, that model proved to have additional benefit beyond staving off summer learning loss.
"With each turn, we learned more and more what we could do to enhance our current delivery, but also to support our children," said Evans, the Tampa head of school. About one-third of her teachers and some of her students are immunocompromised.
Despite their desire for online classes, some Tampa parents expressed concern during summer meal pickups that their children had been home alone during online school last spring. In response, Evans made the campus available to those children who needed adult supervision. Now, 12 of the school's 116 students are coming each day to receive online instruction, a number that allows for social distancing.
As for online learning, "absolutely nothing has been watered down," Evans said.
The most important lesson learned, she said, is adaptability.