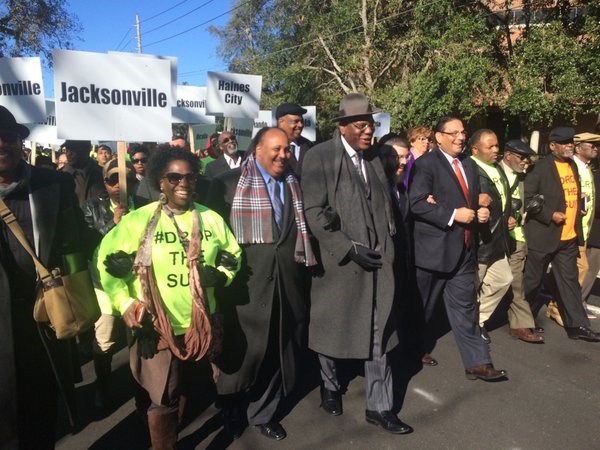 Editor's note: You can view a timeline of Step Up For Students' historical milestones at https://www.stepupforstudents.org/one-million/.
Nearly two decades after Step Up For Students began awarding tax credit scholarships for lower-income students to fulfill their school choice dreams, the organization is marking another milestone: the funding of its 1-millionth scholarship.
Over the years, as the concept of education choice has evolved, the scholarship offerings managed by Step Up For Students have changed to fit families' needs. Today, students can choose from a variety of offerings ranging from the original tax credit scholarship to a flexible spending account for students with special needs to scholarships for victims of bullying. There's even a scholarship for public school students who need help with reading skills.
"I've said from the very beginning my goal was that someday every low-income and working-class family could choose the learning environment that is best for their children just like families with money already do," said John F. Kirtley, founder of Step Up for Students, the state's largest K-12 scholarship funding organization and host of this blog.
Kirtley started a private, nonprofit forerunner to Step Up For Students in 1998 and since then has experienced all the milestones and challenges leading up to the millionth scholarship.
At the beginning, "It was just me, and I had enough money to fund 350 scholarships," recalled Kirtley, who can recite statistics about the scholarship program the way a baseball fan quotes facts and figures about a favorite player.
Soon after, he learned of a new national non-profit, the Children's Scholarship Fund, started by John Walton of the famous retail family and Ted Forstmann, chairman and CEO of a Wall Street firm.  Kirtley connected with that group, which was seeking to match funds raised by partners in different states for economically disadvantaged families to send their children to private schools of their choice.
"We hardly did any advertising at all," Kirtley said. "It was just me walking around to churches and housing projects talking about the program."
Truth be told, he didn't need glitzy marketing. The program drew 12,000 applications in just four months, confirming what Kirtley already suspected: Parents of modest means wanted the best education for their children just as much as people who could afford to pay private school tuition or buy homes in desirable neighborhoods.
In 2001, Kirtley took his pitch to Gov. Jeb Bush, House Speaker Tom Feeney and Senate President John McKay, all of whom strongly supported the creation of the Florida Corporate Tax Credit Scholarship program. When the program, capped at $50 million, began awarding scholarships worth $3,500 in 2002, there were just 15,000 scholarship students. Joe Negron, who sponsored the bill while serving as a state representative and later supported scholarship expansion as a state senator, recalled the strategy he employed to get the bill passed.
"My best argument was that the liberal establishment also supported school choice – for their children, but not for families with modest means," said Negron, who is now a business executive. "In addition, the personal stories from parents whose students were benefitting from the privately funded program were very powerful."
High demand created wait lists, prompting lawmakers to raise the cap to $88 million in 2005. The next year, the award increased from $3,500 to $3,750. The state required students to take a nationally norm-referenced test to ensure accountability.
Families kept coming. By 2009, the cap stood at $118 million, with awards at $3,950. Despite the increases, the state's Office of Program Policy Analysis and Government Accountability reported that the program had saved taxpayers $38.9 million in 2007-08.
Shortly after the program was renamed the Florida Tax Credit Scholarship, the first state-commissioned evaluation report showed students on the program in 2007-08 experienced learning gains at the same pace as all students nationally. Then in 2010, with bipartisan support, the Legislature approved a major expansion of the program. The bill allowed tax credits for alcoholic beverage excise, direct pay sales and use, and oil and gas severance taxes. The program also could grow with demand.
The Legislature returned again in 2014 to provide another significant boost in response to growing demand, prompting the Florida Education Association, the state's largest teachers' union, to bring a lawsuit demanding that the courts shut down the program.  Education choice supporters responded with a rally that drew more than 10,000 people to the steps of the state Capitol, including Martin Luther King III, son of civil rights icon Rev. Martin Luther King Jr. 
King told the crowd, more than 1,000 of whom had ridden buses all night from Miami to attend: "Ultimately, if the courts have to decide, the courts will be on the side of justice. Because this is about justice, this is about freedom—the freedom to choose what's best for your family, and your child."
The lawsuit failed in two lower courts and ultimately was rejected by the Florida Supreme Court in 2017.
The Tax Credit Scholarship was joined in 2014 by an attempt to give educational flexibility to students with severe special needs. Florida became the second state in the nation after Arizona to offer educational savings accounts to such students. Named the Gardiner Scholarship program in 2016 in honor of state Sen. Andy Gardiner, a strong supporter who shepherded the bill through the legislative process, the accounts could be used to reimburse parents for therapies or other educational needs for their children.
The state set aside $18.4 million for the program, enough for an estimated 1,800 students. A scant three months later, 1,000 scholarships had been awarded, and parents had started another nearly 3,700 applications. By 2019, the program was serving more than 10,000 students, making it the largest program of its kind in the nation.
Understanding the need for expanding the program so more families could participate, Gov. Ron DeSantis in 2020 approved a $42 million increase to the program, bringing the total allocation to nearly $190 million. The program which served 14,000 students during the 2019-20 school year, expects to serve approximately 17,000 students during the 2020-21 school year.
Choice programs also expanded in 2018 to help two groups of students dealing with challenges. The Hope Scholarship program became the first of its kind in the nation to offer relief to victims of bullying by allowing them to leave their public school for a participating private school. Reading Scholarship Accounts were aimed at helping public elementary school students who were struggling with reading.
Meanwhile, growing demand among lower-income families for Florida Tax Credit Scholarships prompted the Legislature to create the Family Empowerment Scholarship program in 2019. The program operates similarly to the tax credit scholarship program but is funded through the state budget.
Today, the five scholarships serve approximately 150,000 Florida students. As the number of students in the programs has grown, so have educational options available to them.
Charter schools, magnet schools, homeschools and co-ops, learning pods and micro-schools all address different needs. About 40% of students in Florida now choose an option other than their traditional zoned schools. In the Miami Dade district, the state's largest, that figure is more than 70%.
Step Up For Students founder Kirtley sees a vital need to keep pace with that evolution and to eliminate the inequities these new programs can create for those of modest means.
"I have changed my stated goal to 'Every lower-income and working-class family can customize their children's education so they reach their full potential,' " Kirtley said, "just like families with more money do."