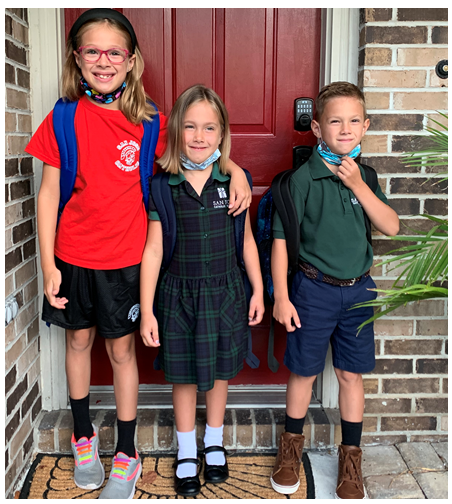 While Catholic school enrollment in Florida declined for the second straight year, newly released figures showing an increase in the number of families using state scholarships to send their children to these schools may be the reason the schools escaped the precipitous declines plaguing Catholic schools nationwide.
Overall, scholarship use among Catholic school families increased by 2.1%. Preliminary figures on Catholic school enrollment released by the Florida Conference of Catholic Bishops shows the number of students receiving the Family Empowerment Scholarship soaring from 1,787 in 2019 to 5,040 in 2020.

Florida Catholic school enrollment yearly comparison and growth over time

Florida Catholic school state scholarship figures 2018-2020
"Families are looking for more flexibility and access to diverse schooling options to keep their children safe and well educated during this pandemic," said Doug Tuthill, president of Step Up For Students, Florida's largest K-12 scholarship organization and host of this blog. "That's why we are seeing a surge in demand for scholarships, such as the Family Empowerment Scholarship."
Tuthill added: "Education choice programs will continue to grow for the foreseeable future. Families like having access to more learning options for their children."
A significant amount of the growth in scholarships, Tuthill speculated, is due to parents of kindergarteners seeking a safer environment for their children during the pandemic while trying to maintain a high-quality education. The pandemic's impact on family finances also may have played a role in scholarship growth, he said.
"I suspect there has been a lot of pressure on families who were private pay," he said.
Count Joe Peters and his wife, Sarah, among those who felt that pressure. Peters, a 36-year-old father of four children ranging in age from 8 years to 18 months, lost his income when the pandemic wiped out the event planning and management business he co-owns. Though the family was able to make ends meet for a few months with income from events held before pandemic-forced cancellations, the threat of having to take their children out of San Jose Catholic School in Jacksonville, which they knew and loved, caused many sleepless nights.
"That was a trying time," said Peters, who attended San Jose and graduated from Bishop Kenney Catholic High School in Jacksonville. The situation became so dire that the family considered moving to his father-in-law's Alabama hometown so the kids could attend district schools there and still be near relatives.
"Just the thought of telling our kids they wouldn't be able to return to a place they loved so much was heartbreaking," Sarah Peters said. The idea of her young children having to move to a new town, adjust to new teachers and make new friends while everyone's faces were covered with masks was "frightening to me," she said.
Then a family member told the family about the Family Empowerment Scholarship program. They applied, and their children were awarded full scholarships for the 2020-21 school year.  
"It brought tears to our eyes,"  Joe Peters recalled. "That was such a relief knowing that our kids would not be put through any kind of drastic change during this global pandemic."
Catholic school leaders such as Michael Barrett, associate for education for the Florida Conference of Catholic Bishops, credit state scholarship programs for allowing Catholic schools to remain open, providing a high-quality, faith-based education for families dealing with pandemic-induced anxiety.
"The Family Empowerment Scholarship is a program true to its name," Barrett said. "Even pre-pandemic, the rising costs of private school tuition coupled with increased costs of living often made it difficult for middle-income families to provide a Catholic education for multiple children."
Barrett said his organization hopes state lawmakers will expand the Family Empowerment Scholarship to more students by eliminating the requirement that students in first through 12th grades first attend a district school to qualify for the program. (Because the Peters' youngest child was entering kindergarten, the two older children were also eligible for Family Empowerment Scholarships, according to state rules.)
"Parents are the primary educators of their children and should have the opportunity to educate their children as they see fit," he said.
Joe and Sarah Peters' said they are relieved that at their three children to continue attending the school the family has always known and loved.
"We like the values that are being taught here," Joe Peters said. "We know the community, and the community knows us."
Peters also found his own lifeline at San Jose as a long-term substitute Spanish teacher and cross country/track coach.  
"I am talking to you from my desk at school," he said. "I am beyond grateful."