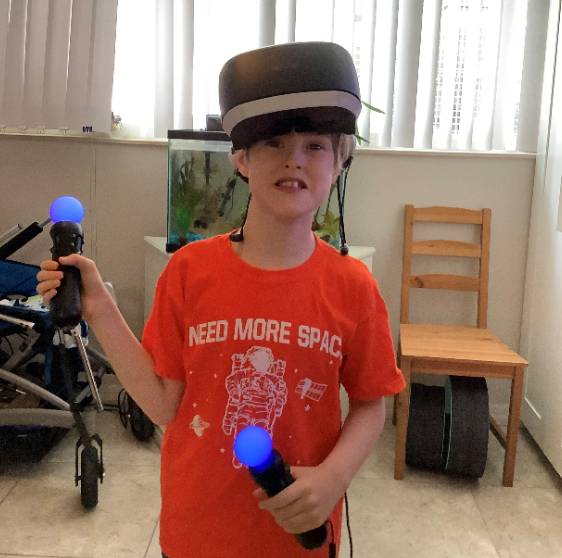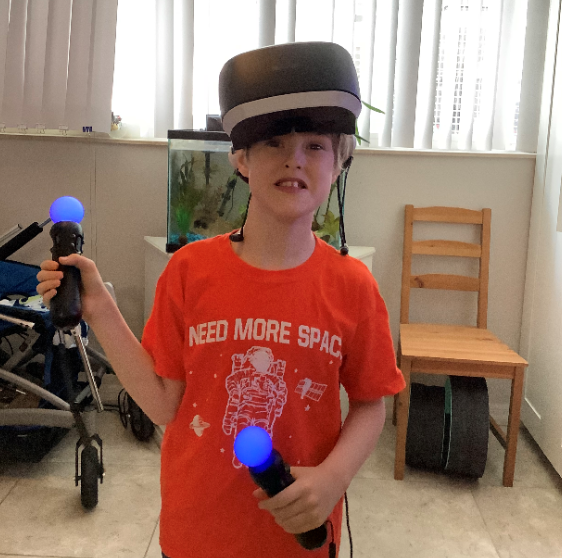 Danielle Drummond was skeptical when she first saw the virtual reality headsets and consoles, and even the large-screen TVs, that are available to families who receive Florida's Gardiner Scholarship for students with special needs.
"At first, I even wondered, 'What on earth is the educational value of this?'" said Drummond, who lives in Fort Lauderdale.
It was 2018 and Drummond's son Tristan, who is on the autism spectrum and is homeschooled, had recently undergone back surgery to correct a tethered spinal cord, which he had since birth. Drummond hoped Tristan, 6 at the time, could relearn to walk with the help of virtual reality.
Virtual reality has been used since the mid-1990s to help people on the spectrum learn to communicate and connect with others. Adults can use the technology to prepare for job interviews. Children use it to improve cognitive and gross motor skills.
Drummond believed the VR equipment could do the same for her son. She purchased the equipment with funds from Gardiner's education savings account (ESA) through MyScholarShop, Step Up For Students' online catalog of pre-approved educational products. It includes curriculum materials, digital devices, and education software.
Families can also purchase items or services that are not on the pre-approved list. They must submit a pre-authorization request that includes supporting documentation and an explanation of how the purchase will meet the individual educational needs of the student.
A review is then conducted by an internal committee, which includes a special needs educator, to determine if the item or service is allowable under the program's expenditure categories and spending caps, and a notification is sent to the parent. The item or service may then be submitted on a reimbursement request, and it must match the corresponding pre-authorization.
Step Up For Students employs numerous measures to protect against fraud and theft. For example, if a service provider's reimbursement request is submitted from an IP address and the platform sees that the parental approval came from the same IP address, the anti-fraud staff is alerted to investigate.
Thanks to the VR equipment made possible by the ESA, Tristan, now 8, did relearn to walk. But that was just the beginning.
"Then we discovered it had a lot more value," Drummond said.
Since he began using virtual reality, Tristan has increased his attention span, improved his hand-eye coordination, and developed his core strength. He has learned how to interact socially, how to count and how to exercise.
Tristan cannot go on field trips like other students. He can't even sit in a movie theater.
However, through virtual reality, Tristan has visited Walt Disney World's Epcot Center and the Smithsonian Institute in Washington, D.C. He landed on the moon with Apollo 11, and went scuba diving through the Great Barrier Reef in Australia, where he swam with sharks.
"It's enriched his life in ways that we would have been otherwise unable to do," Drummond said.
Tristan also uses VR for his occupational and physical therapy. Drummond said it used to be a chore to get Tristan to participate in therapy.
"We would lose 75% to 80% of therapy lessons trying to get him into a groove to enjoy what he is doing," she said. "It's a struggle every parent with a child like Tristan knows."
But with virtual reality now part of the sessions, Drummond said it only takes Tristan a few minutes to get into the therapy groove.
"So, we're now getting full therapy sessions and because of that, he's talking more, he's interacting with us more. He's actually becoming more social," she said. "It's gotten him into being healthier, because he has the ability to do physical therapy, which is absolutely his favorite thing to do."
The technology also helps Tristan overcome his fear of visiting a place for the first time, like a medical facility. He can tour the facility virtually ahead of time.
"But now with the virtual reality, I can set him up on that, have the exact place we are going on it, and allow him to look around in a safe environment," Drummond said. "That way when he finally goes, I don't have to make plans for our arrival like an army general. I don't have to have 500 contingency plans because he's expecting it. He knows what it's going to sound like. What it's going to look like. He's going to know where things are. All these things help him get acclimated and actually get more out of going to these places."
Drummond never thought that Job Simulator on Oculus Quest, or the Ring Fit Adventure game for Nintendo Switch, or Beat Saber would improve Tristan's life in so many ways, but they have.
"They're a lot of fun, but it's also a way to sneak education into him," Drummond said. "I don't know if I can really say it enough about it. It just helps him to do pretty much everything. He has a blast with it."