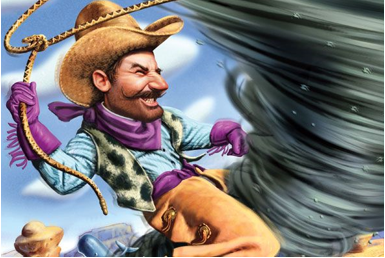 As the Florida Tax Credit Scholarship program has grown, so has the value of the scholarships, the number of participating schools, parental satisfaction, and the number of years students remain in the program.
Tall tales told by the program's critics have grown, too. Among other errors, those critics continue to misstate a statistic regarding student retention from an Urban Institute report released in 2017 and updated in 2019
The report found that scholarship students are more likely to attend and graduate from college. Despite the good news, critics spin a yarn about a statistic which notes that 61% of them used the scholarship for two years or less. This "drop-out rate," they say, signals widespread dissatisfaction among parents and lots of low-quality private schools.
This myth struck like a tornado, whirling in and out of nearly every hearing and floor debate during the 2021 Florida legislative session.
Not only does this statistic fail to reflect reality today; it says nothing about program quality. In fact, the Urban Institute authors tried to correct the record  when the myth was just a little, lonely dust devil.
"Our study finds positive effects on college enrollment and degree attainment, which makes it unlikely that broad dissatisfaction or dropping out is driving students to stop using the scholarship," they wrote.
The authors speculated on possible reasons for the attrition rate in the study critics cite.
"This is likely attributable to the lower supply of private school schools [at the high school level] compared with private elementary or middle schools and to the fact that the scholarship amount was previously the same for all grade levels, despite high school tuition being higher," they wrote.
Critics continue to ignore both explanations.
It's worth noting that the Urban Institute examined students who utilized the scholarship between 2004 and 2010. Back then, scholarship values were worth far less, program eligibility restrictions were much higher, and there were far fewer participating private schools.
Attrition and years of participation over time


Since 2010, the Florida Tax Credit program has increased from 28,927 students attending 1,033 schools to 104,162 students attending 1,933 schools. Per-student scholarship amounts increased from $3,950 in 2010 (about $4,798 in today's dollars) to about $6,800, while strict income eligibility rules have been relaxed to allow students to remain on the program longer while their parents receive small pay increases and promotions at work.
These factors have contributed to a significant reduction in the two-year attrition rate over time. Today, just 46% of students use the scholarship for two years or less. So, what explains this 46% two-year attrition rate?
Barriers remain, which keep students from staying longer on average. The biggest barrier reported by 36% of parents is a lack of private school options nearby.  In fact, the number of schools offering high school grade levels is about half the number of schools offering elementary grades. And since many private schools do not offer free transportation, lack of a nearby private high school can be a major barrier to remaining on the scholarship program.
Florida Tax Credit Scholarship tuition gap, 2020-21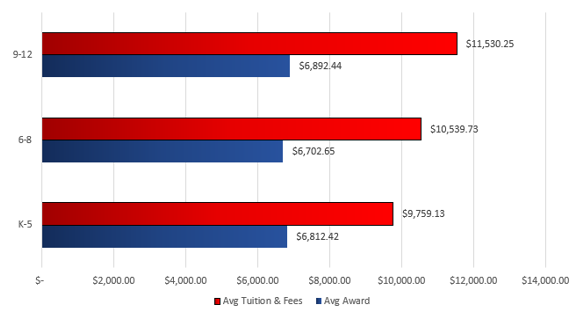 Cost is another factor. The gap between the scholarship value and tuition amount grows as students enter higher grades.
Florida's scholarship values remain relatively flat, despite an increase in tuition in middle and high school. The gap between tuition/fees and scholarships is $2,947 in elementary school. That gap jumps to $3,837 when a student enters middle school, and to $4,638 for high school. Many families have more than one child on the program. These are daunting gaps for scholarship families who have an average household income of $32,638 per year.
There are several reasons why students leave the program, just as there are numerous reasons why students leave local public schools. Dissatisfaction with school quality may be one reason, but it isn't a primary one. According to the most recent survey by EdChoice, 89% of parents were satisfied with their available private school options.
In April 2020, Step Up For Students, the nonprofit that administers the Tax Credit Scholarship program and hosts this blog, surveyed 1,111 parents asking why they removed their child from the program. Just 11% cited academic concerns. Another 3% cited problems with teachers or administrators, 2% said poor school discipline, and fewer than 1% cited school safety as reasons for leaving.
Twenty percent of parents who responded said they no longer used the scholarship because they moved. In fact, moving is a common challenge when it comes to educating lower-income students, who often attend more than one school within the same year.
Low-income students are most likely to have higher rates of migration between schools regardless of whether the school is public or private. For example, 45% of all students attending high-poverty schools in Hillsborough County, 90% of whom qualify for free or reduced-price meals, a close proxy for the scholarship program, left their school within one year. It cannot be concluded that parents found these schools to be of "atrocious quality," because there are many factors impacting why low-income students exit a school.
Finally, it is worth noting that over the last five years, 78% of scholarship students chose to renew the scholarship each year, and that the average student uses a scholarship for 3.1 years. Some students return to the program in later years, and some do not. School choice, after all, is about giving parents and students options, not holding them hostage to a preferred educational option.
Consider this whirling myth of misinformation officially wrangled.