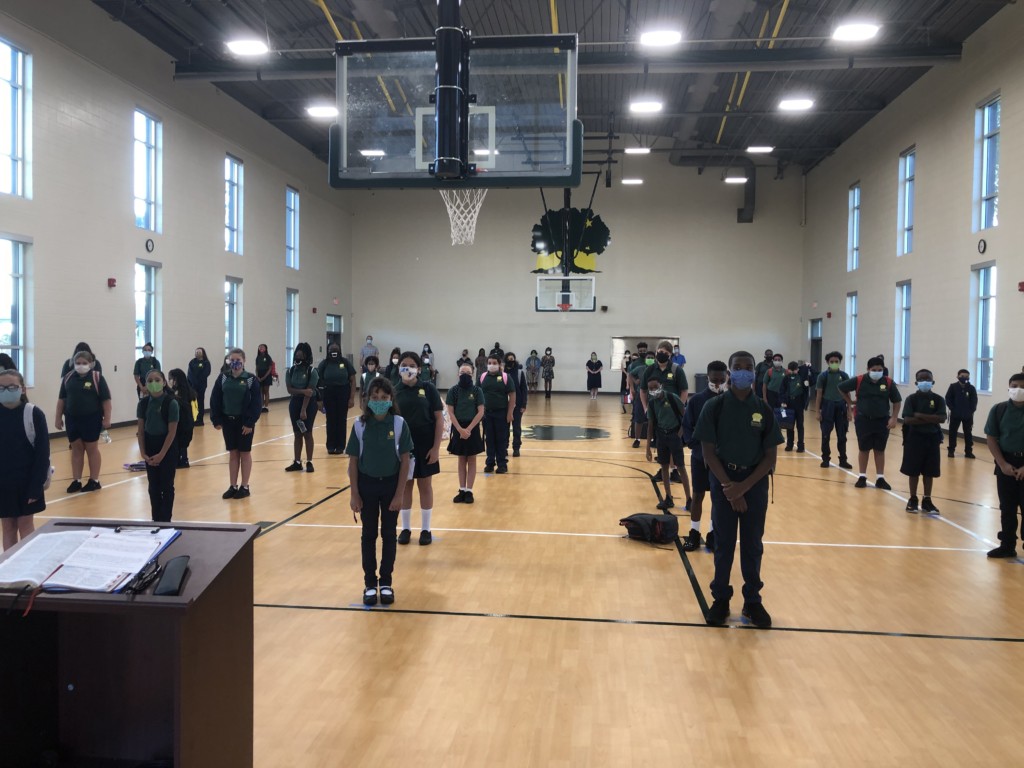 Academy Prep Center started the 2020-21 academic year with a unique perspective. Understanding that education is hardly a one-size-fits-all proposition, even in the best of times, school officials allowed the trio of private schools to tailor their reopening plans to parents' needs, with a different look and feel at each location.
The St. Petersburg school opened entirely online after 100% of the parents requested it. The Lakeland location, which was roomy enough to accommodate social distancing, opened its oak-shaded campus to in-person instruction, with online learning available to those wanted it. The Tampa school offered a hybrid experience, with online instruction and an open campus where students who lacked adult supervision at home could come to participate in online classes.
"We have to all just be more agile and not be afraid to ask for what we need," L'Tanya Evans, head of school for Academy Prep Center of Tampa said at the time.
As the traditional academic year ends, all but a handful of Academy Prep students are back in person, with Lakeland ending its online program in September. School leaders say they will return to full brick-and-mortar operation for summer programs and continue it when the 2021-22 academic year starts in August.
"I cannot say enough about how inspired I am and how impressed I am by the students we served through the year and our colleagues who serve these students," said Lincoln Tamayo, head of school for Academy Prep Center of Lakeland. "It is a great testament to our better natures."
All students who attend Academy Prep, which offers a rigorous program to prepare economically disadvantaged students for college, attend on Florida Tax Credit Scholarships administered by Step Up For Students, which hosts this blog. School leaders went above and beyond to offer all students a safe environment amid the pandemic, including a strict mask policy, social distancing and hygiene rules. Students were organized in cohorts that remained in the same classroom all day, with their teachers changing classes.
Tamayo, who also serves as chief operating officer for the foundation that oversees the three nonprofit middle schools, said that arrangement created the biggest challenge for students who as active middle schoolers weren't used to staying in one area all day.
The challenge for teachers was having to transporting their materials from classroom to classroom all day. The other big challenge for the adults, Tamayo said, was having to "constantly remind" students to stayed properly masked.
But despite the inconveniences resulting from operating a school during a pandemic, Tamayo called the year an overwhelming success. Of the nearly 70 students at the Lakeland school, only five COVID cases were reported. None of the staff was infected, and only one adult who was not an employee of the school contracted the virus. All infections occurred away from the school, Tamayo said.
"I will say that for the benefit of those we are here to serve, it served our kids extremely well, and we were very happy to engage them in person and through the year the way we are meant to engage as humans," he said.
He pointed to the school's first chess championship as a testament to the students' passion for learning; two-thirds of the student body came out on a Saturday morning to participate.
"That speaks volumes," said Tamayo, adding that he expects to see gains on standardized tests when results come in.
Seventy percent of students at Academy Prep Center of Tampa returned to in-person instruction after nine weeks of a hybrid arrangement in which a handful of students came to campus each day with to access distance learning, while most accessed distance learning from home.
"We needed that time to get our campus ready," said L'Tanya Evans, head of school for Academy Prep Center of Tampa.
Gradually, as COVID didn't pose as much of a threat as initially expected, students and staff returned. Today, 87% of students are learning in person on the Tampa campus, and all faculty members but one are teaching in person.
"We're feeling pretty familiar," Evans said.
Like the Lakeland and St. Petersburg campuses, Academy Prep Center of Tampa continues to follow all safety protocols including mask wearing, social distancing, and hand washing.
"We've been very blessed that we haven't had any exposures since January," Evans said. "We've been able to keep exposures and keep students in their cohorts. The students adapted very well. We've been proud of what we have been able to do with a Herculean effort."
Frequent breaks for stretching and movement proved helpful for the students, and Evans has used food to keep her staff motivated, bringing in home-cooked meals three times a week that she prepared herself.
"I wanted to make sure my faculty is being taken care of, and this includes a mental health component as well," she said. "We wanted to see what things we can do so they can be their best selves for the kids."
Evans also has worked hard to make sure all 124 seats are full for the 2021-22 school year. Unlike Academy Prep Center of St. Petersburg, which is more of a neighborhood school, the Tampa location draws students from as far away as Riverview in the southern part Hillsborough County and Wesley Chapel, which lies in an adjoining county just across the northern Hillsborough county line.
She has visited area after-school sites such as Boys and Girls Clubs as well as churches and other schools, and the school is sending out 5,000 direct mail pieces to homes in target ZIP codes to make families aware of the school's mission and invite them to enroll their children.
At Academy Prep Center of St. Petersburg, which opened entirely online in August, in-person classes resumed in late March in rooms with bipolar ionization filters and hand sanitizing stations. Students also stayed in their homerooms with teachers moving from room to room.
"We're about 80 percent in person and 20 percent online," said Gina Burkett, head of school for Academy Prep Center of St. Petersburg. "We're going to finish 80-20, but in the summer, we're going to be a full in-person campus."
Though students started the school year online and spent much of the year learning remotely, that didn't stop them from exceling.
Test results showed no measurable learning loss during the pandemic, and many students improved their scores during virtual learning, Burkett said. The average grade-point average during the pandemic was 3.1, with 40% of students earning academic honors.
Enrichment also continued, with 14 different online programs being offered each quarter.
Meanwhile, enrollment has remained steady at 137, just three seats short of the 140 maximum, with attendance at 99%.
The school is preparing to transition to its summer program, which begins in June. The traditional academy year will begin in August.
Burkett said the St. Petersburg communities that the school serves tend to be more cautious about safety than the communities of the other two schools, so all mask use and other protocols will continue through the summer, with leaders re-evaluating for August.
"We don't need to make that call right now," she said.
Fundraising, a critical aspect Academy Prep Center, a nonprofit, has remained strong at all three schools. The Tampa and St. Petersburg schools have each held events this year and exceeded their fundraising goals. The Lakeland campus has a live event, Evening of Stars, set for tonight. It will include an open house and dinner.
"The angels in our communities have been very understanding, sympathetic and empathetic with the changes we have gone through, Tamayo said. "They have really doubled down on their care and consideration for us."