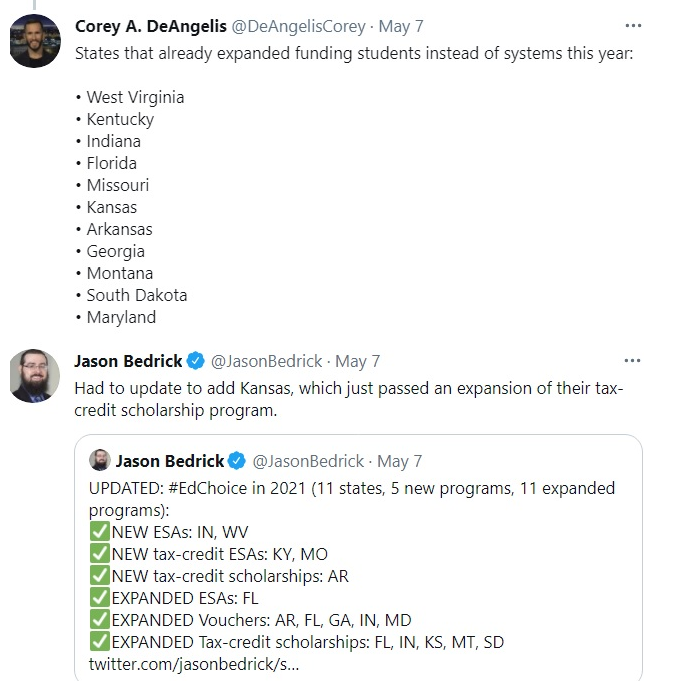 Our friends Jason Bedrick and Corey DeAngelis are in the business of keeping us apprised of school choice advances from states across the country, and business is booming. After DeAngelis' post went live, Kansas lawmakers expanded their scholarship tax credit program, necessitating an update from Bedrick.
 In a year in which public school systems lost contact with millions of children, the already considerable appeal of funding students rather than systems has greatly increased. States new to private educational choice in 2021 include Kentucky and Missouri (new tax-credit funded education savings account programs) and West Virginia (new education savings account program).
Florida and Indiana lawmakers made preexisting programs broader and stronger, and Indiana added a new education savings account program for children with disabilities.
The ESA legislation is especially welcome. Ten years ago, I had the opportunity to work with an extraordinary group of advocates and policymakers to develop the first ESA program for students with disabilities. The flexibility afforded to the families of students with disabilities through the ESA mechanism has proven to have an extraordinary utility.
I would argue that the highest form of an "Individual Education Plan" means being able to customize the services and therapies to the specific needs of a child. ESA programs for students with disabilities followed in Florida, Mississippi, North Carolina and Tennessee.
Nevada lawmakers passed a broadly available ESA program, but the Nevada Supreme Court defunded the program based upon a technicality. As a quick aside, let's take a look at how students in Clark County fared during the pandemic a few years later, when Chad Alderman calculated the average amount of instruction received by any means (in-person digital, etc.) for 10 large urban districts.
 Why did Clark County provide less than half of normal instruction? Ultimately because they would face no meaningful consequence for doing so.
 If Nevada families possessed the option of an ESA, the public-school systems would have made a greater effort than providing far less than half-time Zoom school. Parents created pods across the country out of their own pockets. The Nevada ESA would have enabled them to do so with much greater equity.
 The new and expanded ESA programs create a wider network of people trying new education uses and administrative technologies. The ESA design, only a decade old, continues to grow, improve and evolve, acquiring experience and confidence over time.
 The usual suspects will file lawsuits, and challenges lie ahead, but 2021 already is a historic year for education freedom. Ultimately, all students, including but not limited to students with disabilities, deserve a meaningful individual education plan.
 The 2021 legislative sessions aren't finished, so stay tuned to see what happens next.