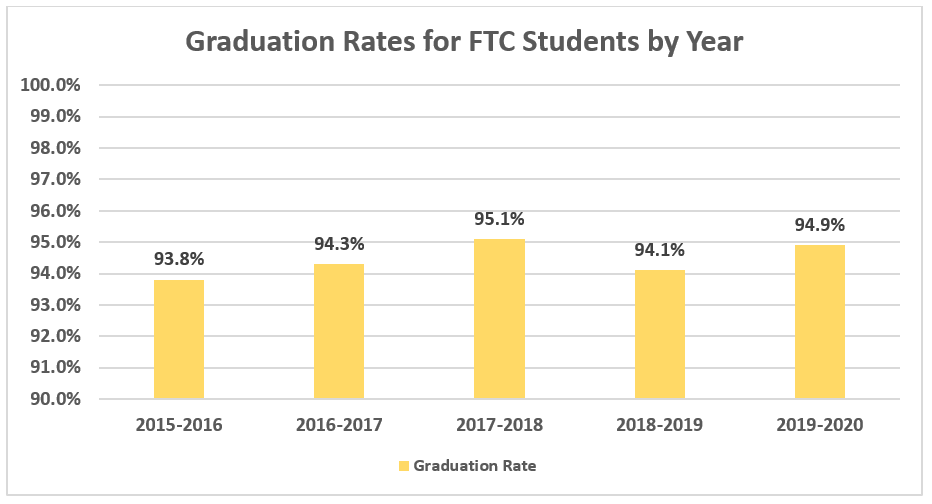 Nearly 95% of seniors participating in the Florida Tax Credit Scholarship program graduated from high school during the 2019-20 school year, the second highest graduation rate since the nonprofit that administers the state scholarships began tracking graduation rates in 2015.
Catholic schools had the highest graduation rate at 99.1%, while non-denominational schools had the lowest with 91.9% of seniors graduating according to an annual report released this week by Step Up For Students, which hosts this blog.
Black and Hispanic students posted graduation rates of 93.5% and 94.4%, respectively. The graduation rate for Asian students was 98.1%.
Seniors were more likely to graduate from accredited private schools (97.8%) than unaccredited schools (88%). There was no measurable difference in graduation rates between students in dual-parent households and single-parent households.
For the 2019-20 school year, 557 private schools in Florida enrolled 3,642 students in 12th grade. Overall, Step Up for Students awarded $653.5 million in scholarships to 107,873 students attending 1,850 private schools throughout the state.
Graduation rates are calculated using the same methods the National Center for Education Statistics uses to calculate graduation rates for private school students nationally. The method is not comparable to the cohort method used to calculate graduation rates for public school students.
The graduation rate is defined by the percentage of students who began in the 2019-20 school year as seniors and earned a standard diploma, special education diploma, or other certificate or diploma by the end of the academic year.
To compile the report, Step Up For Students used data from the Florida Department of Education along with a survey of Florida's private schools. Just over 95% of respondents surveyed provided responses. Of those surveyed, 164 did not respond concerning their exit status, while 16 students who transferred to a public school were excluded from the analysis.