Just blocks from where waves roll in from the Atlantic, a well-traveled Toyota pickup stops every Friday around 9. Uli Frallicciardi lowers his tailgate and loads 15 green surfboards into the truck, enjoying the early morning tranquility at this Deerfield Beach surf shop just south of Boca Raton, Florida.
Surfboards aren't the only boards on their way to a nearby spot in the sand.
Toni Frallicciardi has packed the back of her VW minivan with an array of white boards, the type you see in classrooms, each covered with meticulously hand-written notes. She'll use the white boards for a class that's part of a unique educational program she and her husband launched two years ago called Surf Skate Science.
The program is a novel endeavor for homeschoolers who thrive on the couple's hands-on approach to learning math, science and design through the kid-friendly pursuits of surfing and skateboarding. It  combines the couple's shared sporting passions into a program that teaches STEM – science, technology, engineering and mathematics – with a twist: the addition of an "A" for art.
The result is a popular educational approach called STEAM.
"With architecture, science or any related pursuit, you have to be creative as well," says Toni, who majored in ocean engineering at Florida Institute of Technology. "So, adding art to the equation is essential, because art and design are always present in some way. The main thing is we want to get kids excited about learning."
Toni and Uli approach skate instruction the same way, meeting their students, who range from third graders to 10th graders, at a nearby skate park. Uli's pickup is loaded down for those classes with extra skateboards, helmets and padding, while Toni totes school supplies and the white boards that contain her lesson points for the day.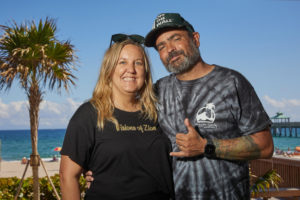 The Frallicciardis (pronounced Fra-litch-ee-ardi) got the idea for Surf Skate Science after seeing how their two older children benefitted from homeschooling. Among other perks, homeschooling allowed each of them to dual-enroll in high school and college. Their second child – a son, now 20, who helps with the program – developed a love of architecture by participating in a program that allowed him to compete with other ambitious students who were engaged in real-life projects and guided by mentors from local architecture and construction companies.
"That made us think that we could do something like that with surf and skate," Toni said. "We could invite local marine biologists, local skateboard manufacturers, or skate park architects to come and talk to the kids about potential careers and get them involved with hands-on activities. We could have them learn through labs and get messy."
From that initial idea several years ago, Toni and Uli – both of whom work full time at Island Water Sports in Deerfield Beach – began partnering with local organizations such as the Broward County Sea Turtle Conservation Program as well as Florida International University and Nova Southeastern University to bring in experts in science, math, the environment and design to speak with students.
But then, just as they were making plans to launch their program in February 2018, the nation was rocked by the mass shooting at Marjorie Stoneman Douglas High School in Parkland, just down the street from the Frallicciardis' south Florida home.
"A lot of the kids who skated at the local park went to school there, and we were very involved with the grief center after that," Toni recalls. "My friends and I provided meals for the families involved, and made sure the grief center had food, or were just there for the students as they cried."
She and Uli decided to pull their youngest child out of public middle school soon after that and begin homeschooling him, as did many parents in the area. The homeschool trend became a key building block for Surf Skate Science.
"During that time we thought, 'What if we just met at the beach or the skate park to do science class?'"  Toni said. "That's kind of how it started, and it just kept growing from there."
It began with a small group consisting of their youngest son and some of his friends. Toni developed the curriculum at her kitchen table, making sure it adhered to required grade standards. Classes were held weekly at the beach and at a nearby skate park, usually from 10:30 a.m. until noon, leading into a lunch hour that welcomed parents and siblings in a social environment.
The pandemic curtailed in-person activities last summer, but the program moved online with virtual lessons and guest speakers. Classes resumed in the fall with everyone safely social distancing.
At that point, an unintended bright spot appeared: More parents were turning to homeschooling as they became concerned about sending their children back to brick-and-mortar schools. Many discovered Surf Skate Science a welcome addition to their kids' itineraries.
Today, class size ranges from 15 to 20 students. A standard science lesson – how to design and build a skateboard, the physics involved in staying balanced on a surfboard, an oceanography lesson taught from the vantage point of the ocean – lasts 45 minutes. Then comes another 45 minutes of surfing and skating instruction.
To Uli, learning comes easier if those involved are passionate about the subject being taught.
"I was that kid who didn't get math," he said. "But I was building this ramp, and it had to be perfect, and I realized that math is so important."
The program has been a godsend for Rafaela Martin, whose 15-year-old son, Michael, is autistic and has benefitted enormously from the experience.
"It helps him socially, because he has the opportunity to see other kids and interact with them," she said. "That has helped him learn how to handle different situations. He likes to do things hands on, so this has been great for him. This has helped him socially, academically and physically."
For the Frallicciardis, the program mirrors their love of skateboarding, surfing and learning. Toni ran her own skate shop for three years after graduating from college. Uli, trained in physical therapy, met her at the shop and they married in 1998.
From 2003 to 2018, they worked together running a skate park, Ramp 48, while forming and running a nonprofit called Christian Skaters, helping to build skate parks in the United States and overseas. Now, their labor of love is Surf Skate Science.
"One of the parents recently told us that we make every kid feel important, and I think that's whole reason we did it," Toni said. "We really feel every kid has something to contribute. It's just a matter of finding out how each learns and what they are passionate about and trying to harness that."
By all accounts, they have done just that, helping kids learn to traverse waves and ramps and translating that into valuable lessons in science and life.