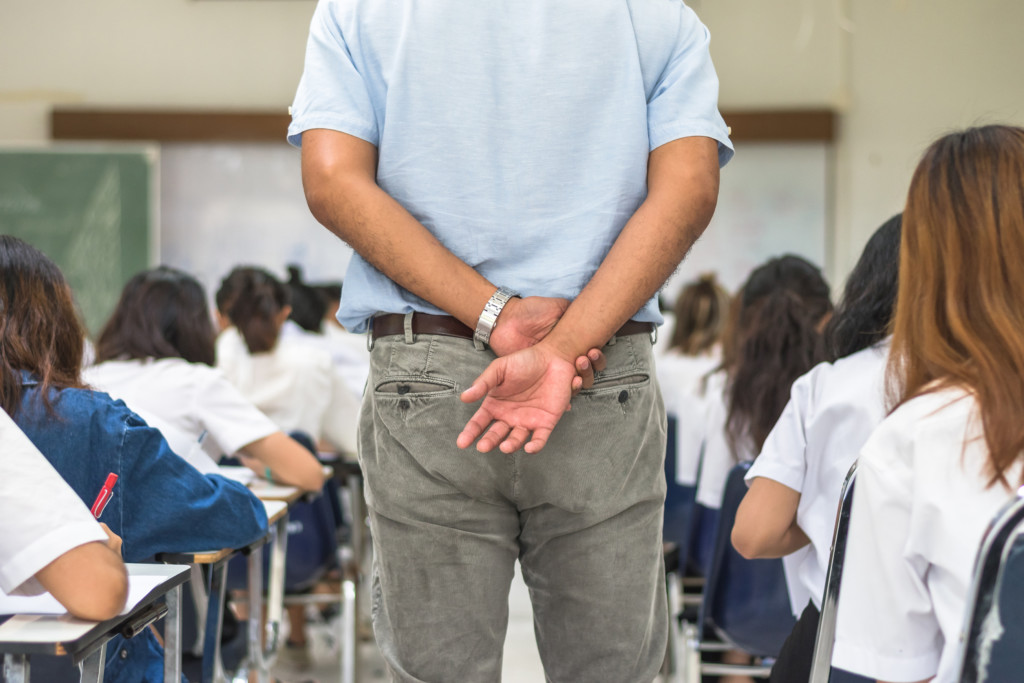 The science results on The Nation's Report Card are out, and while the news isn't all bad, it isn't great either.
Scores for fourth- grade students have declined from the 2015 peak while scores for eighth- and 12th-grade science students have remained flat over the last decade.
The National Assessment of Education Progress (NAEP) is administered to a random sample of students across public, private and charter schools. NAEP tests are given in reading, math and science every few years. For the 2019 NAEP science exam, 88,200 students in grades 4, 8 and 12 took the test.

On the three science tests, there was no difference in results between 2019 and 2015 on physical science across all grades. However, fourth-grade students scored 4 points lower on life science and 2 points lower on earth and space sciences compared with 2015. There was no difference in results for life or earth science in the eighth- or 12th-grade results.
There is some encouraging news.
Demographic changes show America is drifting toward a majority-minority student population. Overall, white students declined from 60% of the student population taking the science exam in 2009 to 52% in 2019. Hispanic students grew from 17% to 25%, though Black students declined from 15% to 13%.
Impressively, Hispanic students saw a positive trend line throughout the decade in all three tested grade levels. Asian and Pacific Islander students scored the highest at 51% and 49% proficient or better, respectively.
The number of students eligible for free and reduced-price meals, who typically score significantly lower than non-eligible students, has increased from 40% of tested students in 2009 to 47% in 2019. However, 48% of test takers were eligible in 2015 when the test results were highest.
Now for the bad news.
Just 35% of students scored proficient or better in the science tests. Of them, only 14% of Black students and 20% of Hispanic students scored proficient or better. White students saw the largest declines between 2015 and 2019, with 47% of students scoring proficient or better, down from 50% in 2015.

Despite no change in raw scores for students in eighth grade or 12th grade, the percentage of those students scoring proficient or better remains low, especially among high school seniors. The number of students who scored proficient or better declined from 36% in fourth grade to 22% in 12th grade.
So why are fewer than 1 in 4 seniors proficient in science?
A NAEP survey found that 50% of 12th-grade students reported rarely engaging in scientific activities in the classroom, compared with 30% in fourth grade and 42% in eighth grade.
Additionally, only 41% of 12th-graders have taken courses in biology, chemistry and physics since the eighth grade.
Both factors may be playing a large role in 12th-graders' struggles to be proficient in science.
Large achievement gaps between white and Black students and white and Hispanic students still remain. The gap between white and Black students grew from 31 points in fourth grade to 34 points by eighth-grade. The gap between white and Hispanic students grow from 23 points in fourth grade to 25 points in 12th grade.
However, this gap is an improvement over the 2015 results because white students saw larger score declines than Hispanic students in the fourth and 12th grade science tests.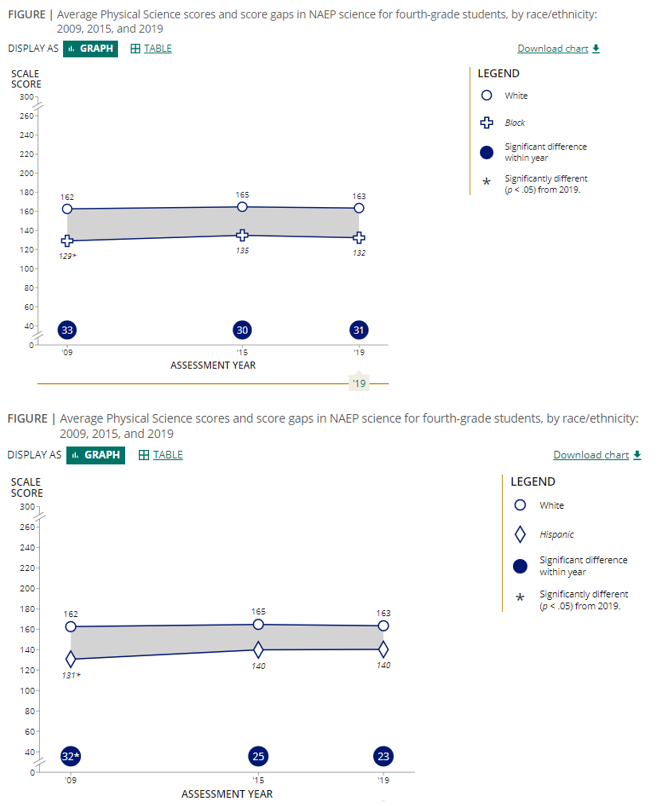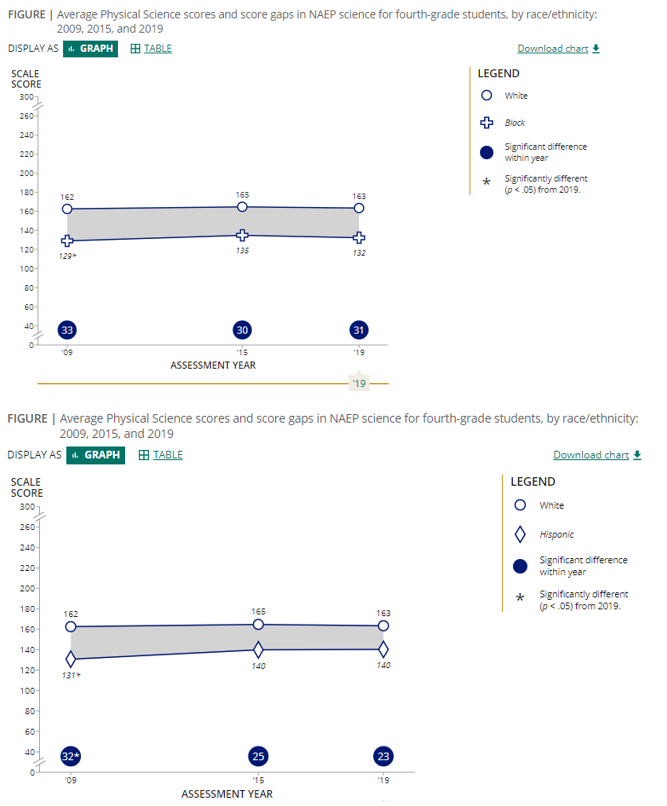 According to the report, the declines were driven by drops in scores among middle-performing students and the lowest-performing students. Students at the 50th percentile saw an average decline of 2 points. But the lowest-performing students saw the biggest declines. Students in the 25th percentile (meaning they scored as good as or better than 25% of students taking the test) declined 4 points, while students in the 10th percentile droped 5 points.
These low-performing fourth-grade students struggled across all three tests, with life science declining the most between 2015 and 2019. The lowest-perorming students also did worse compared to 2015 in eighth-grade physical science, eighth-grade life science, eighth-grade earth science, 12th grade physical science and 12th grade life science.