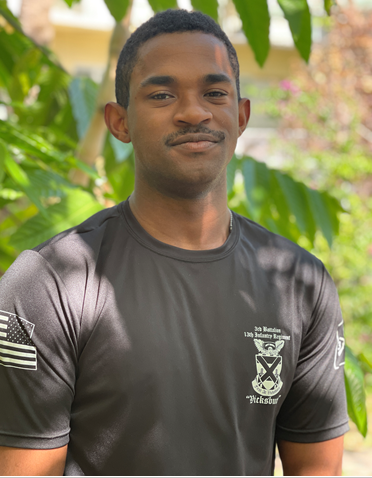 Editor's note: This profile is the fourth in a series featuring former Florida Tax Credit Scholarship recipients who are included in the 2020 cohort of the American Federation For Children's Future Leaders Fellowship.

Despite growing up as one of four children in a single-parent household, Hunter Hickson had no idea his family was poor. His mom, who worked at a series of jobs, explained to him only recently how hard she tried to make everything seem normal.
"It was the first time I realized life had been difficult for her," said Hunter, now 21. "She told me, 'I would never have let you know that.'"
A large part of his mom's efforts to make things seem normal centered around finding the right educational setting for each of her children. For Hunter, that meant sending him to a Christian school from kindergarten through 12th grade. She had attended D- and F-rated public schools and wanted something different for him. So, she applied for an education choice scholarship that allowed her to send him to Victory Christian Academy in Lakeland.
"Because of the Florida Tax Credit Scholarship, I didn't know I was a poor kid living near the poverty line," Hunter said.
In hindsight, he knows the scholarship – and Victory Christian – set him on a course he wouldn't have followed otherwise. Small classes meant his teachers knew his name. He was surrounded by role models and mentors who took an interest in him and understood his family's situation. He was aware in middle school who his high school teachers would be, so he knew their expectations ahead of time.
From his vantage point as a soon-to-be graduate of Southeastern University, a Christian school in Central Florida affiliated with the Assemblies of God, Hunter perceives a more subtle benefit.
"Some people lower the standard for minority students," he said. "They expect really high standards from white students, but they put minorities on a lower level. If the standard is an A+ for white students, it's more like a B for you."
At Victory Christian, he says, all students were treated equally. And no teacher "had it out" for him.
One teacher who impacted his life was his 10th-grade English instructor, Jennifer Perez. She had assigned the class "Pride and Prejudice," but Hunter, not thinking it was a good choice for a 15-year-old boy, didn't give it his best shot. Perez failed him. The second time around, she allowed him to choose which book he wanted to read, something he's sure would not have been an option in a public school.
And then somewhere along the way, Hunter picked up on a quote attributed to Aristotle, which became his mantra: "We are what we repeatedly do. Excellence, then, is not an act, but a habit."
That sentiment kindled within Hunter a respect for consistency and authority, which in turn led him in 2019 to enlist in the U.S. Army. After returning home from basic training at Fort Jackson in Columbia, South Carolina, he began pursuing a degree in legal studies at Southeastern.
His budding commitment to serving others attracted him to the American Federation For Children's Future Leaders Fellowship. When COVID-19 curtailed the fellows' ability to travel around the country telling their stories, Hunter started simply talking to other students at his school. When his legal studies professors assigned research papers, he wrote about civil rights cases such as Brown v. Board of Education. And when he had the time, he wrote op-eds about education choice for local and national media outlets.
He sees law school and a career in public service in his future. He sees a life-long commitment to education choice in his future as well.
"I want more kids to have the same experience I had to choose what school to go to," he said. "If you're at the wrong school, with the wrong teachers who don't care about you, it's unfair. It's not logical."
He's convinced that having a positive educational experience is especially important to students of color.
"Most public schools focus young Black men on sports, to be famous, to make it to the league," Hunter said. "People can't believe the kid who played basketball on an outdoor court had these goals and aspirations to do so much more than anyone ever thought I could."
For more information about scholarship programs administered by Step Up For Students, click here.