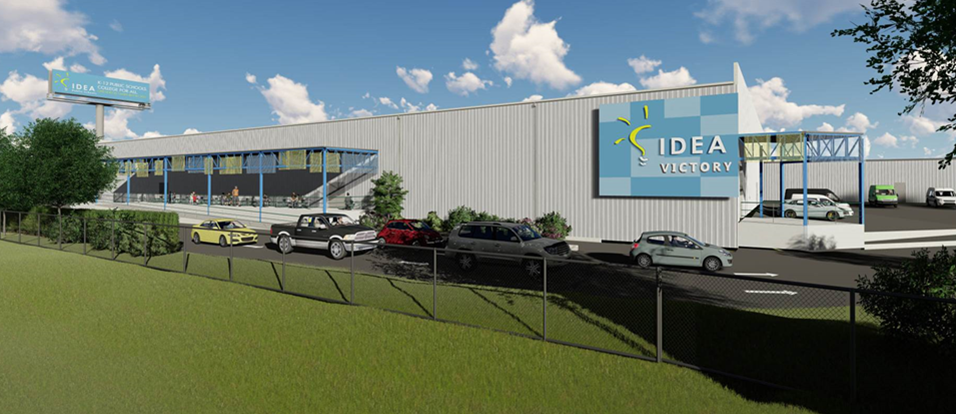 As school board members in one Florida county face state consequences for pushing back on charter school contract renewals, two of the state-sanctioned "schools of hope" are joyously preparing for openings next month in the same region.
IDEA Public Schools is opening its Hope and Victory campuses on Aug. 10 to students in grades K-2 and 6. The schools plan to add grades each year, eventually providing a K-12 education.
"We're getting ready to welcome our teachers in a couple of weeks," said Emily Carlisle, one of two founding principals of IDEA Hope, which is opening in a new building at 5050 E. 10th Ave. near Ybor City. "It really feels like school is about to start."
Carlisle, who heads the Hope college preparatory school,  and Latoya McGhee, founding principal of the academy for the lower grades at IDEA Victory-Vinik campus near the intersection of Nebraska and Fowler avenues, have spent months with their respective teams sharing the story and philosophy of IDEA with their communities, where assigned district schools are among 39 countywide the state has classified as "persistently low performing."
Both principals have partnered with businesses such as ZooTampa at Lowry Park and University Mall as well as the Hilton Embassy Suites to host informational meetings. They also have hosted online giveaways to generate excitement about the school openings.
Carlisle said being the new kid on the block can be challenging, but the IDEA team is willing to do whatever it takes.
"We've been organizing and working hard, canvassing door to door," she said.
Their efforts have paid off, with kindergarten slots filled at the Hope campus. A handful of slots remain for first, second and sixth grades.
"If anyone is looking for an option for their children, we encourage them to check us out," Carlisle said.
This year marks IDEA's first foray into Florida. The Texas-based charter network is best known for a program that has resulted in 100% of its students accepted into college. The latest rankings of the most challenging high schools in the nation by the Jay Mathews Challenge Index published in the Washington Post placed all 15 eligible IDEA college preparatory schools in the top 1%.
The company plans to open a school in Jacksonville in 2022 as well as a third campus in Tampa.
Schools of Hope are charter schools that are designated by the state as "high performing schools." They serve students from "persistently low-performing schools" or within a 5-mile radius of such a school, and students residing in impoverished communities. In addition to IDEA Public Schools, others with the designation include  Mater Academy, Democracy Prep Public Schools, Inc., KIPP New Jersey, and Somerset Academy, Inc.
On the Hope campus, homerooms are named after colleges and universities, from Ivy Leagues to historically black colleges and universities and regional colleges to keep the goal front and center for students.
Carlisle describes the experience as full of "rigor and joy" with high expectations set for students from mainly low-income households.
That joy was on full display in a recent Facebook Live "table talk" video done from the Victory-Vinik campus with McGhee, who heads the academy or lower school, and Kendrah Underwood, principal of the college preparatory school.
"I can't wait til my babies get here!" McGhee said.
The pair shared information on everything from uniforms to after school programs to transportation, which they described as being "like a limo ride to your school." During a tour of the building, their excitement had them dancing in their offices.
"This building is coming alive," Underwood said. "Look at the lights, look at the paint, look at the floor. It is smelling and looking and feeling like a brand new, state-of-the-art school."