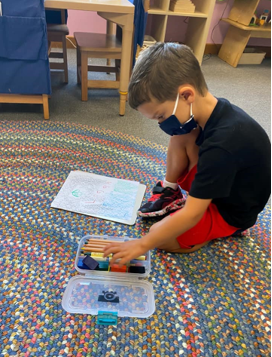 My son, Logan, turned 5 just a few months before he started kindergarten in 2020. With two full-time working parents, he needed to be learning in person despite the rise in COVID-19 cases.
Thankfully in Florida, schools opened for in-person instruction (with most using safety protocols such as masks) for the 2020-21 school year, and we signed Logan up to return to the classroom that August.
As a former kindergarten teacher, one of my favorite books is "All I Really Need to Know I Learned in Kindergarten." True to the book's title, author Robert Fulghum begins by letting readers know that all he really needed to know about how to live and what to do and how to be, he learned in kindergarten.
"Wisdom was not at the top of the graduate-school mountain," Fulghum writes, "but there in the sandpile at Sunday School."
The things Fulghum highlights in his book replayed in my mind throughout this year of pandemic kindergarten for our son. I know how vital the kindergarten year is for a child's growth and development. I also know how important it is for parents to be involved, so they can see how much their child grows each week.
However, this year was unlike any other.
We took some "first day" photos at his school the weekend before the first day, because parents were forbidden to leave their vehicles due to pandemic protocols. We drove up on the first day and dropped him off, with his mask covering his face and a few tears in his eyes.
A stranger to him (with a mask on herself), checked his temperature, pulled him out of the car and ushered him to his kindergarten classroom. His teacher greeted him wearing a mask and an air high-five. Hugs are not safe during a pandemic.
The first thing that Fulghum says he learned in kindergarten was to share everything. Logan was not able to share things in his classroom this year. COVID-19 protocols meant every child had to have individual items.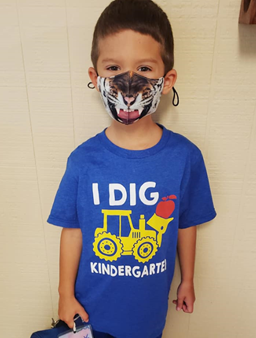 Sharing is an important skill learned in kindergarten, and this made me consider giving Logan the gift of another year in much the same way other parents chose academic redshirting for their young children last year. The Florida Legislature approved a law earlier this year that allows parents to determine whether their elementary school children will be retained during the 2021-22 school year.
This year, many schools are preparing for a kindergarten boom as families who sat out 2020-21 due to COVID-19 concerns send their children to kindergarten.
Another thing Fulghum says he learned in kindergarten was, "Say you're sorry when you hurt somebody." Children in kindergarten need to see facial expressions so they can learn how to interpret social interactions. With masks on almost all day, Logan did not have this opportunity.
Since we could not be in the classroom, and got very few photos from his school, we had no idea how he was doing socially. Logan told us he made friends, but without having any social gatherings and being able to see him with kids his age, I wasn't sure that he would be socially ready for first grade.
Logan learned letter sounds without seeing his teacher make the sounds with her lips, as is recommended. Many kindergarten teachers use mirrors, and have their students model their lip movements to make the correct letter sounds. This wasn't possible during the pandemic.
Fulghum mentions this in his book when he tells readers to always remember the most important word you learn to read in kindergarten – "look." I know how important strong phonics skills are for students before they enter first grade, and I just wasn't convinced that Logan was ready to make the jump after a year of kindergarten in which he (and everyone at his school) wore masks nearly all day.
As one of the youngest students in his class, I always knew that retaining him in kindergarten was a possibility. Research shows that giving students, especially boys, the gift of a year can be very effective.
Logan has a lovely and fun personality, but he is a typical boy. He loves to play and is easily distracted. Logan is also very social. He enjoys playing with other kids his age and focuses more on movement, music, and sports than academics.
Fulghum references this too, saying, "Live a balanced life—learn some and think some and draw and paint and sing and dance and play and work every day some."
I wanted to be sure Logan truly understood this before entering first grade, because it is vital that he know that academics and fun are critical in your daily life.
After much discussion with our family and dear friends, we decided that Logan would benefit from another year in kindergarten. He did not get the full kindergarten experience, and as Fulghum writes, "And it is still true, no matter how old you are—when you go out into the world, it is best to hold hands and stick together."
We are excited for our son to learn and grow for another year in kindergarten, and to be able to hold his friends' hands and hug his teacher.