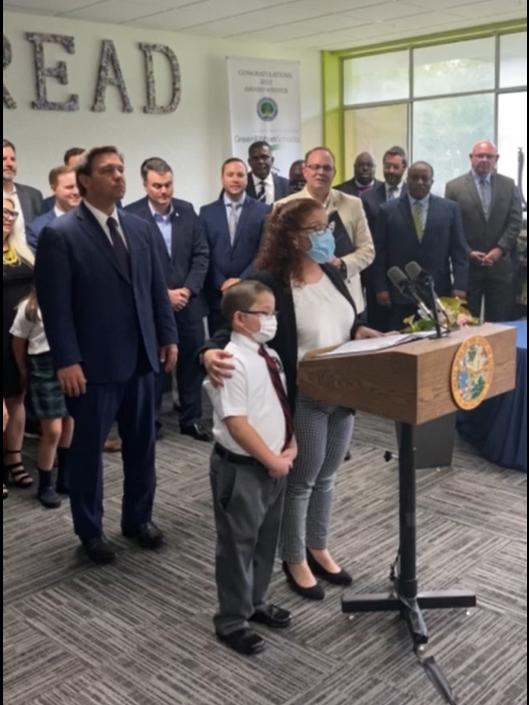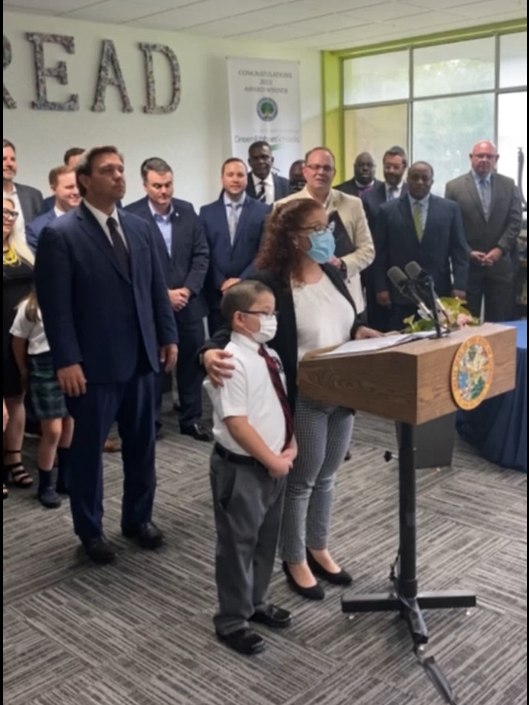 On this episode, redefinED senior writer Lisa Buie speaks with the single mother of a 9-year-old and teacher of English language learners at an Orlando district high school. Echevarria, who cares for her parents in her home, earns a salary that, though modest, put her just over the income threshold for eligibility for an income-based school choice scholarship.
Echevarria talks about the reasons for sending her son, Eddie Joe, to a Catholic school, about her employer's response to that decision, and the financial sacrifices she's had to make to afford her son's education without a scholarship. She also shares Eddie Joe's reaction when he learned of the passage of HB 7045, which expanded eligibility to families at higher income levels.
Echevarria and Eddie Joe were invited to speak at one of two bill signing ceremonies where they met Gov. Ron DeSantis as well as the lawmakers who supported the bill. You can watch a video of Echevarria expressing her gratitude here.
"He started crying for joy, he started jumping. He said, 'Mama, you can buy me ice cream with sprinkles!' He was ecstatic."
 EPISODE DETAILS:
Why Echevarria decided to send her son to private school
How their Catholic school provided her with support as a single mom
Personal sacrifices Echevarria had to make to afford her son's tuition
How a change in the law governing state scholarships will benefit her family and others across Florida