Editor's note: Nathan Cunneen, author of this commentary, is a communications associate at the American Federation for Children. You can read a redefinED profile of Cunneen here.
On Saturday night, American Federation of Teachers President Randi Weingarten published a tweet that sounded suspiciously like an endorsement of school choice.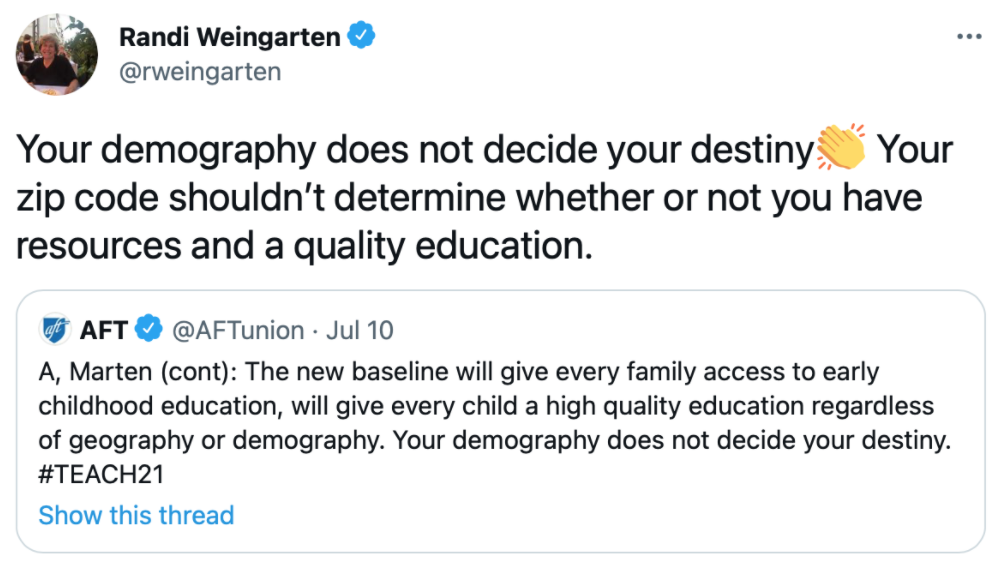 While Twitter (quite hilariously) went wild with quote tweets and comments mock celebrating this "endorsement," anyone paying attention to the school choice wave knows that Randi Weingarten does not practice what she preaches, and that will unlikely change.
Teachers' unions, with their vice-grip power over the Democratic Party, remain one of the largest obstacles to education freedom in the United States. Randi Weingarten, like her predecessors, has made her priorities crystal clear, stating that "the job of a union is to protect its members rights, and that's exactly what @AFTunion will always do."
Fair enough, but what about when protecting union members' directly conflicts with what's best for students? Too often that's what happens when students remain locked into the public education system that the union controls.
Instead, school choice seeks to liberate students by granting them access to the funds meant to educate them, so that their families can make education decisions that match their needs, and because "ZIP code shouldn't determine whether or not you have resources and a quality education."
The reason why a teachers union president would abandon her usual buzz phrases in favor of language consistently used by the school choice movement is clear: teachers union reputation is at an all-time low after a year of terrible decisions, and the entire country wants choice right now.
In the last year and a half, teachers unions have fought to keep schools closed, even when private schools all over the country opened safely. They have induced the CDC to maintain those school closures, often against medical evidence. And they have spent seven-figure sums running ads in an attempt to save their slipping reputation.
Meanwhile, the educational quality of millions of kids is still determined geographic or financial realities.
As a result, just as teacher union support reaches all-time lows, support for school choice has reached all-time highs. June polling shows that overall support for school choice has reached 74%, with 83% of Republicans and 70% of Democrats. But these monstrous numbers aren't purely the result of teachers' unions failings, they're driven by the growing awareness that school choice is what's right for families, and the key to success for many students.
I was one of them.
For 10 years, I was blessed to receive an amazing education through the help of the Florida Tax Credit Scholarship. Through my experiences in both public and private schools, it became clear that students do not all learn the same, and a public school environment is not what's best for every kid.
Thankfully, the lawmakers of Florida gave me and my family an opportunity to choose where I went to school, an opportunity that changed my life and would not have been possible without the assistance of a scholarship. Now I am the first in my family to graduate from college.
I'm not the only one.
Consider, also, the story of Peter Orlowski, who credits a scholarship with making a new school possible, a school where he wasn't constantly bullied. Consider Damyah Joyner, whose high school Tax Credit Scholarship led to an academic and athletic scholarship for college. Ours are among the countless stories of how educational freedom changes lives for the better. All across America, millions are benefitting because bold lawmakers put children before adult-centric special interests.
According to numerous studies, school choice leads to improved graduation rates and test scores among students. In an Urban Institute analysis of the Florida Tax Credit Scholarship, recipients were shown to be up to 99% more likely to attend four-year colleges and 45% more likely to earn bachelor's degrees.
This evidence shows that while poking fun on Twitter is sometimes entertaining, and this was certainly a blunder for Ms. Weingarten, we must remember that this is serious, especially for families facing financial hardship this year. More choice means more opportunities for the families who truly need it.
Following the most tumultuous school year in modern history, and considering the teachers union's actions amidst it, two conclusions must be reached. First, America's education system must change, and second, school choice is the best way to change it.
Putting families and students in control of their educational future is not only the right thing to do; it will correct the institutional focus of supporting a worsening education system to supporting students.
Given her twitter account, maybe Randi Weingarten is realizing this. If not, she should.