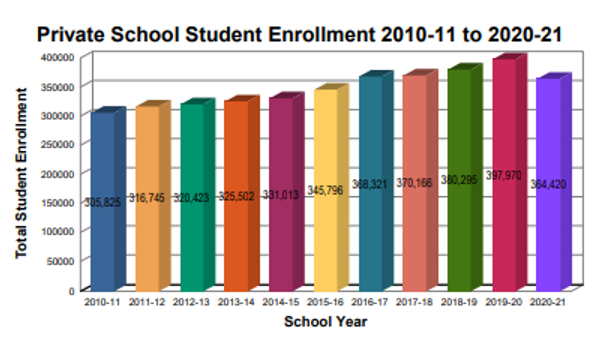 COVID-19 rocked K-12 school enrollment overall last year, but private schools were hit especially hard as enrollment declined for the first time in more than a decade.
A new report from the Florida Department of Education shows private school enrollment fell by 33,500 students, the steepest decline observed in the last 20 years.
Public schools, which include charter schools, saw a decline of 84,355 students, or minus 2.9%, during the pandemic. Private school enrollment declined 8.4%.
The report also shows the number of private schools in the state declined by 82, while private schools' market share declined from 12.2% to 11.5% of all PreK-12 students in the state.
Home education proved to be a popular education alternative for public and private school students alike, growing by more than 37,000 students.
Florida Virtual School also saw a sharp increase in enrollments last year –  5,644 more full-time students over the previous year, a 98% spike, with more than 231,100 new course enrollments, a 57% increase in its part-time FLVS Flex program.