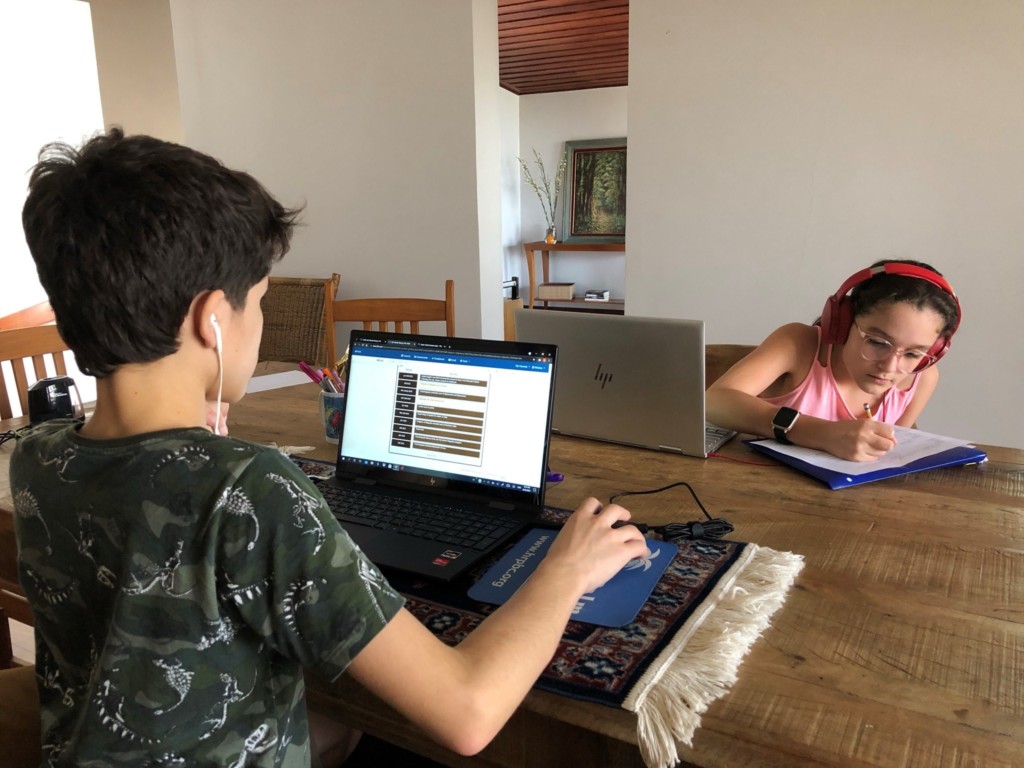 " … our children discovered a new way of learning that has worked well for them. They enjoy the classes, their teachers, and the flexibility of learning online." – Marcela Reis
Marcela Reis is a mother of three from Boca Raton, Florida. All three children attend Florida Virtual School, the state's public school district offering more than 190 courses to students in kindergarten through grade 12.
Her two daughters, Manuela, a sophomore, and Rafaela, a fifth grader, attend through the part-time Flex program, while her son, Vinicus, also known as Vini, is a seventh grader enrolled in the school's full-time program. The family originally signed up for Florida Virtual School so they would have freedom to travel around the world, but they since have found it a haven from the pandemic and decided to stay for a second school year.
reimaginED interviewed Reis to learn more about how her children have adapted to virtual learning during the pandemic and how they've benefited from it. Answers have been edited for clarity and brevity.
Q. What did your children's education look like leading up to your decision to attend FLVS?
A. Before attending FLVS, my oldest daughter went to private school and my other two children attended their district school, Verde Elementary. They loved the schools they went to, and they had great experiences. They were also very active, participating in science clubs, theater, cheerleading, and other activities.
Q. What factored into your decision to enroll at FLVS?
A. We originally were researching FLVS because my husband and I were looking for a flexible online education option that allowed our children to do their schoolwork from anywhere and at any time so that we could take a one-year sabbatical and travel the world together. But then when the pandemic hit, our travel plans came to an abrupt halt. Even though we were disappointed and worried about the state of the world, we were thankful that we already had plans to dive into online learning so that our children could continue to learn and stay healthy in a safe environment.
Q. How did you adjust to virtual education? What were the biggest challenges? What were the biggest benefits and rewards?
A. My children adjusted relatively quickly to an online learning environment, with all three of them constantly telling me how much they enjoyed their schoolwork and their teachers. Something that I was nervous about when we first enrolled was the pace. I was worried that, with me overseeing their education for the first time, and with their schoolwork being all online, that they would fall behind by getting distracted or spending too much time on one subject. But because of the flexibility, it didn't matter what pace they were working at, as long as they were completing assignments on time.
One of the biggest benefits was the support my children received from their teachers – especially Vini. Vini can be a perfectionist because he wants to get everything right the first time. Seeing that Vini had not yet submitted an assignment, one of his teachers reached out to see how she could help. After I told her about his perfectionist ways, she provided him with some great advice and encouraged him to write his ideas down on paper. Her patience with him was incredible.
Another benefit were the digital courses. One day I heard Vini laughing when he should have been completing his schoolwork, so I went to investigate. What I found was that he was laughing and thoroughly enjoying one of his lessons. Vini learns through a variety of content in his courses – video, audio, quizzes, games, and more – and everything is integrated. Because he is interacting and enjoying the lessons, his comprehension deepens, and he finds new passions.
Q. What about communication with teachers? Do you feel you got enough individual time with them?
A. I feel like the teachers were very communicative, especially with me, which was a breath of fresh air. They kept me informed on how my children were doing and were there if I had questions or needed advice – always responding back to us within 24 hours.
Q. How did it feel to attend a virtual school? Did you feel socially isolated, and if so, what did you do to overcome that?
A. During the pandemic I think everyone has felt isolated to a certain extent. It has been a tough 18 months filled with unknowns, but because of the one-on-one time with teachers, live lessons, and courses that my children could interact with, they were able to stay energized with their schoolwork.
Additionally, one of Vini's teachers wanted to get students even more excited about math, so she created something called "Fun Fridays," which was an informal Zoom meetup where students would join and play math games together. It ended up being Vini's favorite activity at FLVS and allowed him to interact with other students.
Q. How did you feel about the quality of education your child received after the first year at FLVS? What, if any, metrics support your opinion?
A. The quality of education is really good. The system provides all the support you need. Besides the lessons, FLVS also has live lessons, videos, interactive activities, and teacher support. Last year, my oldest daughter was enrolled in four honors classes and all her grades were A's. All my children are straight A students. But it is not only about grades, it is about learning, and they are really learning at FLVS.
Q. Why did you decide to enroll your children at FLVS a second year?
A. We decided to attend FLVS a second year because our children discovered a new way of learning that has worked well for them. They enjoy the classes, their teachers, and the flexibility of learning online.
Q. How is this year going? How is it comparing to last year?
A. Last year was a learning year for all of us. We learned about rhythm, pace, and how to get the best out of the FLVS platform. This year, the kids know exactly where to go in case they need help. It's definitely going smoother than last year. They have also begun to understand the perks that they have attending a virtual school compared to a traditional one. Not having to stick to a tight schedule sounds fun, but what is important is that they learn to pace themselves and be responsible. It is not easy at first, and it is still a learning process, but they have matured a lot.
Q. What guidance would you give another parent who is looking for an alternative to a traditional school?
A. For any parents considering online learning for their children this school year or in the future, my advice would be don't be afraid to do it. You will have the support you need, the courses are interactive and engaging, your children have the flexibility to work from anywhere, and they will learn new skills like self-motivation, responsibility, and creativity. Also, don't be afraid to ask questions. The teachers at FLVS are just a quick phone call or text away and can help with anything that you or your children are struggling with.