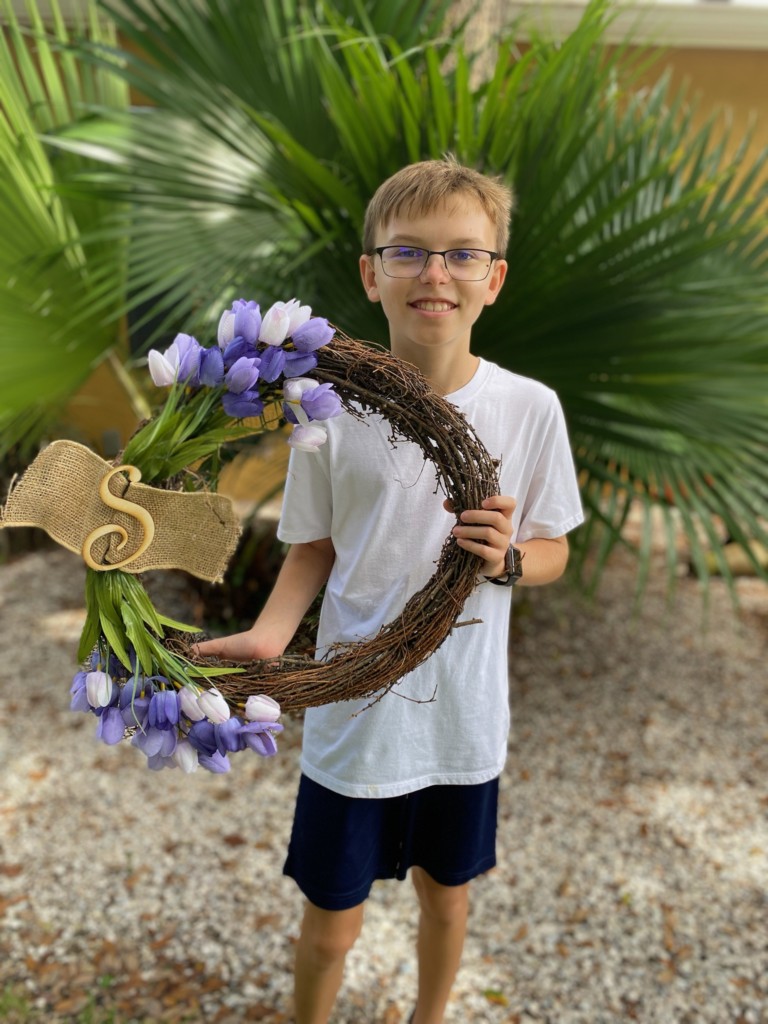 Christina Sheffield knew the Christian school she chose for her son, Graham, was high quality. It met the expectations she and her husband had for religious instruction. But Graham, who always finished his assignments ahead of his classmates, needed more of a challenge on the academic front.
When he completed his work, he would either just sit at his desk or be asked to help struggling classmates, a situation that Sheffield thought shortchanged her son.
"School was way too easy for him," Sheffield said. "He was bored. He was forced to help others rather than being given something a bit more challenging."
By the time Graham recached third grade, she said, "we knew we weren't serving him correctly."
So, Sheffield, a certified district elementary school teacher who switched to teaching virtual school after Graham was born, filed the paperwork with her district to begin homeschooling, which in Florida was illegal until 1985. Parents who dared to attempt it kept it hush-hush and made sure the blinds were closed. Over the years, she designed a customized learning plan for her son, now a seventh grader who loves computer coding.
Sheffield is one of a growing number of parents who has blurred the lines between the original definition of homeschooling, where the parent teaches his or her child in person all day, and the modern understanding that includes new approaches such as microschools, virtual schools, part-time in-person school, and community resources such as city recreation centers, public libraries and nonprofit fine arts centers.
In a word, "unbundled" education services, which allow parents to piece together customized learning plans for their children.
After doing some thorough online research, Sheffield bought the curriculum her son's former school used and enhanced it with projects to give Graham a deeper dive. She made the decision to "start with what he knew and what I knew."
It lasted about a semester. Graham, at the time an only child, craved socialization. So, she enrolled him at Wellmont Academy, a hybrid school that he attended two days a week and allowed him to learn from home the rest of the week.
That didn't work so well either.
"Everything was too super easy for him," Sheffield said.
Sheffield decided to have Graham, then in fifth grade, tested for academic giftedness through the Pinellas County School District. The results confirmed her suspicions that Graham was gifted.
Now officially identified, Graham, like other gifted homeschoolers, was entitled to district services for such students. He started going to a weekly class offered at his zoned elementary school. There, he was able to interact with other students whose intellect matched his.
"It was his favorite day of the week," Sheffield said. "After I picked him up on the first day, he said, 'Mom, I finally feel like I fit in.' That made my mom's heart happy."
Sheffield finally had things figured out. She enrolled Graham in a part-time virtual gifted program at Florida Virtual School, with part-time classes in the Pinellas County School District's virtual program. For enrichment, she turned to the Dunedin Fine Arts Center and Chosen, a Pinellas County homeschool co-op sponsored by a local church, which offers classes in everything from cooking to drama to skateboarding.
Graham participates in P.E. classes for homeschoolers through several community organizations and takes Tai Kwan Do lessons to stay fit and participate in a sport.
"There are a lot of little jewels and gems," Sheffield said.
Though it's clearly the best option for a lot of students, Sheffield said, it can get pricy.
Co-op fees can run several hundred dollars per year, depending on the level of participation. While that could be a deal breaker for families of modest means, more states are making education savings accounts available. ESA's allow parents to withdraw their children from public district or charter schools and receive a deposit of public funds into government-authorized savings accounts with restricted, but multiple uses.
Those funds can cover private school tuition and fees, online learning programs, private tutoring, community college costs, higher education expenses and other approved customized learning services and materials. Some allow students to use their funds to pay for a combination of public school courses and private services, following the model Sheffield embraced years ago.
You can read about how Florida allows select students to use education savings accounts here.
Sheffield tweaks the formula each year to do what works best for Graham. Now that he is in middle school, that means full-time enrollment in Florida Virtual School's gifted program. Because his district middle school's daily programs for gifted students conflicted with his co-op electives, Graham has stopped attending those but gets the intellectual stimulation he needs from the FLVS program, Sheffield said.
"In the past year, I saw growth in him in a way I hadn't seen," she said. For the first time, she said, Graham had to work at doing well in school.
"He's still a straight-A student, but he's gone from K-5 where he was good at doing things and done in a hot second," she said. "Things aren't supposed to be handed on a silver platter to kids; they need to work through things and problem solve and learn about taking notes and using those notes."
Sheffield makes it all look easy today, but there were hurdles to clear in the beginning. The first was her husband, who worried Graham would be stereotyped as "nerdy" and the family assumed "outside society's mainstream." A co-worker put those concerns to rest, telling him her kids are busier now than they were in "regular school."
Today, Sheffield said no one has any regrets, especially Graham, who is thriving with a plan designed just for him.
"Graham says there's no way he would ever go back," Sheffield said.