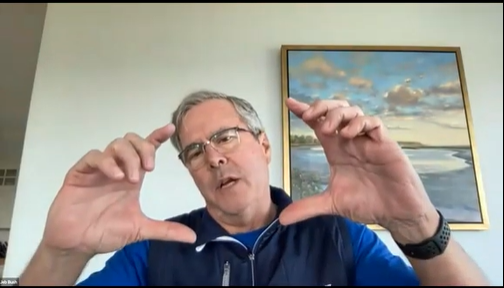 Is political support for school choice gaining or losing ground?
That topic was the latest in a series of virtual webinars sponsored by the Harvard Kennedy School Taubman Center for State and Local Government. The weekly series, "School Choice in the Post-Pandemic Era," began Oct. 8 and runs through Dec. 10. Recordings of past webinars and registration information for upcoming ones can be found here.
The series, which kicked off with remarks from former Florida Gov. Jeb Bush, aims to explore whether choice, which had stalled before the pandemic and then took off as school campuses closed and parents scrambled for alternatives, will continue after the coronavirus transitions from an existential threat to a manageable problem.
The latest webinar featured panelists Maureen Downey, a columnist for the Atlanta Journal-Constitution; Beth Hawkins, senior writer and national correspondent for The 74; Alisha Thomas Morgan, the first Black member elected to the Georgia House of Representatives and former superintendent of Ivy Prep Academies, a network of charter schools for girls in metro Atlanta.
The three offered differing perspectives on the issue. Downey said that while she thinks lawmakers will use stories of parent outrage from the pandemic to promote more school choice legislation, many Georgia parents are satisfied with their children's education after school campuses reopened.
"When I talk to parents, students and teachers, what seems to me is they want to go back to March of 2020. Schools closed down, and they want to go back to the day before. They are really looking to go back to normal times."
She said most of the concerns she hears from parents now relate to long lunch lines, late school buses, and getting kids into gifted programs.
"I don' think parents are wanting revolution," she said.
Hawkins and Morgan had a different take, saying they think parents are frustrated and want something better.
"Systemwide, I think there's a lot of frustration with the way schools have reopened or not reopened, made decisions about who's going to quarantine and when they're going to get out of quarantine," Hawkins said. "And I think that all of that is going to add up to a very different and, potentially, depending on how some of you all in the audience take it and run with it or don't, robust conversation about choice."
Hawkins cited surveys that showed an uptick in students switching schools during the pandemic and families opting for creative solutions, including micro-schools and learning pods.
"We're seeing kind of a bifurcation of these creative alternative options between families that are able to support them with their own means and families that are either accessing them through some sort of civic or municipal services in their communities and families that simply don't know about alternatives," Hawkins said.
Morgan, a former Democratic lawmaker and the parent of a school-aged child, said she thinks support for school choice has continued to broaden since the start of the pandemic. She recalled how she benefited from school choice while growing up in Miami.
Her mother decided that the school she and her brother were assigned to was not the best fit and arranged for them to attend an elementary school closer to where their father worked. Morgan later attended a performing arts middle school and a magnet high school and then went to Spelman College in Atlanta, a historically Black liberal arts college for women.
"That was the educational foundation that really put me on a much different trajectory, frankly, than most of the people I grew up with … and for me, this is an issue about equity," she said. "It's an issue about leveling the playing field."
Morgan, who sponsored legislation that opened up choice in Georgia, said that while some families have the means to exercise choice by being able to afford a home in a high performing school district or can pay for private school tuition, millions of other families do not have that access.
"I think it's important that we never forget … that millions of children who are in school right now, as we speak, deserve to have options in this country, and it can't be reduced to, 'Is it politically expedient or not?'" she said.