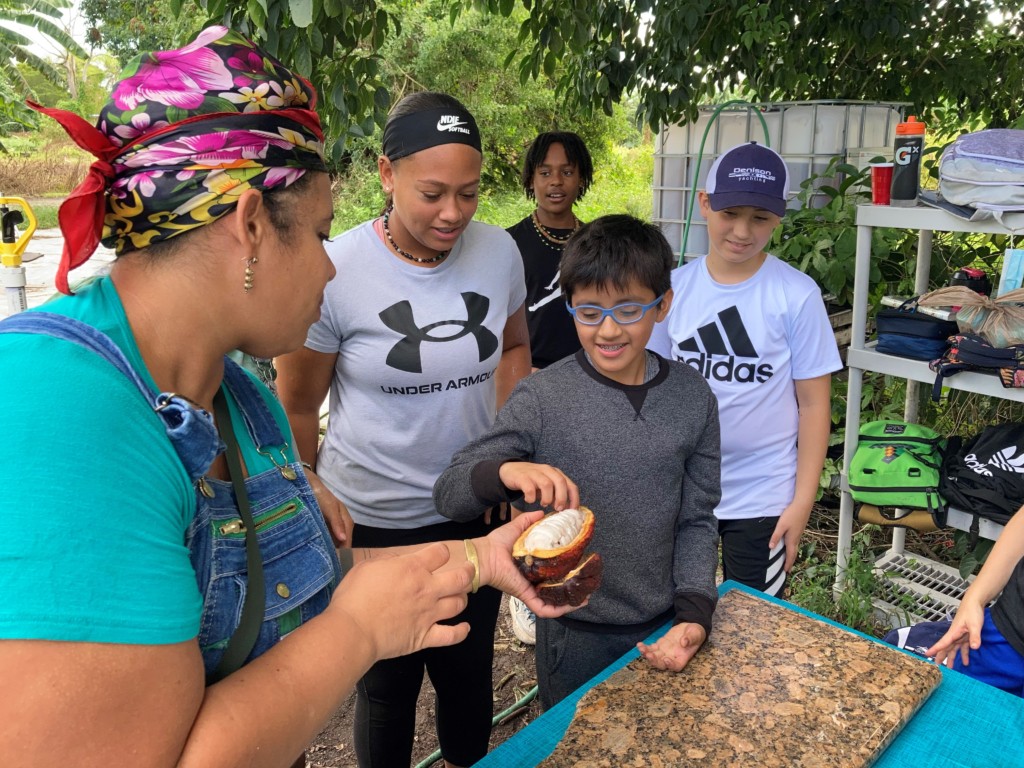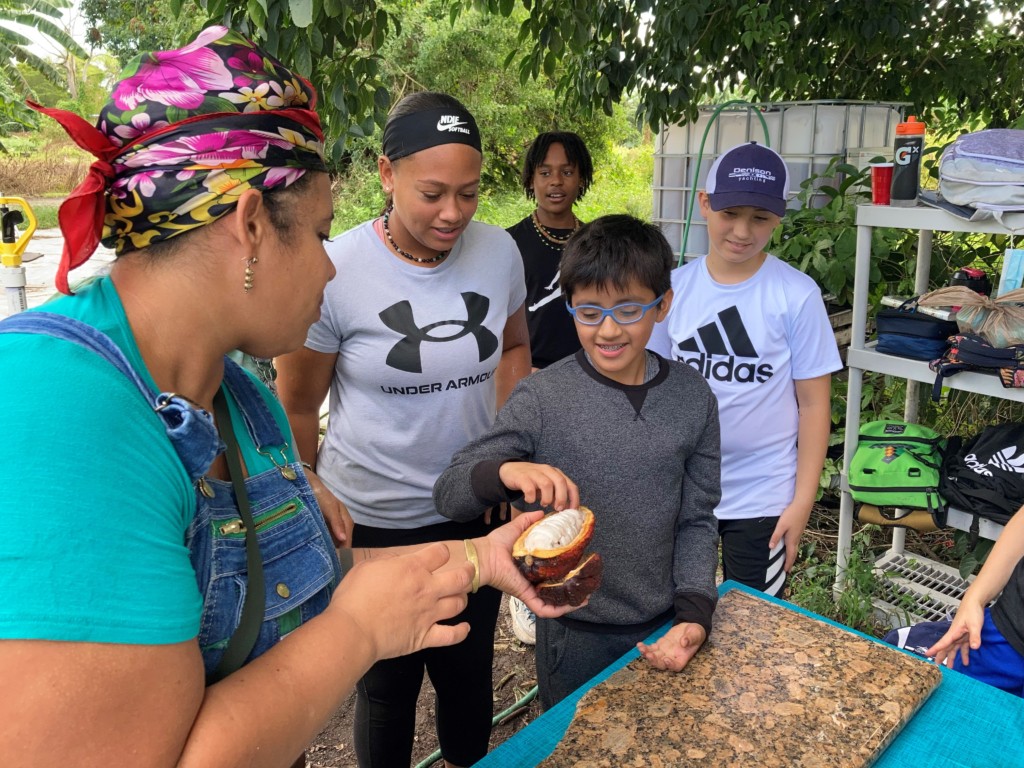 DAVIE, Fla. – Two million people are crammed into Broward County. Two hundred and sixty thousand students are enrolled in its public schools. Big school districts all over America look more or less like the really big school district here, and they have for a long time. But if you want to see where things are headed, leave the beaten path near Flamingo Road – and think small.
There's no sign. Just a dirt road into the green. Follow it past the banana trees, the rows of callaloo, the clumps of sugar cane. Stop when you see 10 kids sitting with laptops in the shade of a bishopwood.
By 10 a.m. on this November morn, the multicultural group of middle-school students who attend Colossal Academy – that's it, all 10 of them – have already workshopped with the Miami Compost Project and gone hunting for millipedes. Now they're researching an insect of their choice for a presentation. In an hour, they'll break for chicken curry whipped up by the Jamaican woman who manages the farm. But before they do, their teacher, Shiren Rattigan, will surprise them with a cacao pod – and the promise of a visit to a chocolate factory.
"This," Rattigan said, as students washed their own bowls and forks after lunch, "is what education should be."
"I'm making it up as I go, but I'm having so much fun doing it," she continued. "And really, what was the choice?"
Rattigan started Colossal Academy in 2020. The daughter of a truck driver and a retired public-school teacher, she decided to take the plunge after a decade teaching in public and private schools, in models that, in her view, didn't work for students or teachers.
To go big, she concluded, she had to go small.
Or, to flip back to the name, going small, she said, "would be colossal."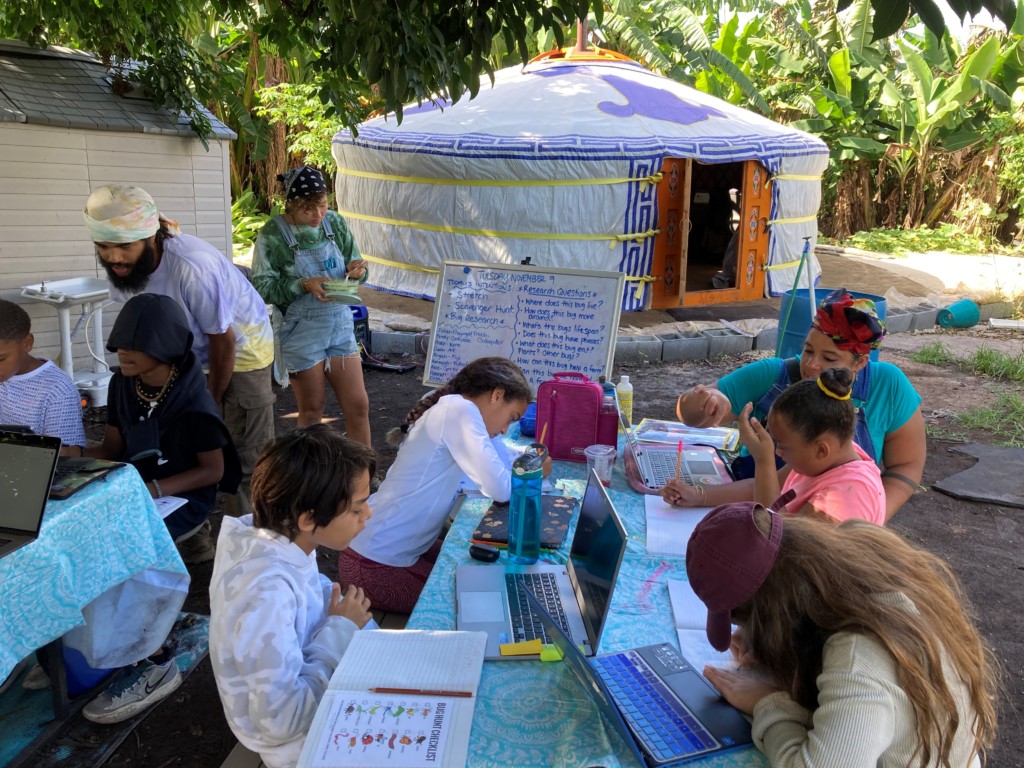 Rattigan's eclectic creation is not a farm school. Students spend a few hours a day here three days a week. Yes, they're growing everything from aloe to jalapenos. Yes, the first image on the website is a bunch of green bananas bobbing Zen-like in the breeze. But there's so much more going on. How the farm came to be part of the school might help explain how Colossal Academy works.
Rattigan and her students were doing cooking lessons at their home base in Fort Lauderdale, which they share with another micro-school. Chats about ingredients led to chats about history, geography, culture, trade. As students became more immersed in food, they asked if they could grow their own. Rattigan checked with the parents. One of them suggested the hidden farm. Rattigan leased a plot.
The informally named Mack's Farm has been part of Colossal ever since.
The farm doesn't have restrooms, but no prob. The students figured out how to make compostable toilets.
Rattigan also bought a Mongolian ger in case it rains. Or if students want a cool, indoor space to work.
None of this fits into anybody's box.
Colossal Academy is big on hands-on learning, project-based learning, student-led learning. It's a little bit crunchy and, at the same time, serious about tech and entrepreneurship. Students take math and language arts classes through Florida Virtual School. They're also part of Surf Skate Science, a home-school co-op that is a delight in its own right. As other micro-schools and co-ops emerge from Florida's choice-rich soil, Rattigan said, more partnerships like this are inevitable.
The best thing about Colossal, though, is students, parents and Rattigan have the power to change it up whenever and however they want.
Interview a geneticist? Why not?
Grow and sell strawberries? Project underway.
Learn to take photos with drones? Rattigan landed a grant to do just that.
"I can just really customize and personalize," she said. "I can meet the child where they're at, and where the communities are at."
Tara Johnson said Colossal Academy turned out to be perfect for her sons, Brody, 12, and Casey, 9. Brody experienced some bullying in prior schools, which led to him building a bit of a wall around himself, emotionally and academically. Johnson knew Rattigan from one of Brody's prior schools, so when she heard Rattigan was starting her own, she signed her boys up. Colossal turned out to be a "10 out of 10," she said.
"I call her Mary Poppins," said Johnson, a stay-at-home mom. "It's just fun and exciting, like education should be. This is our dreams manifested."
Last year, when Covid-19 forced distance learning on most schools, Colossal Academy began participating in an online forum where students from multiple countries craft solutions to real-world problems. In one case, the problem was how to keep donkeys on farms from being so bored they hurt themselves. One of the students at Colossal proposed a device like the 1970s electronic game Simon, which allowed the donkeys to mash different buttons in return for food. Brody designed what Rattigan described as a "gobstopper meets a pinata," a bag of carrots that would hang in front of the donkey until the donkey figured out how to chew through the bag and release them. The idea behind both potential remedies was to keep the donkeys' brains engaged. "Brody loved it," Johnson said. "He loves puzzles."
Given Brody's penchant for computers, Rattigan also steered Brody to online cyber security classes. He's on track to earn enough credentials to be certified as a cyber security specialist by the time he is 14.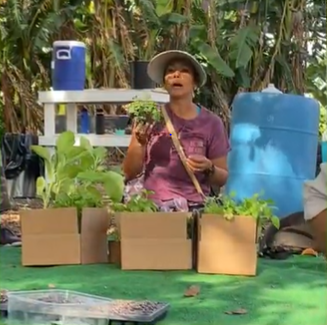 Rattigan said three things led her down this path. A traditional school didn't work for her when she was a student and struggling with dyslexia. It's not what she wanted for her own kids. (Rattigan's two youngest are in another micro-school, while her oldest, who has special needs, is in a district school.) And it didn't work for her as a teacher.
In public school, "I was dealing with 150 kids," she said. "How do you connect?"
Pay was a factor, too. Tuition at Colossal is, for now, $12,500 a year. That's 15 percent more than the most recent estimate for district per-pupil spending statewide, but less than the $17,000+ the Broward district will spend this year. "All I needed to make my former salary," Rattigan said, "was three students."
Other pieces for Rattigan's vision are coming into place.
Colossal recently won approval to participate in Florida's choice scholarship programs, which means it will be accessible to an even broader set of families. "I want the school to be diverse and equitable," Rattigan said. (Most of those programs are administered by Step Up For Students, which hosts this blog.)
The only downside may be a longer waiting list. Colossal has six students in line, and Rattigan is still thinking through how to grow.
On the flip side, Rattigan said, there's no reason other teachers can't do what she's doing.
"If you want the freedom," she said, "it's there."