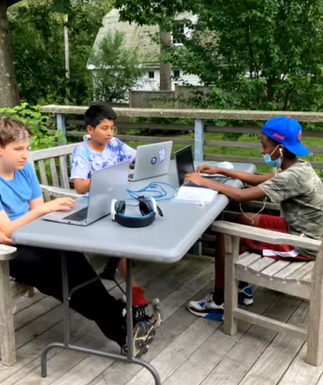 Editor's note: This commentary from Michael B. Horn, co-founder of and distinguished fellow at the Clayton Christensen Institute for Disruptive Innovation, appears in the Fall 2021 issue of Education Next.
 In a Historic House museum in Newton, Mass., nine children seated at three tables configured in a U-shape are each working on their own online lesson. After their 25-minute "Pomodoro" cycle – a time-management technique designed to optimize one's ability to focus on a specific task – they break for a variety of outdoor recreational activities from badminton to Bananagrams.
The children are enrolled in KaiPod Learning, a program that offers small-group learning pods with access to virtual schools, in-person tutoring and support, and a variety of student-driven enrichment activities. The day I visited, many, but not all, of the students planned to join a yoga session in the afternoon.
KaiPod is among the startup pods that emerged from the height of the pandemic and that have so far survived.
In the summer of 2020, the frenzy around learning pods, also called microschools and pandemic pods, was high. As described in "The Rapid Rise of Pandemic Pods" (What Next, Winter 2021), families, including mine, were frenetically assembling or joining them out of a desire to preserve some in-person support, community, and normalcy in an otherwise abnormal year.
At the same time, equity concerns and parent shaming ran rampant. Educators, researchers, and the media worried about who would have access to these pods and whether low-income families would be left out of them.
A year later, the scene looks different. While the Delta variant has kept plans changing, people seem more interested in a return to in-person schooling. The conversation around pods hasn't vanished, but it has quieted. Many families, including my own, pulled out of their pods last year because they found them unsustainable for any number of reasons.
And yet many pods that have an institutional structure behind them, rather than being fully parent-run, have survived. They are finding their niches and growing. Despite fears that pods would benefit only people in prosperous suburbs such as Newton, some of the most robust pod experiments have taken place in school districts disproportionately serving low-income and minority students.
To continue reading, click here.