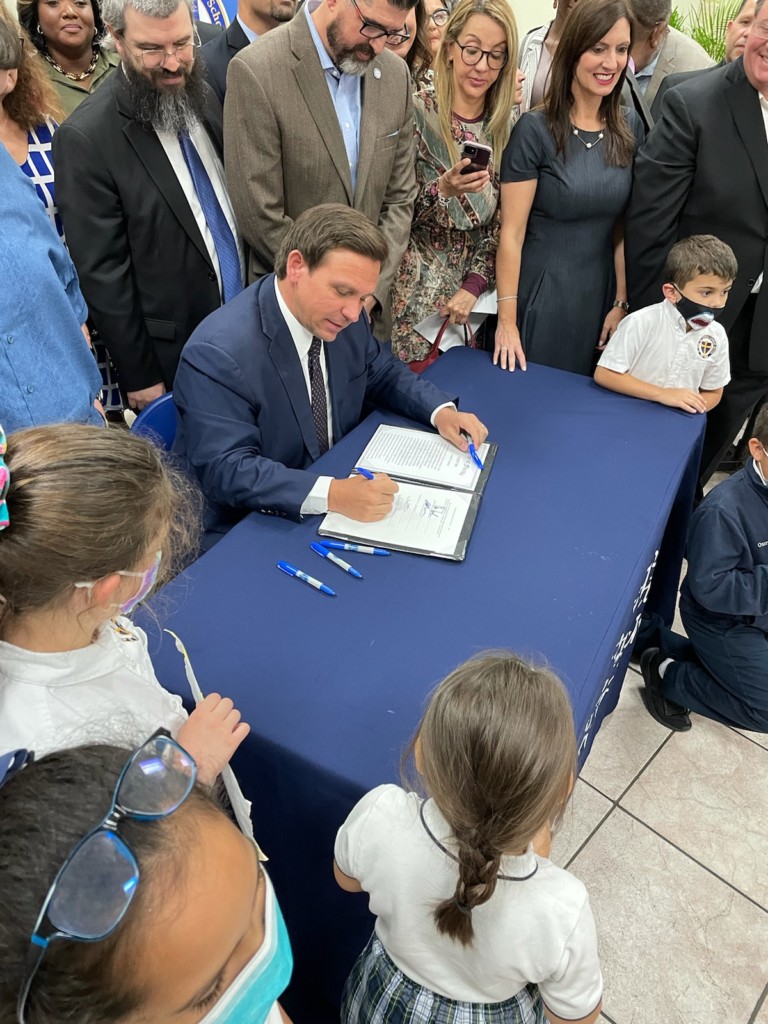 Editor's note: reimaginED is proud to reintroduce to our readers our best content of 2021 such as this post from senior writer Lisa Buie.
Tens of thousands of new Florida families gained access to education choice Tuesday after Gov. Ron DeSantis signed into law a $200 million expansion of the state's K-12 scholarship program.
Surrounded by a crowd of supporters including sponsoring lawmakers, state Education Commissioner Richard Corcoran, Lt. Gov. Jeanette Nunez, faith leaders, school leaders and students, DeSantis signed HB 7045 at St. John the Apostle Catholic School in Hialeah, where 162 of 190 students receive school choice scholarships.
"We are proud to be able to give those families and those students who otherwise would not be able to afford a Catholic education that opportunity," principal Robert Hernandez said as he welcomed the group to the 72-year-old school, located in the parish of state Sen. Manny Diaz Jr., R-Hialeah.
Diaz sponsored the bill along with Rep. Randy Fine, R-Palm Bay, who also attended the ceremony.  
"Thank you for always supporting education choice and for supporting students and families and not institutions," Diaz told the governor during prepared remarks.
DeSantis called support for parental choice in education "a recipe for success."
"When you talk about low-income families, working-class families may not have the luxury of being able to get their kid in the school of their choice without the program," he said.
DeSantis said that over the years, the state has seen many families in need, and the recent education choice expansions have had "life-changing" impact that will continue as leaders seek to add more opportunities.
"We will be doubling down on our commitment to further supporting working families," he said.
DeSantis also pointed out his support for all forms of education and cited the 2020 allocation of $500 million to raise starting teachers' salaries to fifth in the nation, as well as his dedication of a part of federal pandemic relief funds toward $1,000 bonuses for public school teachers.
The expansion of options "shows we're not standing pat. We're going on offense," he said as the audience burst into applause.
Billed as the largest expansion of education choice in Florida history, the new law merges the state's two scholarship programs for students with unique abilities, McKay and Gardiner, and combines them with the Family Empowerment Scholarship program approved in 2019.
One category of the Family Empowerment Scholarship will serve students with unique abilities and special needs while the other will continue to serve lower-income families.
The law leaves intact the Florida Tax Credit Scholarship program, which is funded by corporate tax donations, and the Hope Scholarship program for students who have experienced bullying at their district schools. More than 160,000 students across Florida participate in K-12 scholarship programs. The law is expected to add as many as 61,000 new students and cost about $200 million, according to a legislative analysis.
The law simplifies eligibility requirements by aligning qualifying income levels of the Florida Tax Credit Scholarship with the Family Empowerment Scholarship. The two programs previously had different income requirements.
The legislation also provides greater convenience for families by placing management of the Family Empowerment program under nonprofit scholarship organizations, which include Step Up For Students, which hosts this blog.
Under the legislation, families currently receiving flexible spending dollars under the Gardiner program will continue to receive their scholarships as education savings accounts, with McKay's traditional scholarships converting to education savings accounts starting in 2022-23. Families currently participating in each program will receive whichever dollar amounts were higher, whether that was in the previous law or in HB 7045.
During his remarks, DeSantis addressed concerns that some families had expressed about the legislation and said the effects would be closely monitored.
"If it turns out there any hiccups in this, we will not hesitate to propose reform," he said.
One aspect of HB 7045 that drew enthusiastic support was its elimination of a requirement that students attend a district school the previous year to qualify for the scholarship. That rule resulted in some families whose incomes took a hit during the pandemic or other tragedies from being turned down for scholarships that would have helped them keep their children in their private schools.
"If the need is there, the need is there," DeSantis said. "You shouldn't have to jump through three hoops."
The change is a godsend for Lina Zelcer, a widow who was denied a Family Empowerment Scholarship for her daughter, Chana Sofia, to attend her local Jewish school because she had not attended a district school the prior year.
"I was surprised how in the middle of a global pandemic, a single mom like me wasn't able to have the chance to receive a little support for my daughter's education," she said.
Zelcer said the new law will help her fulfill a promise to her husband, who died of a brain tumor at age 39, to provide Chana with an education that reflected their faith.
"Thank you, Governor DeSantis and lawmakers, for giving more Orthodox Jewish families like mine the opportunity to educate their children as they see best," she said.
Barbara Rodriguez also praised the expansion of education choice. Her son, Angel, who has special needs, struggled in his district school, and was bullied so severely that he contemplated suicide, she said. Thanks to a Gardiner Scholarship, she was able to send Angel to a private school with smaller class sizes and an environment that allowed Angel to thrive. Today, he is a successful eighth grader who loves reading.
"The Gardiner Scholarship gave him a second chance at education — and at life," said Rodriguez, whose two other children have benefited from the Florida Tax Credit Scholarship.
In addition to offering more convenience, the law expands scholarships to more families by raising household income limits to 375% of the federal poverty level for both the FTC and FES. That means a family of four with an income of just under $100,000 can qualify, though families earning 185% of the federal poverty level, or slightly more than $49,000 per year for a family of four, still get priority.
The law also makes siblings of students currently receiving scholarships and children of military members eligible for the program.
"They're serving us, so we're serving them," said DeSantis, also a veteran.
Though the ceremony attracted a crowd, it also caught the attention of an education choice pioneer not in the room but whose influence continues to weigh heavily.
"This is truly a historic and sweeping action to empower more families and ensure more of Florida's students can succeed," former Gov. Jeb Bush, founder and chairman of the Foundation for Florida's Future said in a statement issued Tuesday.
"Florida has long been a leader in school choice. This bold and massive expansion builds upon proven success, providing hundreds of thousands of students most in need with access to educational opportunities that would otherwise be out of reach."