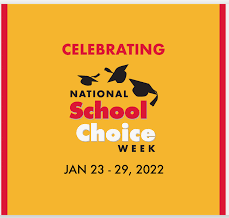 Editor's note: reimaginED kicks off National School Choice Week with an update on education choice enrollment across the state of Florida. Patrick Gibbons, a member of Step Up For Students' policy and public affairs team, produces this post annually, along with the changing landscapes document that accompanies it.
Nearly 1.6 million K-12 students, or 48.1%, attended a school other than a traditionally assigned neighborhood school during the 2020-21 school year, up from 45% from the previous year.
School choice enrollment in the Sunshine State grew by more than 40,000 students over the prior year and was driven by home education, full-time virtual education, the Family Empowerment Scholarship, and the Gardiner Scholarship (now called the Family Empowerment Scholarship for Students with Unique Abilities).
The Family Empowerment Scholarship grew by 105%, the Gardiner Scholarship by 44.5%, and home education by 33.3%.
Students enrolled in private schools through private pay declined by 18.4%, or by nearly 34,000 students. Despite the decline, private pay retained its fourth-place ranking. Career and professional academy enrollment declined by 14.7%, and magnet school enrollment declined by 11.7%.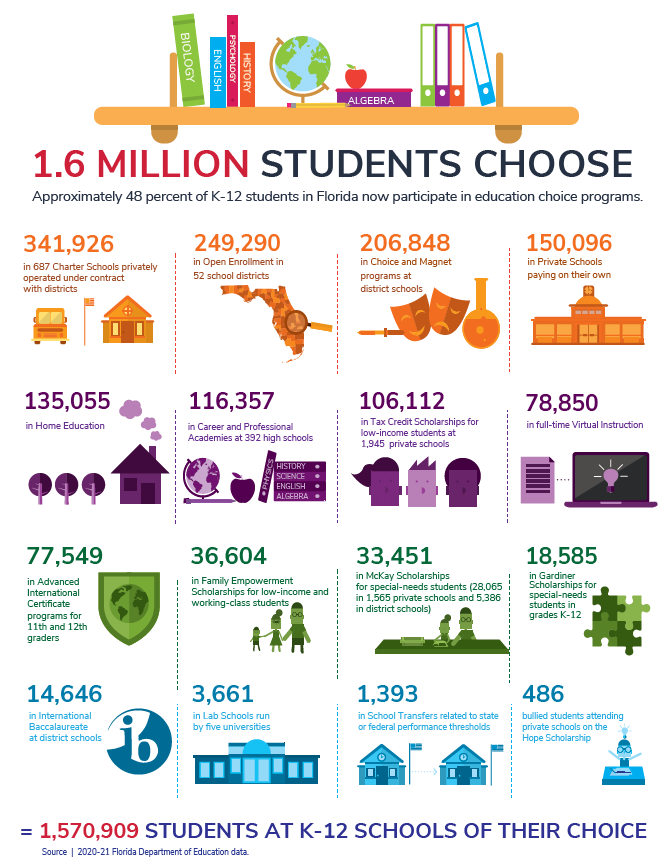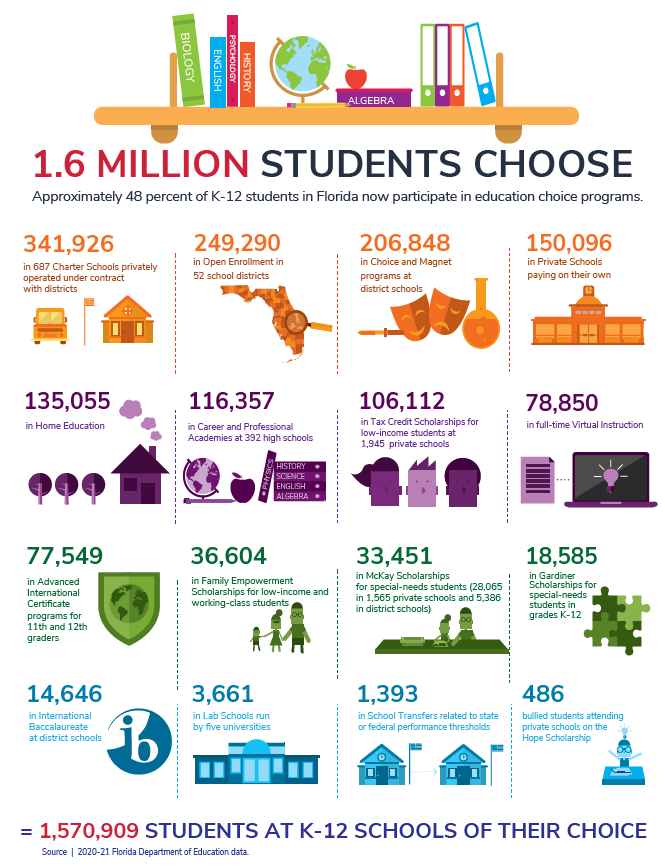 Charter schools remained the most popular school choice category, growing 3.9% to 341,926 students. Public school options took two out of the four top spots, with 249,200 students utilizing open enrollment and 206,848 students attending magnet schools.
The pandemic brought about modifications to the way Step Up For Students approaches Florida's changing educational landscapes. This year, all students enrolled in full-time virtual schools offered by local school districts were included in addition to those enrolled in Florida Virtual School.
Students attending lab schools operated by Florida universities were counted only if they were not included in the count of students taking advantage of other education options, such as charter schools, the McKay Scholarship, or the Family Empowerment Scholarship. In past years, those students were subtracted from other categories and added into lab school enrollment.
Changing landscapes attempts to avoid duplicating student enrollment in other ways. For example, students funded through the Gardiner Scholarship who also were home educated counted toward the Gardiner Scholarship, but not toward home education. Students enrolled in a career or professional academy were counted only if they were not already included in the count of another school choice option.
The 2020-21 Changing Landscapes document was compiled using data from the Florida Department of Education Bureau of PK-20 Education Reporting and Accessibility and the Office of K-12 School Choice.
*Editors note: the percent of K-12 students enrolled in schools of choice in increased from 45 percent in 2019-20 to 48 percent in 2020-21.