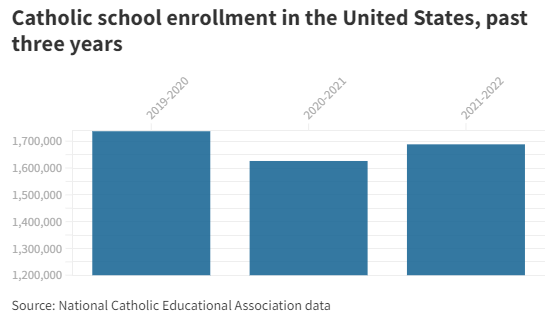 Editor's note: Good news for Catholic schools comes on the heels of National Catholic Schools Week, with dioceses including the Archdiocese of Miami posting enrollment gains. This article first appeared on catholicnewsagency.com and uses information included in a recent reimaginED post, which you can read here.
After a difficult 2020-21 year for many Catholic schools, enrollment numbers are rebounding nationwide, according to data from the National Catholic Educational Association.
Overall, enrollment in Catholic schools in the U.S. is up from 1.63 million last year to 1.69 million this year, an increase of more than 3.5%, according to the NCEA. Despite the increase, enrollment numbers do not appear to have yet reached 2019 levels, which saw 1.74 million students enrolled.
Catholic News Agency contacted the 10 largest dioceses in the country by Catholic school enrollment to ask how their enrollment numbers this year compare with last year.
Cincinnati
Cincinnati has a disproportionately large number of Catholic school students for its size. Spokeswoman Jennifer Schack told CNA that the archdiocese has 39,839 students enrolled this year, an increase of 1.5% over the previous year.
However, when looking at the past five years, the number of students is trending down by 2.5%, she said.
To continue reading, click here.