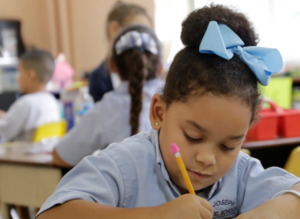 Editor's note: This article appeared Tuesday in the Clarion Herald, the official newspaper of the Catholic Archdiocese of New Orleans.
A panel of four Catholic education leaders touted the resiliency and flexibility of Catholic schools in the United States during and after COVID at the National Catholic Educational Association Convention (NCEA) April 21 in New Orleans.
"We have a great story to tell right now," said Lincoln Snyder, president and CEO of the NCEA, mentioning how well Catholic schools performed during the pandemic and the increase in enrollment from 1.62 to 1.69 million students – the first gain in 24 years.
"Harnessing the power of that storytelling is going to be a great opportunity for us going forward," Snyder said. "We are very different from other school systems."
Moderating the panel, "The State of Catholic Education," Jill Annable, senior vice president of programs for the NCEA, asked four pertinent questions about the state of Catholic education today.
New families came to Catholic schools because they wanted in-person learning, but stayed because they have fallen in love with the community and saw how well-served their children were by Catholic education, Snyder said. Federal scholarship programs also benefited families who maybe couldn't afford tuition before.
To continue reading, click here.