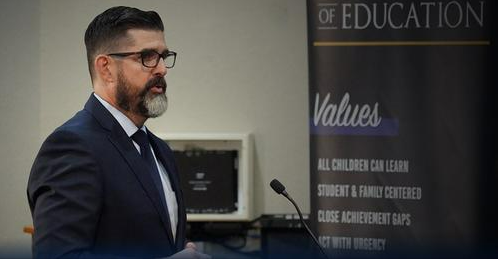 Editor's note: This commentary from Robert Pondiscio, a senior fellow at the American Enterprise Institute, appeared Tuesday on realclearpolicy.com.
Last Friday, Florida's State Board of Education voted to approve Republican Senator Manny Diaz, Jr. the state's new education commissioner. Diaz makes history as Florida's first Hispanic education commissioner.
He is also, on Day 1, the most important and closely watched state education chief in the country. His new boss, Florida Gov. Ron DeSantis, has his eye on the White House in 2024; the governor's political appeal and personal brand rests heavily on education, particularly a series of controversial measures exerting the state's authority over curriculum content.
It will fall to Diaz to communicate, execute, and enforce these polarizing initiatives. His success or failure may therefore exert an outsize effect of DeSantis' national reputation and political fortunes.
Diaz brings a strong education background to the job. He's a former high school social studies teacher who began his teaching career at the same high school from which he graduated, before moving to another local school where he rose to become an assistant principal. To this day, he is still certified to teach in Florida.
At the same time, he's a staunch champion of school choice and worked as a legislator representing the Miami-Dade area to expand access to Florida's many public scholarship programs and to grow the state's charter school sector. First elected to the Florida House of Representatives in 2012, he served three terms before winning his Senate seat in 2018.
Most recently he was the Senate sponsor of House Bill 7, aimed at curbing "corporate wokeness" and eliminating critical race theory from Florida schools. Diaz stood alongside DeSantis at a signing ceremony for the bill two weeks ago.
"I'm clearly straight in line with his ideology and we have been that way since he took office," Diaz told me in an interview shortly before the state board accepted DeSantis's recommendation last week.
To continue reading, click here.