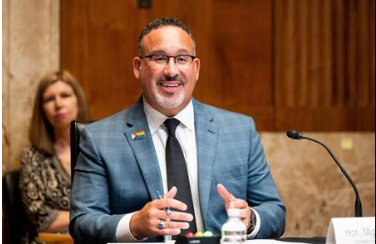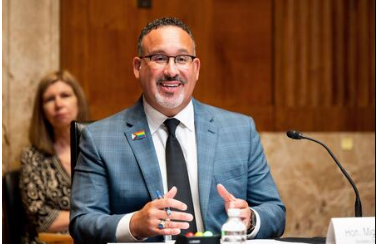 Editor's note: This article appeared Tuesday on The 74.
Recognizing a growing movement for parent rights in education, Education Secretary Miguel Cardona on Tuesday announced the creation of a new "Parents and Families Engagement Council."
The council will include representatives from 14 organizations that advocate for giving parents a voice in their children's education — including families involved in charters, homeschooling and private schools.
In preparation for the 2022-23 school year, the council's "listening sessions" are slated to explore what schools can do to help students recover from the pandemic, according to the department's announcement. The meetings will emphasize finding "constructive ways to help families engage at the local level."
"Would I have liked to see it happen a year ago? Of course," said Keri Rodrigues, president of the National Parents Union, one of the groups involved. She began advocating for such an initiative during the Trump administration, but added, "It's the first time where we're really getting … a group of folks representing parents and families at the table. It's unprecedented."
Other participating groups include the Council of Parent Attorneys and Advocates, which supports families who have children with disabilities; Mocha Moms, a network of Black moms' groups; and the National PTA.
In public comments, Cardona, the father of two teenagers, frequently notes that he's a "parent first" and has made "roundtable" discussions with parents part of his visits to schools across the country. But his department has also faced criticism from parent leaders who say he's been more vocal about the pandemic's strain on educators than on parents who had to endure months of remote learning and are still asking for tutoring to help their children catch up.
Meanwhile, parents have gained new political power. Those who felt overlooked by unions and Democratic leaders who were slow to reopen schools helped tilt the 2021 Virginia governor's race in favor of Republican Glenn Youngkin.
To continue reading, click here.