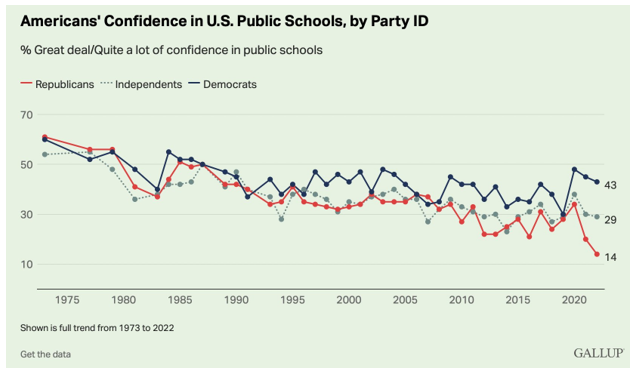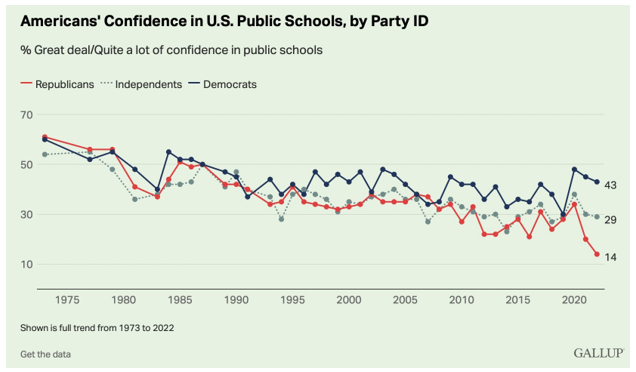 Americans' confidence in U.S. public schools remains low, with 28% saying they have a great deal or quite a lot of confidence in the institution, similar to 32% last year. Both figures are down from 41% in 2020, reflecting a brief surge in the early months of the pandemic after registering 29% in 2019.
While all political party groups expressed more confidence than usual in public schools in 2020, Republicans' confidence has since plunged, while Independents' has dipped and Democrats' has remained near their pandemic high.
The percentage of Republicans having a great deal or quite a lot of confidence in public schools fell from 34% in 2020 to 20% in 2021 and 14% today. Since 2020, Independents' confidence has declined nine percentage points to 29% and Democrats' has remained fairly high — currently 43%, versus 48% in 2020.
Today's 29-point gap between Republican and Democratic confidence in public schools contrasts with an average 7 points since the start of Gallup's Confidence in Institutions trend in 1973. Except for a 25-point gap last year, the previous high was 19 points in 2013, likely related to partisan disagreement over the Common Core educational standards at the time.
Americans' confidence in public schools is measured as part of Gallup's annual survey assessing public confidence in a number of national institutions, with the latest update conducted June 1-20.
To continue reading, click here.