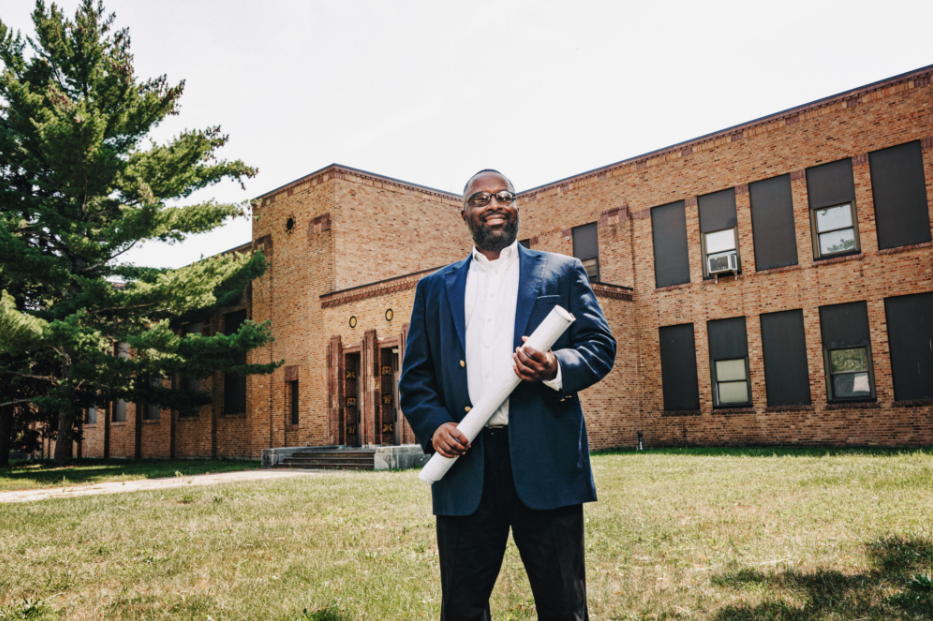 A new charter school seeks to capitalize on its proximity to the shores of Lake Michigan as it works to raise critically low math and reading rates.
Muskegon Maritime Academy will open Sept. 6 in a former district elementary school to students in kindergarten through fifth grade, offering water education in a military-style environment. More than 100 students have enrolled at the school which will focus on STEM learning while teaching discipline, respect, and service, according to the schools' website.
Entrepreneur Franklin Fudail, who founded the academy after establishing a youth boxing club that provided free tutoring services, said he sees the school's format as an effective way to boost to sagging math and literacy rates.
Figures from the Michigan Department of Education show only 3.5% of Muskegon third graders tested as proficient in math last year on the M-STEP, Michigan's standardized test; only 4.6% tested as proficient in reading.
Among fourth graders, 3% were proficient in math, while 10.4% showed proficiency in reading. In fifth grade, 4.3% were proficient in math, while 11.2% scored as proficient in reading.
Analysts attributed the declines to the pandemic and the fact that not all students took the tests in 2021, warning not to read too much into the scores. But statewide results from before the pandemic also showed declines, especially among districts with more low-income households.
Fudail said scores were embarrassingly low years before the pandemic.
"For years, test scores have been — pardon my language —in the toilet," Fudail said, adding that some years, several schools reported zero percent of student as proficient in math.
That's why he started the after-school youth boxing program, a six-week boot camp that he ran for 11 years to help boys catch up on learning losses in math and language arts and to instill a sense of discipline.
"The boxing was just a draw," he admitted.
Each student was immediately required to write a letter to his or her teachers to inform them they were in the program, apologize for any misbehavior, and ask for a fresh start at school.
Fudail later added a similar program in the summer for girls. The two-hour-per-day program, which ran five days a week, made a positive difference. Teachers told him of students who had once hated school making turnarounds.
In some cases, Fudail said, his efforts to help students kept many from being placed in special education programs, which happens disproportionately to minority students.
"Most of them just need some extra help," he said, adding that many were able to do well in math once the teachers he hired figured out where the students had fallen behind and helped them understand the concept that had become a stumbling block.
After closing the after-school program in 2015 to focus on his other businesses, Fudail began the process of opening a full-fledged school in 2019. He said a conversation he overheard one Friday at the boxing club helped spark the idea.
"One young man told another young man, 'I wish we could go to school here,'" Fudail recalled. "They didn't know I heard that."
He said his new project will allow him to help more kids in Muskegon, a coastal community with a population of 38,302 and a poverty rate of about 25%. His plan to focus on STEM – science, technology, engineering, and math – is designed to prepare students for high-wage jobs.
That came as welcome news to Shanavia Washington, whose kids are not struggling but seeking to get ahead. She recently enrolled her son, Nolan, 7, and his sister, Dakota, 5.
"I hope they become more confident and really pick up on robotics," she said.
Washington also like the fact that the school will offer Saturday tutoring to those who need extra help.
The water education and leadership training parts of the program will be provided through a partnership with the United States Naval Sea Cadets Corps and will be incorporated into the curriculum.  Students also will learn about maritime research.
Fudail says he chose to base his program on the Navy's youth group because students as young as 10 can participate; other military youth programs such as the Junior Reserve Officer Training Corps don't start until high school.
Fudail also is partnering with My Dress Rehearsal, a Grand Rapids-based etiquette company, to teach students about proper table manners and communication. Additionally, all students will receive weekly martial arts and self-defense training to develop self-confidence, discipline, and teamwork.
The charter school is authorized by Saginaw Valley State University. The university, founded in 1963, offers 100 academic programs at the undergraduate and graduate levels with approximately 9,000 students from 42 different nations and more than 1,300 faculty and staff members working across five colleges.
Saginaw Valley State has offered $6,000 per year scholarships to students who complete grades 3 through 5 at Muskegon Maritime Academy and who meet the college's admissions and scholarship criteria.
Fudail said expects to keep his school small, limiting it to no more than 150 students. He said he watched a couple of charter schools open in the late 1990s, only to fold because they got too large and lost their focus.
"They were just going for the numbers," Fudail said. "This school is not a job for me. I have a job. I want to make a difference in my community."