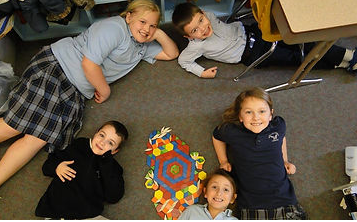 Backers of the Let MI Kids Learn petition drive, launched to establish a program in Michigan that would allow donors to contribute to a private scholarship fund and receive tax credits, say there are more than 520,000 signatures on the document filed Wednesday with the Bureau of Elections.
The group, backed by former U.S. Education Secretary Betsy DeVos, plans to put the initiative before the Republican-led Legislature for approval this year. If certified, the Michigan House and Senate could enact the new scholarship proposal despite Gov. Gretchen Whitmer's veto of the program last fall.
"This is the day that parents and families have been working for, and I am excited to know that change is on its way," said Michigan Sen. Lana Theis. "Every child deserves a chance to catch up on the learning they lost, and the public school system isn't the only place where that can happen."
Michigan's scholarships would go to families making no more than twice the level needed to qualify for free and reduced-price meals. For this year, that's $102,676 for a family of four. The program would cap private tuition at 90% of Michigan's minimum per-pupil funding amount, which is $8,700 this year.
If the initiative becomes law in Michigan, the state would have one of the largest tax credit scholarship programs among states with similar options. Only Florida would have a higher cap at $874 million.
A press release about the petition issued Wednesday by Let MI Kids features a Michigan parent who says the proposal offers hope and puts education choices in reach for every family.
"These educational scholarships, funded with private contributions, have been extremely successful and popular in other states, and we deserve to have these choices for Michigan children, too," said Tanya Armitage-Edgeworth. "There are families who could never dream of being able to afford to choose a better school for their kids."
The measure could face a legal challenge in Michigan, where the state constitution bars the use of public dollars to "directly or indirectly aid or maintain" private education. Proponents of the Michigan initiative have argued the petition language is "well-crafted" and would survive any constitutional challenge.
"It is not the government sending money to a religious or faith-based school or any other school," DeVos told reporters at a recent promotional event. "The reality is these funds are going to families to decide where to best send their children and find the right fit for them."
Petition campaign spokesman Fred Wszolek said his group is looking forward to the initiative being swiftly canvassed by the Bureau of Elections and promptly certified by the Board of State Canvassers.
"There is plenty of time for the Legislature to enact these proposals into law before the end of the year," Wszolek said. "Special interest groups fought hard to keep this day from ever happening. But you can't stop an idea whose time has come."
The advocacy group plans to file a separate initiative petition for an income tax credit for scholarship fund contributions.