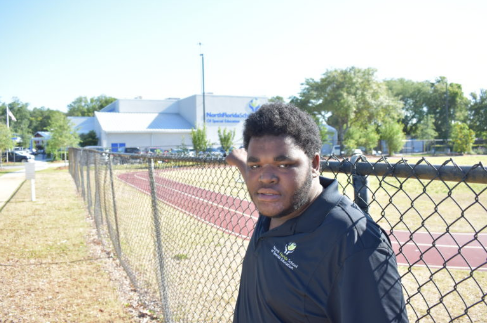 JACKSONVILLE, Florida – Not every student at North Florida School of Special Education rides Chief within minutes of meeting the big horse, but that's what James Guha did one day during the summer of 2021.
Oh, it took some encouraging and a little cajoling from Andrew Sack, the barn manager. Chief is big and a bit ornery. A Paint, he stands 16.2 hands (5.6 feet) tall. He likes to test newcomers to his stall.
James is big, too. He's 6-foot-3, 220 pounds. But he had never been around horses.
James, 20, who is on the autism spectrum, had just started in NFSSE's summer program as he prepared to begin his first year in the school's transition program for adults ages 18-22. Part of his time would be working with the farm animals.
"He was ready to rock and roll and ride horses," Sack said.
Then James met Chief.
"He's big," James said. "Like really big."
Sack had James pet Chief, then brush him. Then Sack asked James if he wanted to ride the horse. And James was a little …
"Scared to death," Sack said. "I would be, too, a first timer, but he did it. I love his willpower."
James settled into the saddle and a friendship was forged.
"I'm starting to warm up to Chief," James said. "He's growing on me a little bit, but at the same time, he's still scary."
Working with Chief was one of the highlights of James's first year at NFSSE, a private school in Jacksonville that offers an innovative academic and therapeutic setting for students, ages 6-22, who have intellectual and developmental differences.
Those in the transition program learn functional academics – how to budget money and pay bills, how to read and interpret signs, personal hygiene, job skills. James, who lives an hour from the school in Orange Park, attends NFSSE on a Family Empowerment Scholarship for Students with Unique Abilities, managed by Step Up For Students.
To continue reading, click here.