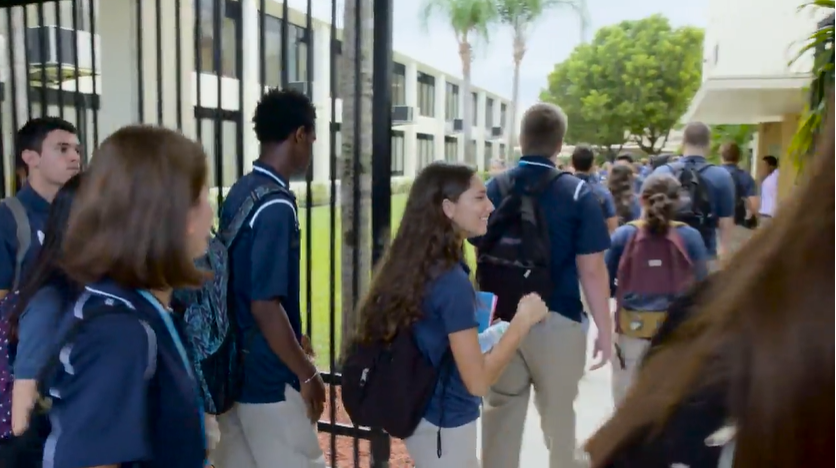 A veteran educator at the helm of a Ft. Lauderdale Catholic School is among nine academic leaders announced by U.S. Secretary of Education Miguel Cardona as recipients of the Terrel H. Bell Award for Outstanding School Leadership for 2022.
All nine school leaders, who are included in the 2022 cohort of National Blue Ribbon Schools, will be honored at a National Blue Ribbon Schools awards ceremony Nov. 3 in Washington, D.C.
Principal Denise Aloma's career spans more than 50 years, most of it at South Florida's St. Thomas Aquinas High School, where she served as an English teacher and assistant principal before becoming principal.
Aloma's commitment to ensuring that all students graduate with 21st century skills contributed to St. Thomas Aquinas becoming one of the first Catholic high schools in the country to adopt a STEM focus, serving as a model for other schools in effective STEM program implementation. She also has focused on growing successful pre-professional programs that allow students to explore pre-law, pre-med, and pre-engineering.
Additionally, to help students accelerate their learning and explore career pathways, she designed and implemented a summer school program to encourage students to work ahead in core content areas, giving them more flexibility with class schedules.
In a news release announcing the award winners, Cardona, a former school principal, said he understands the vital role school leaders play in shaping school culture and welcoming learning environments, improving student achievement outcomes, and empowering teachers to meet the needs of their students.
"The nine school leaders receiving this year's Terrel Bell awards have raised the bar for building positive school climates, increasing achievement, and finding creative ways to nurture, engage, and support students, families, educators, and school staff," Cardona said.
"At a time when principals and other school leaders face many challenges, from addressing students' unmet mental health needs to accelerating their academic recovery from the pandemic, the Department of Education is proud to recognize the essential work they do each day."
The U.S. Department of Education, together with the National Association of Elementary School Principals, the Association for Middle Level Education, and the National Association of Secondary School Principals, present the Bell Awards to principals of National Blue Ribbon Schools for their outstanding work and the vital role they play in guiding their students and schools to excellence, frequently under challenging circumstances.
Other award recipients are:
Brigett Stewart, Piedmont Elementary School, Piedmont, Alabama
Miguel Marco, Wittmann Elementary School, Cerritos, California
Linda Bevil, James B. Eads Elementary School, Munster, Indiana
Julie Scott, R.L. Wright Elementary School, Sedgwick, Kansas
Catherine Bricelij, Myrtle Place Elementary School, Lafayette, Louisiana
James Sonju, Lincoln K-8 School, Rochester, Minnesota
Ryan Ambrose, Checotah Intermediate Elementary School, Checotah, Oklahoma
Mahri Aste, Mosaic Elementary School, Fairfax, Virginia