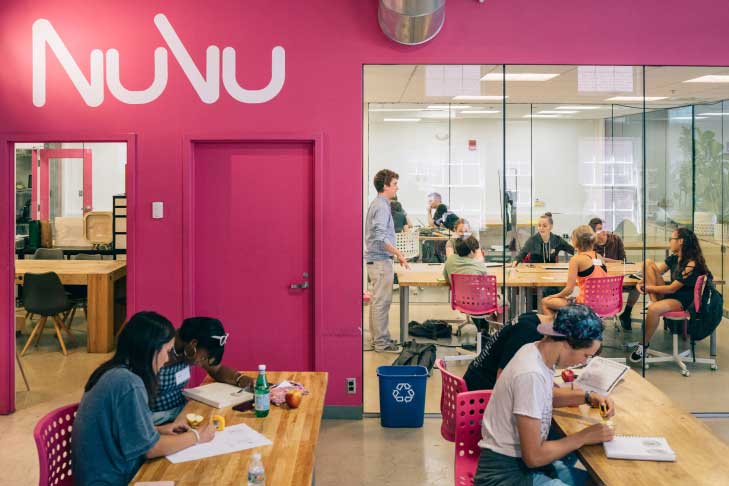 Last spring, a group of Massachusetts ninth graders received a challenge: Design and create an interactive device that represents a key memory and stimulates at least two of the five senses to create a profound connective experience for users.
One group of students chose to work with the resident at a nearby senior living center named Madelyn, who lived in Israel during the Gulf War. The students interviewed her to glean her memories, then created a type of kaleidoscope fashioned to resemble the gas mask she wore to protect herself from chemical exposure during frequent bombings.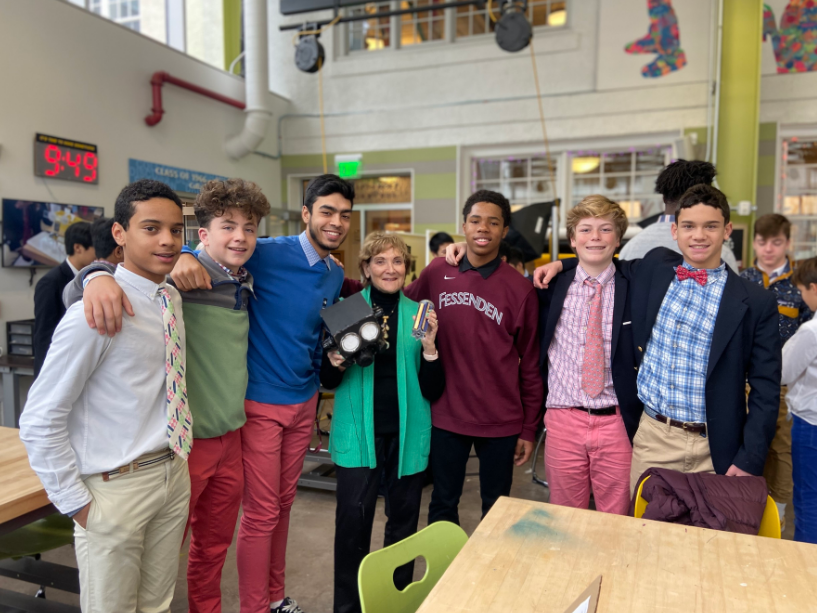 Visually, the jeweled pattern visible inside the mask reflected Madelyn's Jewish faith. Headphones attached to the mask made accessible the sound of waves crashing on the beach where Madelyn often walked.
The gas mask viewer, which the students named "Diamond In The Rough," was one of 17 storytelling design projects created at The Fessenden School, a private school for boys in the Boston suburb of West Newton. (You can view more projects here.)
Such innovative learning is made possible through a partnership with NuVu Studio, a private school for students in grades 8 through 12. NuVu Studio and its partnership program NuVuX are based on a studio-learning model, which emphasizes learning by doing, often through solving community-based design problems.
Fessenden students used elements inspired by nature to design and create their projects, each of which took three weeks to complete. They utilized their English, science and history class periods, developing skills in those subjects along the way.
"Our work with NuVuX has allowed our teachers to create truly authentic studio learning experiences for their students," said Curt Lewellyn, director of the school's Ciongoli Center for Innovation. He said Fessenden has partnered with NuVuX for 10 years and gets access to its ideas and training in project-based learning and a hands-on approach that engages students.
"Fessenden's partnership with NuVuX has elevated the teaching and learning practices of our faculty and students in very tangible ways," Lewellyn said.
Nestled between Harvard University and the Massachusetts Institute of Technology, NuVu Studio was developed by Saeed Arida, who explored the learning model in his dissertation while a doctoral student at MIT. He co-founded the studio with classmates Saba Ghole and David Wang in 2010.
The studio started out offering students at nearby schools the opportunity to work on two- to five-week projects. The model was so successful that NuVu eventually became a full-time school, though it continues to offer summer camps.
Step inside NuVu Studio, and you won't find traditional classrooms. Students work on projects at large conference tables with various tools, building materials and sculptures in various stages to completion. Instead of traditional teachers who give traditional lectures, coaches, who can be certified teachers or experts in their fields, offer guidance and expertise students need to complete projects.
And instead of grades, students, present portfolios to show competency in a subject.
Students at NuVu's in-person school typically take electives separately. They also take the HiSET exam  to earn a state-issued high school equivalency credential, a key requirement for college applications.
NuVuX represents an expansion of the studio-based learning model into partnering schools and innovation centers in the United States, Turkey, Scotland, China, and Saudi Arabia. In the United States, NuVuX has partnerships in Massachusetts, California, New Jersey, Hawaii, Rhode Island, Vermont.
NuVuX's first partnership was with All Saints Academy in Lakeland, Florida, but that ended last year. However, New Beginnings High School, a charter-school network in Polk County, began working with NuVuX within the past year.
Ghole, who oversees NuVuX, said projects vary based on community needs. One California partner worked with a local non-profit organization that provided equestrian therapy to people who have experienced trauma or have physical injuries. The students designed and built interactive stations for a sensory trail.
Such a project involves many skills, she said.
"They have to work with the client, understand the needs … and come up with ideas for these stations that can actually be installed and come up with a process for building it to full scale," she said. The process involves a lot of prototyping, testing, learning about physical therapy and digging deeper into equestrian therapy.
"A lot of social sciences are involved," Ghole said. "It's a very rich process."
Ghole expressed hope that expansions of state education choice scholarships, particularly, establishment of education savings accounts, could allow more students to have access to NuVuX and its innovative learning model.
"I think families need a vehicle for arriving at how to access other types of educational opportunities," she said. "I think there would be tremendous value added in creating more of those processes that parents and families can have available to them as they're trying to seek educational opportunities that align with their students' needs."