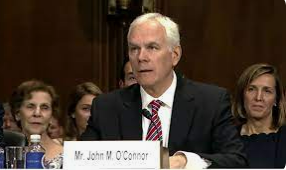 Editor's note: This article appeared Friday on oklahoman.com.
Oklahoma's law barring public charter schools from being run by sectarian or religious organizations could be a violation of the First Amendment, according to an opinion from Oklahoma Attorney General John O'Connor.
O'Connor cites recent Oklahoma and U.S. Supreme Court rulings to argue that the state can't allow some private entities to receive state funds for charter schools, but bar others based on their religious status. The opinion states it is advisory only until determined binding by an Oklahoma federal district court.
The opinion was in response to Rebecca Wilkinson, executive director of the Statewide Virtual Charter School Board, who had asked the attorney general's office if her board should continue to enforce the nonsectarian requirements in light of the Supreme Court ruling in three different states that it's unconstitutional to exclude religious entities from benefiting from public benefit programs relating to pre-K, primary or secondary schools.
"Under Trinity Lutheran, Espinoza, and Carson, it seems obvious that a state cannot exclude those merely 'affiliated with' a religious or sectarian institution from a state created program in which private entities are otherwise generally allowed to participate if they are qualified," O'Connor and Solicitor General Zach West said in the opinion. "And that is exactly what this provision does."
To continue reading, click here.