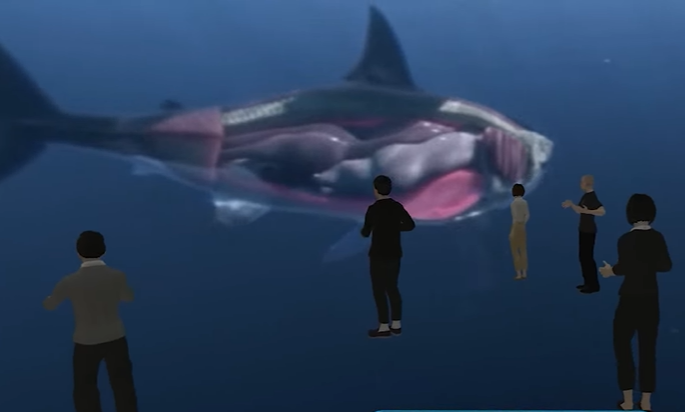 Editor's note: In keeping with our year-end tradition, the team at reimaginED reviewed our work over the past 12 months to find stories and commentaries that represent our best content of 2022. This post from reimaginED senior writer Lisa Buie is the sixth in our series. Buie donned a headset and took a virtual journey to learn how an innovative Florida school will use virtual reality to accelerate learning.
"Sorry for the delay in responding to your email," I told a contact last week. "But I was busy walking on the moon."
Of course, that wasn't literally true. Nor was it true that I literally stood inside the Oval Office, visited Niagara Falls, observed sea life on the ocean floor, and peered out at Florida's Space Coast from the tip-top of a rocket just before launch.
In actual reality, I was in my teenage son's game room, experiencing it all from his Oculus Quest II headset.
Yet in virtual reality, I was in those environments and got a glimpse of how they will enhance the learning of students who enroll at Optima Classical Academy a charter school based in Naples, Florida, that uses VR to bring lessons to life for children in grades 3 through 8.
Billed by its founders as "the world's first virtual reality charter school," the school is set to open in August.
In half-hour segments punctuated by breaks, students will get to experience the ancient city of Pompeii, top art galleries, the ocean floor, outer space, the White House, and other well-known places via the metaverse.
"People say it's really hard to describe it unless you've experienced it," said Vince Jordan, who joined the Optima Classical Academy staff about a year ago as its chief technology officer and has been designing environments. He told me this while we sat inside a virtual coffee shop in a city that looked a lot like Chicago.
That's why I decided to take a virtual tour myself after interviewing the school's founder, Erika Donalds, an entrepreneur and education choice advocate. A former public school board member, Donalds already had developed a charter school in Naples, which is her hometown.
Besides, I saw the movie "Ready Player One" with my son a few years ago and was curious to see if the real metaverse lived up to the hype.
It did.
After creating a login for the Engage app and choosing an avatar – a slightly enhanced version of my "actual" self – I met Jordan via his avatar in the lecture hall. After virtually shaking my hand and giving me an overview, he whisked me away.
When my screen returned — it goes dark during the transports — I found myself on the launch pad at the Kennedy Space Center. I looked around and found I was standing a few feet from a rocket. According to a tourism website featuring things to do in Orlando and Central Florida, the closest a spectator can get to a launch is about 7 miles. But in the metaverse, not only can you walk around the base of the rocket; you can ascend to the very top to see the actual shuttle.
Jordan explained that I was looking at the Saturn V Rocket, which was used in 1969 during Apollo 11 to transport astronauts to the moon. At 363 feet tall, it's equivalent to the height of a 36-story building and about 60 feet taller than the Statue of Liberty. It's hard to believe the spacecraft is such a small part of the rocket, Jordan pointed out.
Then, after a few seconds of darkness, my virtual eyes opened. I was, standing in the Oval Office right next to the Resolute Desk, where numerous presidents worked. The experience was so real I could hear the crackle of wood burning in the fireplace.
Seconds later, I left the Oval Office for the moon, where I stood on its gray, cratered surface. I could see a lunar roving vehicle – a moon buggy – in the distance, one of several that astronauts have been left behind. While there is plenty of moon video to watch, it's so much more vivid to feel like you're actually in outer space. It's also cool to look down at your hands and feet and see them clothed in a space suit.
After walking on the moon, I descended to the ocean floor where I saw a variety of sea life, including a great white shark. I also watched a 3-D video in an auditorium that rivaled an IMAX theater.
For a Star Trek nerd like me, the experience was like being on the holodeck, an environment used for virtual vacations but also for education and training.
For students, especially those of modest means who have not had the opportunity to travel much farther than their back yards, such a learning environment can be especially engaging. It also can be useful for teaching skills through simulations.
For now, Optima Classica Academy is a tuition-free charter school. Donalds chose that route in compliance with Florida law, which limits private schools that accept education scholarships to in-person instruction at brick-and-mortar locations.
However, Donalds has said she would consider converting to a private school model if the law changes to allow for universal education savings accounts, a flexible model that allows parents to customize their child's education.
Toward the end of the demo, the headset started to feel a bit heavy, which is why the virtual school is limiting sessions to 30 minutes and adding breaks for students to work on assignments.
Jordan, who started his tech career working on large mainframe computers and has seen the industry evolve, says that will be temporary as newer headgear will be lighter and eventually look like eyeglasses.
"And if Elon Musk has his way, it could someday be in your brain," he said.
Which sounds a little scary, unless it means I get a free trip to a vacation destination to some place quiet – like the moon.