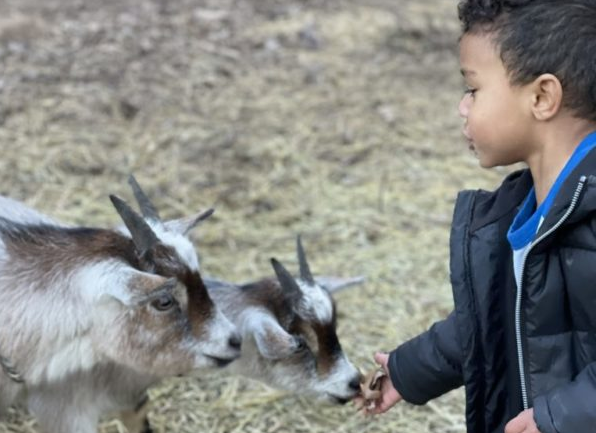 "I'll show these people what you don't want them to see. I'm going to show them a world without you. A world without rules and controls, without borders or boundaries. A world where anything is possible." – Thomas Anderson, "The Matrix"
Andy Rotherham recently published his annual Eduwonk In and Out List, which he describes as unscientific, impressionistic, and often informed by "don't tell anyone I sent this email" missives from colleagues. Here's a partial look. (You can see the whole list here.)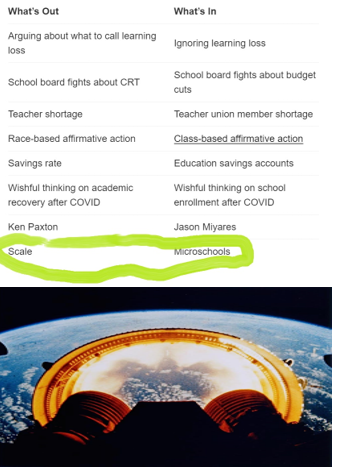 While I'm obviously happy to see education savings accounts on the "in" list, the "Scale/Out and Microschools In" observation that caught my attention. Could it be that the "Scale" era of the choice movement is like a rocket booster that won't be making the remainder of the journey forward?
The goal of bringing schools to "scale" always contained a difficult assumption: that we knew which types to attempt to scale up. That assumption contains within itself an implicit assumption of benevolent guidance.
Some guidance was explicit, such as the preference for "portfolio" choice models. In other instances, the urge for control was more subtle, for example, in heavy-handed charter school authorization.
For decades choice philanthropists heavily emphasized subsidizing certain types of charter schools during the "scale" era. In retrospect the overemphasis of a certain type of school in urban communities proved to be a strategy with a low educational and political ceiling. A power-struggle over K-12 policy broke out within the Democratic Party. Alas it did not end well.
The humble model of choice supporter viewed things differently than the scale school. The humility school started the assumption that we cannot know what is best for everyone. Values and preferences vary widely and genuinely. The scale school choice supporters want to control the choice space in order to make it "acceptable." The humble looked for revealed demand in schooling, valuing the wisdom of crowds more than the preferences of the self-appointed.
Now let's fast-forward to the COVID-19 pandemic. Our response to the COVID-19 pandemic will be studied for decades to come as a case study in fiasco. A great many American families, quite understandably, came to the conclusion that they wanted to increase their independence from a public education system that had crashed in such a spectacular fashion.
A Do-It-Yourself education movement, of which microschools are a part, had been quietly growing for decades. DIY rose up to meet the challenge of the COVID system failure. The genie shows no sign of going back into the bottle.
This does not mean that the "scale" institutions will disappear any time soon. As I related in a previous post, a disappointingly long seven decades passed between the first drilled well producing "rock oil" and the killing of whales for oil. School districts will last a good while longer.
Nevertheless, a powerful and complex set of factors has led to Rotherham's In/Out list listing scale as "out" and micro-schools as "in." Bespoke education is just getting warmed up, and it has a lot of room to run.
Let's see what happens next, but color me optimistic.