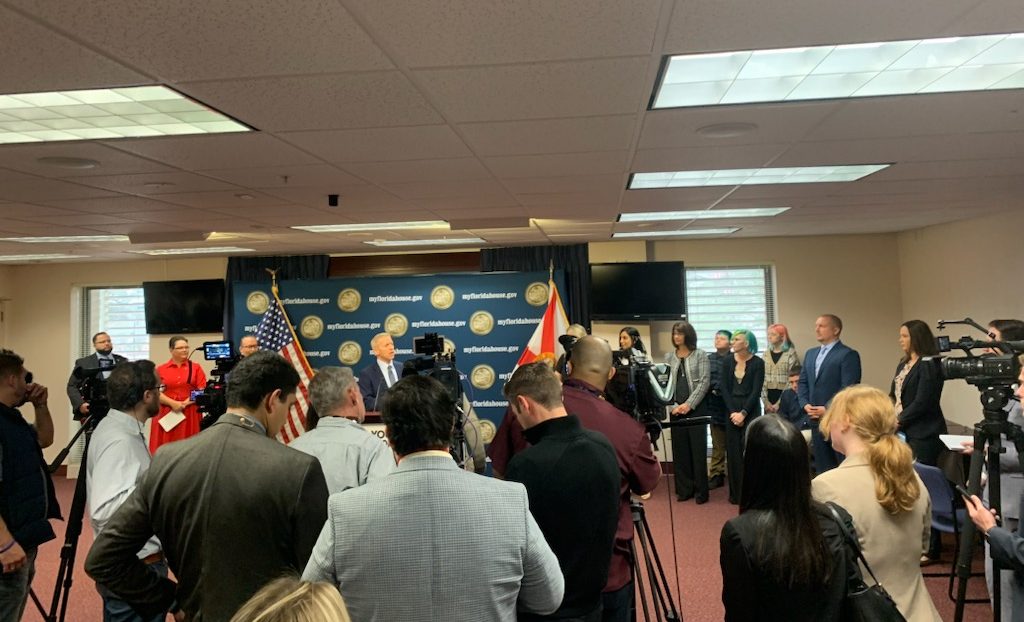 A bill that Florida leaders are calling "transformational" would greatly expand the state's 21-year-old education choice scholarship program by opening eligibility to all K-12 students in the Sunshine State and empowering parents to customize their children's learning.
"Florida is about expanding freedom and opportunity," said House Speaker Paul Renner, R — Palm Coast, who stood in front of a lectern with the sign, "Your Kids, Your Choice" during a news conference to introduce the bill. "Today, we empower parents and children to choose the education that best fits their needs."
HB 1, which was filed Thursday morning, would remove income limits from all the state's two major income-based programs, the Florida Tax Credit Scholarship Program, and the Family Empowerment Scholarship for Education Options. The bill also would convert traditional scholarships, in which money goes directly to a private school for tuition and fees, to education savings accounts. Also known as ESAs, these funds allow parents to direct funds toward other approved uses such as private tutoring, instructional material, including digital and internet resources, curriculum, a virtual program or online course that meets state requirements, or tuition and fees associated with homeschooling. (The number of homeschooled students using the formerly income-based programs will be capped and increased each year until 2027.) The law allows "choice navigators" to help parents sort through options and choose the best fit for their child. The expanded programs would be administered by state-approved scholarship funding organizations. (Step Up For Students, which hosts this blog, is one of two nonprofit organizations that manages these programs.)
Current law limits eligibility to lower- and middle-income families and students who meet certain criteria such as children of active-duty military members, law enforcement officers and children who are in out-of-home or foster care.
The bill also would eliminate the wait list for the Family Empowerment Scholarship Program for students with Unique Abilities. That program is already operates on an education savings account model. It places no limits on household income but restricts participation to students with certain special needs. More than 9,000 students are currently waiting to receive those scholarships.
"It is a tragic thing to have to say no to these children," Renner said. This bill will completely eliminate the wait list for our children with unique abilities."
The bill's sponsor, Rep. Kaylee Tuck, R — Lake Placid, thanked the House leadership for allowing her to steer it through the legislative process.
"I think it's clear to us that nobody, absolutely nobody, knows the needs and abilities of their child better than a parent," said Tuck, who recently published a commentary on foxnews.com outlining how education choice works well in rural areas. "HB 1 empowers every parent to choose the customized and tailored system that fits best for their students…Florida is committed, has always been committed and will always be committed to providing the best education system possible."
For Rep. Susan Plascencia, R — Winter Park, and Rep. Jenna Persons-Mulicka, R — Fort Myers, the bill was personal. Plascencia's three children received education choice scholarships, and Persons-Mulicka's son, Charlie, attends a private program for students with autism spectrum disorder that has allowed him to thrive.
"Within days and weeks, we could see the change and metamorphosis in our son," Persons-Mulicka said. "We're able to give our Charlie an opportunity, and it's amazing we'll be able to empower all our parents to give their children the same opportunity."
Plascencia, who co-sponsored HB 1,  said her children are now "leading productive, successful lives" and are happy in their chosen fields.
The bill is now in the House Choice and Innovation Subcommittee and is expected to be heard next week. From there it will go the PreK-12 Education Appropriations Subcommittee and then to Education and Employment Committee. A companion bill has not been filed in the Senate. The 2023 legislation session begins March 7.
"I think we're going to see bipartisan support for this bill," Renner said. "I think people will realize more and more how powerful (education choice) can be."
The bill filing comes after two decades of support for education choice programs in Florida, which the Heritage Foundation named No. 1 in the nation last year for education freedom. Other states have recently followed Florida's lead in establishing or expanding choice programs.
In 2021, West Virginia approved an education savings accounts program that was described at the time as the broadest expansions in the nation. That program will go into effect during the 2023-24 school year. Last year, Arizona enacted one of the most expansive education choice laws in the United States. The Arizona law allows any child who is not enrolled in a public or charter school to receive more than $6,500 per year per child to use toward private school, homeschooling, microschools, tutoring or any other form of education that does not fall under traditional public schooling. The law survived a challenge from opponents, who failed to gather enough signatures to put measure on the 2024 election ballot as allowed by the state constitution. However, newly elected Arizona Gov. Katie Hobbs has sought to block the expansion by not including the necessary funding in her proposed budget.