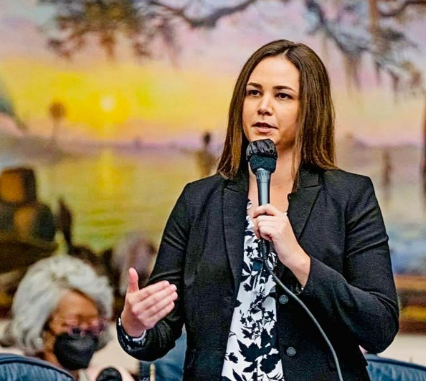 Editor's note: This commentary from Republican Rep. Kaylee Tuck, who chairs the Florida House Subcommittee on Education Choice and Innovation, appeared Friday on foxnews.com
For years, school choice opponents in states like Iowa and Texas have gotten away with spreading myths about school choice to scare people in rural areas.
They've said school choice can't work in rural areas because there aren't enough private schools, and that all the money for choice scholarships will go to private schools in the cities. Then, at the same time, they've tried to argue that choice will wreck rural public schools and the rural communities that love and depend on them.
In Oklahoma this year, the Democratic candidate for governor even made it a pillar of her losing campaign to say school choice was a "rural school killer."
None of that is true. I know, because I'm a state lawmaker who represents one of the most rural areas in Florida, a state that's been a school choice leader for 20 years.
School choice helped elevate Florida from being one of the worst education states in America to No. 3 in K-12 achievement. And every year, thousands of rural families experience the life-changing upside of having options.
I am privileged to represent four rural counties in a region called the Florida Heartland. We're not the Florida they put on postcards. Cattle and citrus are some of our biggest industries, and the tourists we get tend to like racing (at Sebring International Raceway) and bass fishing (on Lake Okeechobee).
The people in my district are resourceful and hard-working, the kind who make rural communities the backbone of America.
They value school choice.
A decade ago, 390 students in my district used state-funded school choice scholarships or state-funded education savings accounts. Last year, more than 1,500 did.
Statewide over that same period, the number of choice scholarship students in Florida's 30 rural counties grew from 2,547 to about 8,500, according to a new report from Step Up For Students, the nonprofit that administers Florida's choice scholarships.
That's a lot of rural families accessing options. But how did they find those options if supposedly there aren't any private schools in rural areas?
There have always been private schools in rural areas, even if they tend to be fewer and smaller just like the public schools in rural areas. But supply has also grown to meet demand. Since school choice got rolling in Florida, the number of private schools in rural counties has nearly doubled. In my district, they've grown from 15 to 25.
Alane Academy in Wauchula, a town of 5,000 people in my district, is one of them. A former school district Teacher of the Year started the school a decade ago because she wanted more flexibility with everything from curriculum to scheduling to assessments.
What she created is top-notch – and a Godsend for families whose children were struggling in traditional schools. Nearly 70% of her students use choice scholarships.
"When you think of private schools coming into small towns, we're not these big bad people, corporate organizations trying to come in and take over the school system," the founder said. The schools are started by "people just like myself, who grew up in that area, love that area, and just want to provide another choice."
Our community is stronger with schools like Alane Academy. And here's the kicker: At the same time school choice has been helping thousands of rural families, it has not been undermining rural school districts.
In the past 10 years, the share of rural Florida students enrolled in private schools has risen 2.4 percentage points, to 6.9%. In my district, it's gone from 4.7% to 7.3%. That's it, even though more than 70% of Florida families are eligible for choice scholarships.
Across America, next year's legislative sessions are just around the corner, and school choice opponents know choice has the momentum. They will double down on misinformation in an effort to stem the tide. But the facts on the ground show choice is a plus, including for rural areas.
Rural lawmakers should embrace choice. Rural families and communities will be even stronger when they do.