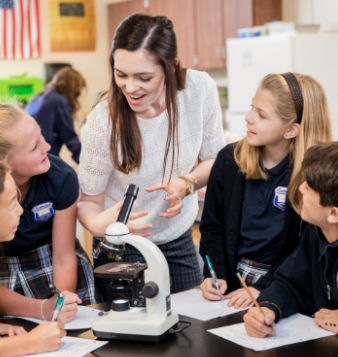 Editor's note: This article from Rick Hess, resident scholar and director of education policy studies at the American Enterprise Institute, appeared recently on edweek.org. You can listen to a podcast with reimaginED executive editor Matt Ladner and Great Hearts Online executive director Kurtis Inforf here.
Great Hearts Academy launched in 2001 with 130 students. Today, it operates 33 classical K-12 schools serving more than 25,000 students in Arizona and Texas.
At a time when there's a lot of interest in classic liberal arts school models, and with Great Hearts seeking to expand its offerings via pre-K and online offerings, it seemed like a good time to chat about their work with CEO Jay Heiler, who's been on the board of Great Hearts since its founding and spent more than a decade as chair of the Arizona Charter Schools Association.
Here's what he had to say.
Rick: So, Jay, what is a Great Hearts Academy? What makes it distinctive?
Jay: Great Hearts academies are grounded in an ethos of education as formation of the virtuous human person, not only in knowledge and intellect but also of the heart and character. We long and educate for a more philosophical, humane, and just society, but we consider this work as apart from the controversies of the day or the continuous political and polemical theater.
Our school model features a rich liberal arts curriculum and a culture that fosters friendship, marked by a common love of the true, the good, and the beautiful.
Rick: Can you talk a bit about what it takes to make that kind of curricular model work?
Jay: Great Hearts academy life is simple to understand in terms of what it includes and what it excludes. It includes the Great Books, the best of what has been thought and written for millennia, Socratic pedagogy grounded in conversation, and a culture of friendship.
It excludes screen time and pop culture, on the supposition that students are now immersed in an overabundance of those things outside of the school day.
Rick: Some critics have argued that Great Hearts' value-based, classical model isn't a good fit for all students. What's your response to such critiques?
Jay: Great Hearts is an emphatically anti-elitist organization because its central assertion is that the best education for some is the best education for all, and our purpose is to make it accessible to all, so that all might have the chance to lead a great life and do things that matter to them and our society.
Classical education begins and succeeds by grounding itself in timeless things that do not change. It disabuses young minds from the common tendency to see one's own time as safely evolved beyond the perils and failures of earlier times. It refutes the cult of novelty. It opens the mind by engaging with centuries of human thought and conversation, disaster and triumph, error and recovery, insight, and inspiration.
For these reasons, we believe every child would benefit from a Great Hearts classical education, and we go to work every day to reach as many families as possible.
Rick: How did Great Hearts get started?
Jay: In the early years of charter schools, the prevailing vision was "let a thousand flowers bloom." Our original insight was that this is not how education would be reformed, accounting for goodwill or the market. So, we wanted to take the best possible education and replicate and then scale it. We began 21 years ago with 130 students in a leased church classroom building, improved for occupancy via some borrowed funds, with grades 7 through 9.
Rick: What's your network look like today?
Jay: Since our founding, Great Hearts has grown to become the leading provider of classical education in the U.S., with more than 25,000 K-12 students in public, nonsectarian charter schools and now a new preschool offering as well: Young Hearts.
We have accomplished this as a nonprofit organization. We currently operate in Phoenix, San Antonio, Dallas, and Fort Worth. Amid the travails of the pandemic, we also launched Great Hearts Nova, our innovation-centric division which includes fully online charter academies in Arizona and Texas and microschools.
To continue reading, click here.