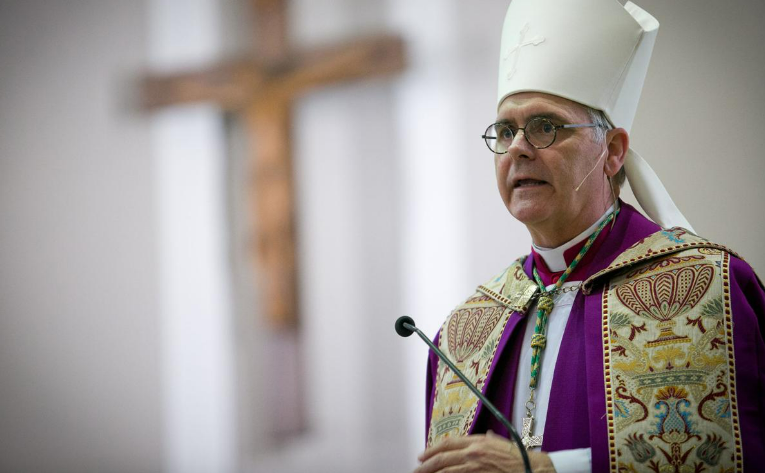 A meeting of an obscure state board set for Tuesday could swing open the door to religious charter schools nationwide.
Members of the Statewide Virtual Charter School Board in Oklahoma are expected to consider an application by the Archdiocese of Oklahoma City and the Diocese of Tulsa to open an online charter school that would include religious instruction among its offerings. If approved, it would be the nation's first religious charter school.
So far, the two Catholic organizations in Oklahoma have been the only ones pursuing charter school authorization, said Shawn Peterson, president of Catholic Education Partners, a nonprofit that supports education choice efforts across the nation.
However, if Oklahoma gets authorization, which is not expected to be announced for a couple of months, look for other states to follow, he said.
"I think it may become a reality in Oklahoma in the short term, although I suspect that it will be challenged in court," he said.
The two organizations began planning to apply for permission to open the virtual charter school in November 2021, when Archbishop Paul Coakley sent a seven-page letter to the board outlining the case for allowing a religious organization to open a charter school.
"The Archdiocese is enthusiastic about sponsoring a virtual charter school to improve educational opportunities for children and families in the state," he wrote. "Yet we cannot ignore the reality that, regrettably, the discriminatory and unlawful exclusion of religious schools remains at least formally on the books of the state's Charter School Act."
Coakley cited the 2020 U.S. Supreme Court ruling in Espinoza v. Montana Department of Revenue that found that exclusion of religious schools from participating in a tax credit school choice scholarship program because of their religious status was unconstitutional. In his letter, Coakley also referenced Carson v. Makin, then a pending case that involved Maine's ban on religious schools' participation in "town tuitioning" programs that give private school scholarships to students in towns without public high schools.
Shortly after the archbishop's letter was written, the U.S. Supreme Court agreed to hear Carson. On June 21, 2022, the justices ruled in favor of the plaintiffs, who had been barred from using the scholarship to send their daughter to a private Christian school.
The archbishop also references a case that the U.S. Supreme Court is considering hearing that involves a conservative North Carolina charter school whose dress code required that girls, whom it describes as "fragile vessels," wear skirts to promote a traditional of "chivalry" and "respect."
A group of parents who sued argues that the public school's policy violated their daughters' constitutional rights. In its defense, Charter Day School argues that charter schools were not "state actors" but essentially private schools, with only broad state oversight. In its ruling for the plaintiffs, the Fourth Circuit Court of Appeals, however, called charter schools public schools and therefore subject to state and federal anti-discrimination laws.
The high court has asked the solicitor general, the Biden administration's top Supreme Court lawyer, for guidance before deciding whether to consider the case.
Meanwhile, Oklahoma Attorney General John O'Connor issued an opinion that says a state law that prohibits religious organizations from operating a public charter school likely violates the First Amendment of the U.S. Constitution and therefore "should not be enforced" because of rulings from the Oklahoma Supreme Court and U.S. Supreme Court.
In the Dec. 1 opinion, O'Connor cited three U.S. Supreme Court rulings: Trinity Lutheran v. Comer, in which the court ruled that religious organizations can't be barred from participation in general benefit programs based on their status, as well as school cases Espinoza and Carson.
"As the U.S. Supreme Court emphasized in Carson, 'a neutral benefit program in which public funds flow to religious organizations through the independent choices of private benefit recipients does not offend the Establishment Clause.' … No student is forced to attend a charter school—it is one option among several for parents. … The Establishment Clause therefore provides no cover for a clear Free Exercise Clause violation here."
The opinion drew praise from the American Federation for Children, a national education choice advocacy group.
"We applaud Attorney General John O'Connor's opinion that underscores the right of families to access the best educational options for their kids," Jennifer Carter, senior adviser for the American Federation for Children — Oklahoma, said in a statement. "Today's AG opinion is entirely in keeping with the spirit of what charter schools are meant to be: free public schools that offer tailored experiences to students in addition to those available in traditional public schools."
However, not all education choice advocates share that view.
"Specifically, we take issue with the Attorney General's assertion that charter schools are private entities/contractors that are not bound by the First Amendment's Establishment Clause," said Nina Rees, president and CEO of the National Alliance for Public Charter Schools. "The legal precedent cited in the Oklahoma Attorney General's opinion (Trinity Lutheran, Espinoza, and Carson) are cases dealing exclusively with private schools, not charter schools, and we believe the precedent simply does not apply to public charter schools."
Rees went on to say that her organization "believes there is no such thing as 'private religious charter schools'… All charter schools are public schools. Public schools have never been able to, and cannot now, teach religion, require attendance to religious services or condition enrollment or hiring on religious beliefs. While a sectarian organization may be permitted to operate a charter school, that school must remain a nonsectarian, open enrollment, non-discriminatory public school."
Other education choice advocates have raised questions the possible fallout if the religious charters are allowed.