Your friendly neighborhood school choice mad scientist, aware of his eccentricity, keeps a healthy skepticism regarding his own notions. When I discussed one of my crazy ideas – that an educations savings account program would withstand the Arizona Blaine Amendment – with Arizona Supreme Court justice Clint Bolick, his eyes got as big as saucers. He assured me I wasn't crazy, at least not this time.
We then discussed the same idea with Tim Keller, executive director of the Institute for Justice's Arizona Chapter, which successfully defended the Arizona Scholarship Tuition Tax Credit from a legal challenge in the Arizona supreme Court. His eyes grew into even bigger saucers.
So, let's try this again:
I have been privately discussing a concept and may do well to discuss it publicly. When I saw the great Clark Neily, senior vice president for legal studies at the Cato Institute, discuss the same concept, I thought I should write about it. The key point lies in the last sentence of the second tweet.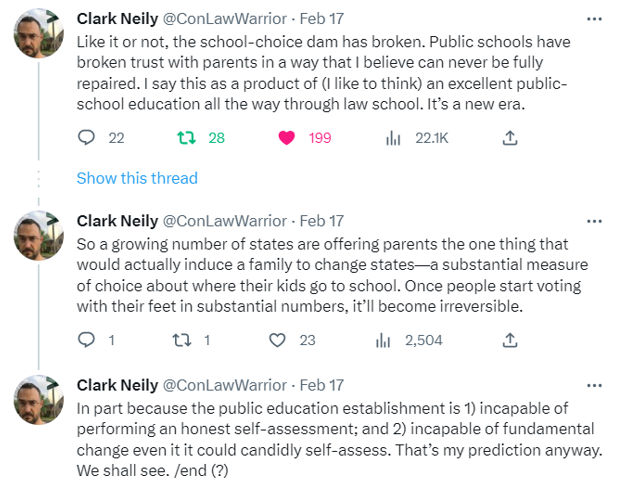 Political scientists have long studied "policy diffusion," which basically is the process of policy innovations travelling across states. The education freedom movement has seen a great deal of policy diffusion.
Former Florida Senate President John McKay, for example, created the nation's first private choice program for students with disabilities. Lawmakers across many states, including Arizona, emulated the practice.
When Arizona's program ran afoul of our Blaine Amendment, lawmakers created education savings accounts. Currently, ESAs are being adopted by lawmakers in multiple states. Most recently, Arizona and West Virginia passed broadly available programs.
This year, multiple new states will join them.
Now, getting back to Neily's insightful tweets: Let's pose the question of what comes after the 2023 sessions end. A big part of the answer may be: competitive federalism.
The United States entered into a Baby Bust in 2007. The value propositions offered by different states and localities vary widely. For instance, if you'd like to have your heart entirely shattered, you can read this account in ProPublica about pandemic-era New Mexico.
Could there be young families who decide that their futures might brighter in Arizona where their taxes would be lower and they would not be hostages to school districts? I'm guessing that might very well be the case.
I wrote a post for reimaginED in 2021 describing how aggrieved parents of Northern Virginia might enjoy breathing the sweet air of education freedom in West Virginia. Perhaps some enjoy being a wage slave to the average $1.8m mortgage they pay to give their children the opportunity to attend district schools with entirely unremarkable levels of academic growth where third period is taken up with the study of Chairman Mao's Little Red Book or whatever is currently more fashionable.
If that is not your personal cup of tea, then you might think about buying a much larger property at a fraction of the cost that delightfully comes with complete academic freedom.
William Mattox of the James Madison Institute noted the school choice exodus from northeast states to Florida:
Now, at first blush, all of this "education migration" might seem like a mere curiosity, a peculiar phenomenon without any relevance beyond a relatively small sub-population.
But there is reason to believe that something much more significant is happening here. There is reason to believe we are witnessing the beginning of a "new normal" in which many education-minded families move to freedom-loving states that facilitate parents' efforts to direct the education of their children.
In this new normal, Florida could easily become America's unrivaled "education destination," and enjoy the short- and long-term benefits of attracting education-minded parents (and their talented offspring) to the Sunshine State.
I suspect Mattox is correct, with one exception: Florida has rivals.
One of the big questions for the 2023 session is: Will Florida continue to lead the pack in this race, which presently includes Arizona, Iowa, Utah and West Virginia.
Which other states will join? Time will soon tell, but my Magic 8 Ball boldly predicts: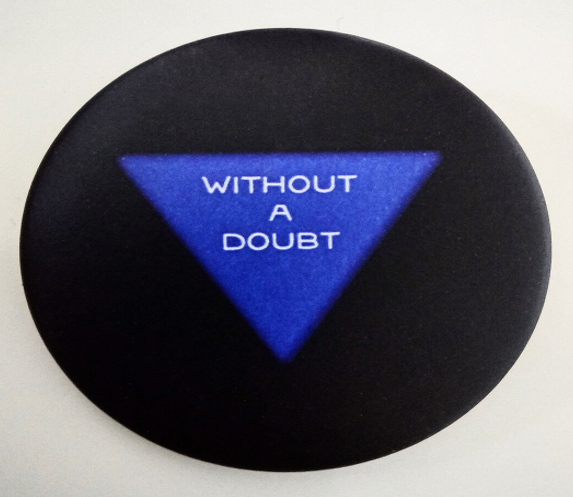 After 2023, young families will have cause to ask themselves whether they are living in a state that promotes the best interests of their families relative to others. Those with the misfortune of living in a state dominated by reactionary K-12 special interests can draw the painfully obvious conclusion:
No.